---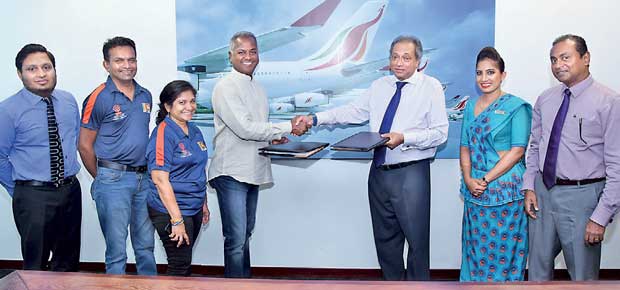 Foundation of Goodness Founder/Chief Trustee Kushil Gunasekera and SriLankan Airlines Chairman Ajith Dias exchange MoU documents in the presence of (from left) SriLankan Airlines SriLankan Cares Manager Niroshan Ranawake, Foundation of Goodness Research and Development Manager Suranga Jayasekera, Foundation of Goodness Head of Project Management Fazana Ibrahim, SriLankan Village Heartbeat Project Project Ambassador Anushka Ekanayake and SriLankan Airlines Human Resources Head Pradeepa Kekulawala
SriLankan Cares, the corporate social responsibility arm of SriLankan Airlines, has embarked on a remarkable journey to empower and uplift thousands of youth, women and children in the Mullaitivu District, one of Sri Lanka's most underprivileged regions.
SriLankan Cares entered into a memorandum of understanding (MoU) with the Foundation of Goodness for a commendable long-term collaborative effort through the Village Heartbeat Project.
The MoU was signed on behalf of SriLankan Airlines by Chairman Ajith Dias and Human Resources Head Pradeepa Kekulawala and on behalf of the Foundation of Goodness by Founder and Chief Trustee Kushil Gunasekera and Project Management Head Fazana Ibrahim, at SriLankan Airlines' boardroom in Colombo's World
Trade Centre.
SriLankan Cares will use its wide-ranging resources to actively source funding for the construction of a full-fledged training facility at the Village Heartbeat Project Centre that the Foundation of Goodness is setting up in Oddusudan in the Mullaitivu District. The training facility, which will also be equipped and maintained by SriLankan Cares, will be utilized for a tremendous range of highly valuable educational and vocational programmes for youth, children and women in the entire Mullaitivu District. One of the most underprivileged areas of the country, with a population of just under 100,000 scattered in far-flung areas, the Mullaitivu District has fewer modern facilities and opportunities of empowerment and upliftment than most other areas of the country.
The facility will include a sophisticated computer training centre equipped with 10 modern personal computers, a community centre and a fully-equipped library. This would enable the centre to be utilized for free-of-charge educational and training programmes for youth, children and women, including English classes, Year Five scholarship classes, women's enterprise courses, youth and women's empowerment programmes, children's goodness club meetings, village and environment improvement plans, spiritual training to improve the quality of life, volunteer expertise oriented programmes, and much more. SriLankan Cares' support would go towards construction, equipment and maintenance of staff. Construction of the centre is expected to take six months and it is scheduled for completion in September 2017. SriLankan would also provide support for maintenance of the centre through March 2020. The Foundation of Goodness will provide the land in Oddusuddan for the centre, coordinate its construction and carry out training programmes and administration functions of the centre.
SriLankan Cares carries out a wide range of activities in three main focal areas – child, planet and talent – aimed at uplifting underprivileged segments of society and protecting the environment. It often works with other charitable organisations and CSR initiatives of Sri Lanka's many corporate houses and has worked with the Foundation of Goodness on many occasions.
SriLankan Cares has identified child mental health as an area requiring attention and built the first-ever multi-disciplinary child psychiatric ward at Lady Ridgeway Hospital in Colombo. Taking this initiative forward, the Village Heartbeat Project hopes to widen its scope as a development plan for national child psychiatry services and will act as a hub for special programmes to enhance the child mental health development programmes in the northern part of Sri Lanka.
The Foundation of Goodness has constructed centres in several locations throughout Sri Lanka through the Village Heartbeat Project. The first centre was launched in 2007 in Udumulla near Hikkaduwa, followed by a similar centre in nearby Rathgama and then more centres farther afield in Monaragala and Matara.