---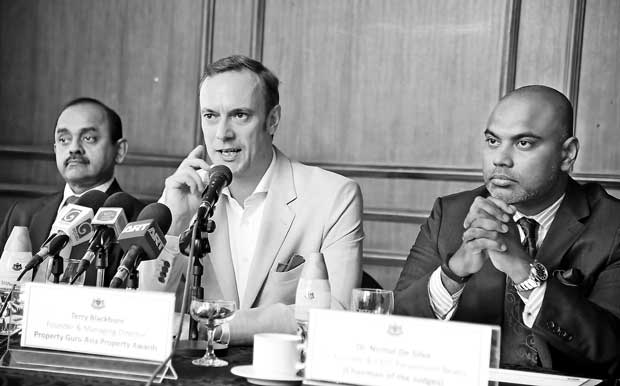 PropertyGuru Asia Property Awards Founder and Managing Director Terry Blackburn presents his views on the local edition at a press meet in Colombo in the presence of BDO Sri Lanka Managing Partner Sujeewa Rajapakse (left) and Paramount Realty Co-Founder and CEO/PropertyGuru Asia Property Awards (Sri Lanka) Judging Panel Head Nimal de Silva
Pic by Kithsiri De Mel
By Shabiya Ali Ahlam
Sri Lanka will once again be showcased on an international platform with PropertyGuru, Asia's foremost online property company, announcing the local development space having a standalone event to project its capabilities.

With 2017 being the first time for Sri Lanka to be included at the PropertyGuru Asia Property Awards, it was announced yesterday that the establishment will have the inaugural PropertyGuru Asia Property Awards (Sri Lanka) domestic gala dinner kick off in Colombo next year.

The PropertyGuru Asia Property Awards, the region's biggest and most prestigious real estate award series, is recognised as the ultimate hallmark of industry excellence in the Asian property sector.
Established in Thailand in 2005 to 'recognise the region's finest in real estate', the event acknowledges, rewards and celebrates the extraordinary achievements of developers and developments at a domestic and regional level.

The event that will feature top performers across a number of categories is slated to be held on July 12, 2018, at Shangri-La Hotel, Colombo.

The local edition will include more than 20 categories, up from the original 13 categories in 2017 and would cover various segments to represent the best real estate in the country.

The step was taken following the positive response from local companies that participated in the PropertyGuru Asia Property Awards 2017 edition. Nine developers made the cut for domestic accolades will represent the country at the grand finale event that will be held in Singapore in November.

During the press launch, the industry representatives announced the local edition will create more opportunity for Sri Lankan developers to participate in the competition that recognises real estate excellence via a fair, transparent and ethical awards system.

"With Sri Lanka holding its own domestic edition, we are providing local developers an established and trusted platform by which the industry standards are benchmarked and a venue to network with peers and colleagues created," said PropertyGuru Asia Property Awards Founder and Managing Director Terry Blackburn at a press meet.

"In Sri Lanka, now is the best time to enter the market, given the developments taking place, especially in Colombo. Clearly it is a very positive time for the real estate market here and the buyer interest is on the rise," he added.

Reflecting similar sentiments was also Paramount Realty Co-Founder and CEO/ PropertyGuru Asia Property Awards (Sri Lanka) Judging Panel Head Nimal de Silva, who said the event provides Sri Lanka a "real opportunity" to benchmark with the regional powerhouses, given that the post-war scenario saw a development boom in the construction space.

PropertyGuru Asia Property Awards (Sri Lanka) 2018 is supported by PropertyGuru.com.sg, Lankapropertyweb.com, PropertyGuru Property Report and BDO, which would be the official supervisor.