---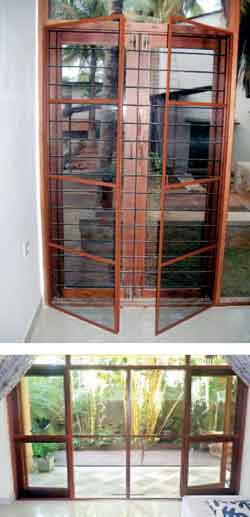 Southernn Star Home Improvements based on Nawala Road, Rajagiriya, has introduced revolutionary mosquito screening systems which can be installed and used in the comfort of one's home, repelling all potential outlets for the dengue menace to penetrate.

It offers an affordable yet sophisticated safety addition to any home and one may even flaunt to his/her friends while keeping their family safe from dengue.
Southernn Star Home Improvements' mission is to facilitate dengue awareness and protection through its products. Countless individuals fall into the merciless trap of dengue every year and the company wants to do what it canto prevent that from further happening. Hence the company's vision: 'Your wellbeing is our concern'.
Southernn Star Home Improvements offer a wide range of different mosquito screen systems that can be customised to meet your personal requirements and satisfaction. The company hopes to provide its diverse clientele with products that are house-appropriate. The company's product portfolio includes: Detachable custom-made sleek window screens, hinged-screen doors, folding-screen doors, sliding-screen doors, roll-on screen doors and windows, retractable-screen doors, Velcro screens, visible/invisible trackless sliding-screen doors and pergola and patio covering.

Southernn Star Home Improvements is the sole distributor of Phifer Inc. USA products in Sri Lanka. The company incorporates a variety of different nets as per the customer's customised needs into the products including: 'BetterVue Insect Screens', 'SeeVue Insect Screens', 'PetScreen Pet Resistant Screens', and 18x14 fibreglass pool and patio screening. All products come with a five year warranty and anti-microban protection to prevent staining and odor which may occur from bacteria, molding and fungus. Meshes are infused with fire retardant and comes with improved visibility screen (iVis) that offers clearer views with enhanced insect screen performance.

Southernn Star Home Improvements also offers a variety of different aluminium framework powder-coating options which can be picked to suit one's home aesthetic. Powder-coating of the aluminium frame with a high quality durable finish ensures the product would withstand the impact of moisture, chemicals, ultraviolet light and other extreme weather conditions.

Customers can be worry-free about ventilation being cut off because Southernn Star Home Improvements assures its fibre glass nets will seal the deal, as customers can live the mosquito-free life and enjoy the view outside while receiving adequate ventilation for their wellbeing. Customers can 'pay less for more value screens' in Sri Lanka with Southernn Star Home Improvements.

Southernn Star Home Improvements wants its customers to be happy with their investments and it's products will most definitely assure that.