---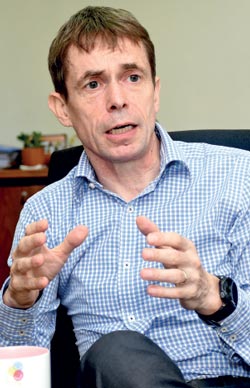 BY Indika Sakalasooriya
Hemas PLC's Irish CEO Steven Enderby could bore you to tears with his comments about the virtues of focusing on your core competencies, keeping it simple and not biting off more than you can chew. Mind you this comes at a time when certain corporates in the country announcing acquisitions to the tune of Rs.15 billion within a span of just 15 days!

But Enderby, dressed in a blue check shirt and pair of cotton pants, seated in his rather austere corporate office in Colombo on a Wednesday, says he is comfortable with that—his attire as well as the extremely cautious approach of his company.

Unlike the other diversified conglomerates, Hemas didn't feature much in the country's mergers and acquisitions (M&A) scene in the last four to five years, except for the acquisition of Morison PLC, which was then known as JL Morison Son & Jones PLC, in 2013, and the boutique hotel chain, Lantern, this year. When asked why, Enderby says complexity has a cost and his brain has severe limitations!

Invest in haste, repent at leisure

Enderby comes from a private equity (PE) background and says he is familiar with the saying 'invest in haste, repent at leisure', which is well-liked among PE players.
"To me, M&A is about discipline—knowing what you want to buy, knowing what you think it's really worth in terms of value and having a very clear plan about how you are going to create value from that price you pay for a business," he says.
''To me, M&A is about discipline—knowing what you want to buy, knowing what you think it's really worth in terms of value and having a very clear plan about how you are going to create value from that price you pay for a business

Hemas is sitting on Rs.4.1 billion plus shareholder funds raised through a rights issue in 2015. Hence, clearly it's not a problem about cash. In a context where the corporate peers of Hemas go knee-deep in debt to fund acquisitions in exchange of brighter future prospects, it is tempting to brand Hemas as laid-back and docile. But Enderby doesn't feel that way.

"Only time can answer that question. Clearly, I don't believe so. I think you got to be thoughtful about how you deploy your capital. Remaining focused on our core strategy is absolutely critical and paying the right price for a business is also absolutely critical.
We've grown nicely from a Rs.22-23 billion company into a Rs.43-44 billion company. We are growing and we are getting our core businesses to perform better and better. We have got a balance sheet that will enable us to acquire; if we believe it is the right opportunity, consistent with our corporate strategy and at the right price, we may go ahead."

Stick to what you are good at

The corporate philosophy at Hemas is doing more of what you are good at and getting better at it. The fast-moving consumer goods (FMCG) and healthcare sectors remain at the core of the group's operations. In addition to FMCG and healthcare, Hemas also has a significant presence in logistics and transportation and leisure and travel businesses.
"We have started off a journey building a better consumer and healthcare business. That remains core and central to everything we do.

On the leisure and travel side, we are doing a little bit of work to tidy up our assets.
In the logistics and transportation side—there is a lot already. I think going beyond that is stretching ourselves unnecessary. My view of life is you want to be really good at what you do and that enables us to build scale and have the competence and capability," says Enderby.

Hemas, throughout, has remained true to its corporate philosophy. The group has exited from what it considered non-core businesses with ruthless decisiveness. It exited power business in 2014 and according to Enderby, they have never looked back.

"Power wasn't really core to us. It is also a very capital-intensive business. I would prefer to use that capital and management time towards our core competencies," he says.

But Sri Lanka is now heading towards a power crisis due to the ill-thought-out decision-making of the authorities and it appears that the private power suppliers are in for a windfall—at least in the short to midterm. Already a local conglomerate is reaping benefits from the situation and is back at selling private thermal power to the national grid.

Despite this, Enderby believes the decision to exit the power business was the right call.
"Power is a good and profitable business. But is it a good business for us? I would say no. It is capital intensive and has a range of competencies that don't fit naturally to us and therefore, any day of the week I'd say no problem with that."

Careful or scared to get out of comfort zone?

According to Enderby, this extremely thoughtful approach towards business, particularly with M&As, is in the DNA of the Hemas group. But when pointed out that it could also be interpreted as fear of getting out of one's comfort zone, Enderby stressed that the group is already out of its comfort zone as it has ventured out to regional markets.

Hemas has a significant presence in Bangladesh with its FMCG products and recently entered Myanmar to pursue pharmaceutical distribution.

"Stepping out of the comfort zone I'm perfectly comfortable with. New geographies in many respects are taking us out of our comfort zone. The more you try and do more and more different things, it really isn't an effective way to run.

But every now and then, stuff would come your way, which look very interesting. But you have to be very careful not to get pulled off course.

The cost of distraction and complexity is a big cost in my mind."

In other words, Enderby is saying that his hands are already full as the group has four growing business segments, which need his full attention. According to him, the personal care business in Bangladesh is currently facing some challenges related to sales and distribution, as the infrastructure hasn't been able to cope with the higher growth.

"We have put a lot of efforts during the last few months in enhancing the sales and distribution capabilities. The flood situation in Bangladesh also didn't help. It slowed down the distribution in the last few months."

Hemas has also entered the feminine hygiene space in Bangladesh at the start of the calendar year and relaunched its face wash product and Kumarika soap.

"We are very positive on Bangladesh and I think it offers very good opportunity," says Enderby.

In fact, a number of Sri Lankan companies are heading in the direction of Bangladesh, which has a population of 140 million people and a growing economy.
''We are growing and we are getting our core businesses to perform better and better. We have got a balance sheet that will enable us to acquire; if we believe it is the right opportunity, consistent with our corporate strategy and at the right price, we may go ahead

Since Sri Lanka at the moment has a much higher level of gross domestic product (GDP) per capita of products and services than Bangladesh, the Lankan businesses have the opportunity to take their relatively higher quality products and services there and plug them into the rapidly growing Bangladeshi economy.

Bangladeshi operations account for about 16 percent of Hemas' FMCG revenue, which is nearly a third of the group revenue.

Thrust areas

Enderby, who assumed the Group CEO position at Hemas—a family-run company that was progressive and mature enough in thinking to hire a CEO, who is neither a family member or a Sri Lankan, in 2014, says he is a consumer of the entire product portfolio of Hemas consumer care lineup. But the chirpy CEO says he is not a consumer of Hemas healthcare products because he rarely gets ill.

So for him, all the four business segments Hemas is currently in are thrust areas. He banks on the group's brand building capabilities to push forward new personal care products to capture new consumer segments here and abroad, while investing some of the shareholders' money into Morison PLC's new state-of-the-art pharmaceutical manufacturing facility to bolster the group's leadership position in the pharma sector.
The group also operates three hospitals—two in the Colombo suburbs of Wattala and Thalawathugoda and one regional hospital in Galle. It also operates over 35 laboratory and channelling services centres.

According to Enderby, more than increasing the number of the hospitals, the group is focused on equipping the existing ones to become fully-fledged healthcare service centres with an array of surgical and other capabilities.

Also, Hemas is Sri Lanka's first hospital chain to obtain an international accreditation from the prestigious Australian Council on Healthcare Standard International (ACHSI), which is Australia's leading healthcare accreditation provider, delivering accreditation and quality improvement programmes throughout the world.

Meanwhile, the Hemas group recently bagged the agency for Evergreen shipping in Sri Lanka, giving a massive boost to its logistics and transportation segment.

The group's leisure business recently ventured into the boutique hotel space with the purchase of the Lantern boutique villa chain. Enderby believes in Sri Lanka's enormous potential as a tourist destination but says he doesn't want to get blown away by the short-term softness in the hospitality market. The group also operates lucrative inbound and outbound travel business and an airline representation business.

The year ahead

According to Enderby, like many other Sri Lankan corporates, Hemas will also face challenges recording revenue growth this year, owing to slowing consumer demand.
"It's a challenge. We are primarily serving the Sri Lankan customer in the consumer and healthcare space. The sluggishness of the economy, VAT and several other factors, have affected the purchasing power of the people.

Everybody's finding it hard to achieve revenue growth this year. We live in a world where markets go up and down.
''Power wasn't really core to us. It is also a very capital-intensive business. I would prefer to use that capital and management time towards our core competencies

I think the critical thing is not to blow off your long-term aspirations by the short-term problems. Yet, we got to address those. We got to get the short-term right. But we got to remain committed to what we are really looking to grow."

Entering regional markets with growing economies, according to Enderby, is one way to ensure growth and counter down-cycles at home. Hemas is aggressively growing its business in Bangladesh and is excited about the prospects Myanmar offers. The group also has put a toe in the water in West Bengal.

"The challenge is we don't understand those markets anywhere as near as we understand the Sri Lankan market. So, it involves some risks and we have to be very careful with how much capital we deploy for these markets," says Enderby.

Uncertainty has a cost

For private businesses to perform and contribute to the national economy, a predictable business environment is imperative. As Enderby puts it, "price of uncertainty is quite high".

According to him, the last two years have yielded mixed results. A lot of good work was initiated during those two years towards creating an enabling business climate but the government going back and forth with some important policies certainly created confusion. Particularly, certain taxation-related issues brought in a lot uncertainty to the market place and gave countless headaches to corporate CEOs like Enderby.

Also, non-consultative decision-making by the government, which had massive implications to some businesses, was another element that marked the first two turbulent years of the present coalition administration.

For instance, the Health Ministry's sudden move to slap price controls on certain pharmaceutical products caught Hemas and so many other pharmaceutical importers and distributors off guard.

"They were introduced rather abruptly and created a few overnight headaches for us. But I think the team responded really well around that.

We continue to have a dialogue with the government as you got to be careful with these things, so you don't compromise quality.

I fully respect the government's desire and wishes to have affordable pharmaceutical products and we are supportive of that as a major importer and distributor and as a manufacturer as well.

But let's be clear about some of the implications it might have. You may start to see some major pharmaceutical guys pulling out of the market or ceasing to supply or you may start to see a lot of imports from less regulated markets.

So, you got to find a way of balancing this through, by having effective and intelligent price regulation that does not compromise quality," says Enderby.

He acknowledged that the Health Ministry's move has put some pressure on the group's financial numbers.

"We've got to work out how we respond to that. It is the environment of the market we live in. We got to up our game and respond."

Shareholder value creation

Hemas PLC has some impressive names among its top 20 shareholders such as the Central Bank of Norway and Franklin Templeton Fund. Enderby believes that he and his team could deliver value to shareholders by sticking to his view of life "doing more of what you are good".

"It all tickles down to having a clearly focused strategy and working hard to pursue on that strategy," says confident Enderby.