---

Singer's industrial air conditioning division showcased the latest Mitsubishi Heavy Industries air conditioning solutions to celebrate the fifth year of successful partnership with Mitsubishi Heavy Industries Mahajak Air Conditioners Co.

The event attracted a prestigious gathering of key corporate customers, industrial consultants, engineers, architect and HVAC contractors.

The occasion was graced by the presence of Singer CEO Asoka Pieris and Mitsubishi Heavy Industries' Sales Manager Daisuke Shigeta.

Singer Sri Lanka celebrated its success in providing solutions with Mitsubishi Heavy Industries industrial/commercial and residential use air conditioners, including single and multi-split inverter/non-inverter types of residential air conditioners as well as single and multi-split inverter/non-inverter types of industrial/commercial air conditioners and VRF (Variable Refrigerant Flow) all inverter type commercial use solutions. Mitsubishi Heavy Industries Mahajak Air Conditioners Co. Ltd is one of the leaders in the air conditioning industry globally. Presently, the company manufactures superior quality air conditioners with a capacity of more than 20 million units since its establishment.

Famous Japanese Brand Mitsubishi Heavy Industries is a leader in the air conditioning industry in Asia and globally. The company was established in 1988 under a joint venture between Mitsubishi Heavy Industries Co. Ltd., Japan and Mahajak Group in Thailand. The new Mitsubishi air conditioners follow a stringent Japanese quality standard and environmental safe technology which is an added benefit to the local market. Speaking about the partnership Singer Sri Lanka CEO Asoka Pieris said, "Singer Sri Lanka turned a new chapter in the institutional air conditioning industry through the partnership with a global leader, Mitsubishi Heavy Industries. Our partnership with this internationally reputed brand enhances our offering to serve high-end corporate customers and commercial air conditioner projects, strengthening our product portfolio. In an era where technological innovation is common, it is important that we offer the very best solutions for our customers to relish these tech advances available globally. We are happy for the significant progress we have made in this line of business within relatively a shortly time span."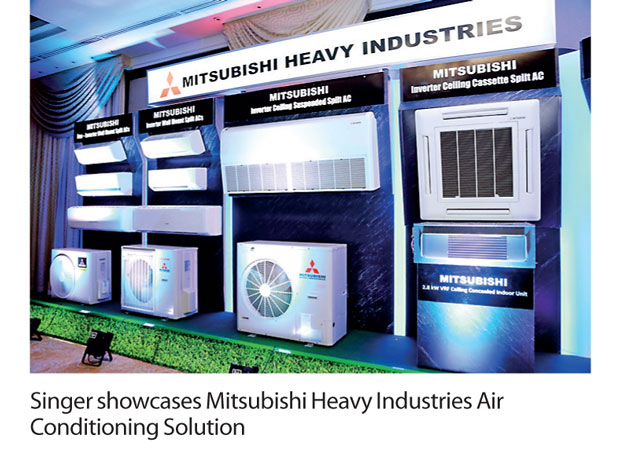 Mitsubishi Heavy Industries Mahajak Air Conditioners Co. Ltd. Sales Manager Daisuke Shigeta said, "We are proud to partner with a giant in the caliber of Singer Sri Lanka PLC who has being our trusted partner for the past five years. We see the market growing steadily with the real estate and commercial complex sector booming, the future looks positive for our solutions to be experienced across all over Sri Lanka." Singer Sri Lanka forecast the demand for B2B segment of business would grow at a steady pace with the country's development prospects and Singer introduced the Singer industrial central air conditioning division in 2012 backed by the institutional AC sales division of the company. The primary role of the division is to work closely with the customer from the point of making accurate product recommendations to providing a professional design, installation, commissioning and maintenance service, and the timely completion of projects and island wide after-sales support. This initiative exemplifies Singer's undisputed reputation for delivering superior quality solutions as well as effective and speedy customer service.