---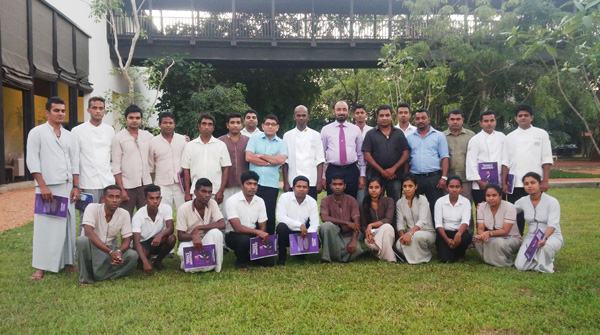 The deluxe Sri Lankan-themed resort in the heart of the cultural triangle, Sigiriya Jungles, hosted a training session on 19th December 2016 by Service Excellence Specialist, Mr. Dhammika Kalapuge, at the regal resort. The two-day motivational and service excellence programme was organized by Sigiriya Jungles as testimony of its commitment to develop the talent pipeline for the hospitality industry by uplifting knowledge and focusing on continuous service improvement.
The highly informative training session by Mr. Dhammika Kalapuge touched upon the important elements that go into offering service excellence and offered insights to all the participants on how to achieve impeccable service standards. Since it was launched, Sigiriya Jungles has distinguished itself on the basis of its unique positioning that echoes regal splendour of Sri Lankan royalty coupled with unmatched service standards.
Sigiriya Jungles is the ideal destination for both business and pleasure. It has exclusive conference and banquet halls to cater for upto 150 people along with state-of-the-art conference facilities. Sigiriya Jungles offers 60 lavishly furnished rooms overlooking the Sigiriya Rock Fortress. Each room is designed to serve as a sanctuary with tranquil indoor and outdoor living spaces, intimate artistic touches and luxury service.
The strategically located resort offers guests the facility to embark on exciting cultural, religious or adventure excursions, which is facilitated by the hotel staff. Guests looking for authentic Sri Lanka hospitality in a luxury setting with a difference, or for a business conference that will prove memorable, or even those celebrating a wedding or another special personal occasion, Sigiriya Jungles is a jewel in the crown of the emerald isle.