---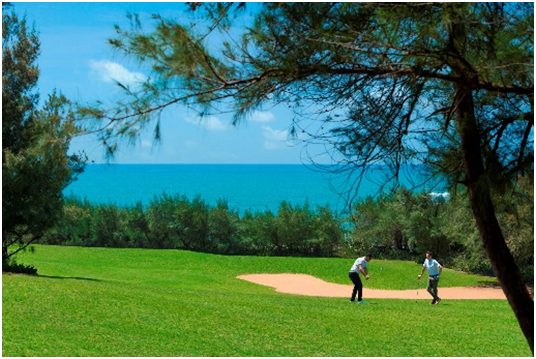 Shangri-La's Golf & Country Club in Hambantota, Sri Lanka, unveils the island's first resort golf course. Designed by Rodney Wright on a former sapphire mine, the 18-hole course is the first of its kind in Sri Lanka, set within the hotel grounds of Shangri-La's Hambantota Resort & Spa, which opened to guests on 1st June 2016.
Spread across a vast coconut palm plantation, it offers spectacular views and distinctive challenges for both beginners and seasoned players. The par-70 course is designed by Rodney Wright,the globally celebrated designer and a firm believer in integrating the culture and environment of the surrounding area into a golf course. The beautifully-landscaped course takes players on a memorable golfing journey through three zones, each with its own unique character; The Coconut Plantation offers lush fairways and challenging bunkers, The Dune Area - with its subtle elevation changes - gives way to breath-taking views of the Indian Ocean, and The Sapphire Mine showcases generous greens with an abundance of water features.
The course development was approached from an eco-perspective, due to the resort's dedication to biodiversity and habitat protection. The structure has revitalised an abandoned sapphire mine, restored vegetation, re-introduced birdlife and usesPaspalum grass for its salt-tolerant turf, which is resilient in the tropical climate and allows for the highest standards of course conditioning.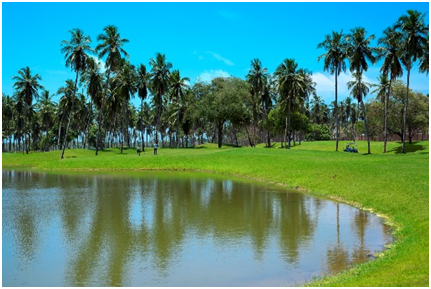 Each hole has three decks for tee-off; Championship Tees, which allow for a course length of 6,107 yards (5,584 metres), Ladies' Tees, which allow for a course length of 4,424 yards (4,945 metres) and Gents' Tees, which allow for a course length of 5,570 yards (5,276m.)
Shangri-La's Golf & Country Club, Hambantota, boasts an array of facilities for hotel guests – who are entitled to complimentary green fees - and day visitors alike. The Clubhouse overlooks the 18th green; a welcome for golfers and guests post-game, and is home to Ulpatha, the Clubhouse restaurant which offers beers on tap, refreshing drinks from the island bar and delicious, pub-style light bites in a sociable setting. Refreshments are also available on the course, with all electric golf carts equipped with their own cooler boxes.
The Pro Shop is a haven for golf enthusiasts, with an array of golf essentials available to purchase, including caps, polos, shoes and sunglasses, as well as the latest equipment for hire.Caddies are also available on request to help golfers make the most of their game, whilst bag storage and locker facilities are available to make the golfing experience as seamless as possible.
Set beside the Indian Ocean and framed by swaying king coconut trees, Shangri-La's Hambantota Resort & Spa is located on Sri Lanka's ancient Spice Route, along the island's lush, unspoiled Southern coastline. With 145 acres of tropical gardens, there is ample space at this striking new property for guests to unwind within the spectacular surroundings, and make the most of the impressive facilities. Most notable include CHI, The Spa which focuses on Ayurvedic treatments,three swimming pools, an 18-hole golf course, a unique Artisan Village celebrating local arts and crafts and an array of al fresco dining options.
Hong Kong-based Shangri-La Hotels and Resorts currently owns and/or manages 98 hotels under the Shangri-La brand with a room inventory of over 40,000. Shangri-La hotels are five-star deluxe properties featuring extensive luxury facilities and services, and are located in Australia, Canada, mainland China, Fiji, France, Hong Kong, India, Indonesia, Japan, Malaysia, Maldives, Mauritius, Mongolia, Myanmar, Philippines, Qatar, Singapore, Sultanate of Oman, Taiwan, Thailand, Turkey, the United Arab Emirates and the United Kingdom. The group has a substantial development pipeline with upcoming projects in mainland China, Cambodia, Hong Kong, India, Malaysia, Myanmar, Saudi Arabia and Sri Lanka.