---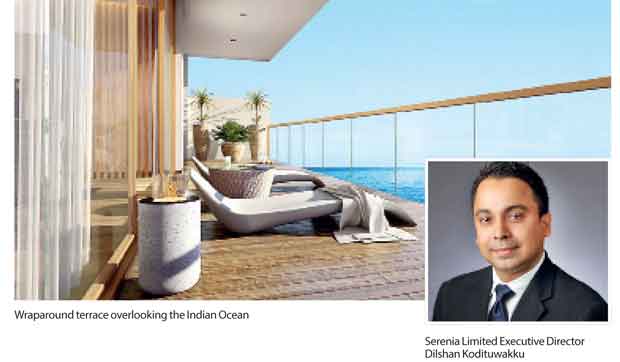 Serenia Ltd, with a vision of being an ultra-premium beachfront resort living, mixed development company has partnered a-designstudio to bring its distinctive design elements to the iconic 47-apartment beachfront residential development and 10-roomed five-star boutique hotel - Serenia Residences Talpe Galle, with sales due to commence shortly.

Serenia Residences will be a private beachfront mixed development project in Talpe, Galle. Talpe, known as the 'Million Dollar Golden Mile' of the southern coast comprises of million dollar beach villas ranging from US$ one to five million, located just 10 minutes away from the Galle highway exit, passing Unawatuna.
The 47 perfectly handcrafted residences which are the largest apartments in their class will be launched at a starting price from just over US$300,000. Talpe Beach is currently the most expensive beachfront real estate in the country. Construction of Serenia Residences is expected to commence in April 2018 and is scheduled for completion in December 2019. The development is located on 180 perches (4,550 square-metres) of land fully owned by Serenia Limited with approximately 100 metres of private beach frontage consisting of two towers.

A private collection of just 47 luxury residences for discerning few, including 36 spacious Two Bedroom Residence Suites (ranging from 1,358 square-feet to 1,667 square-feet), six three-bedroom Sky Villas (1,841 square-feet), two elegant three-bedroom Garden Villas offering direct beachfront access (2,695 square-feet), two two-levels Custom Sky Penthouses (4,400 square-feet) and one unique two-levels Custom Presidential Penthouse (12,700 square-feet).

All residences have magnificent uninterrupted views of the Indian Ocean magnified by the floor-to-ceiling windows and two meters wide terraces covered in glass. The two-bedroom Residence Suites have a spacious wrap around terraces with a 180-degree views of the ocean.

According to Serenia Limited Executive Director Dilshan Kodituwakku, the site's positioning in the 'Million Dollar Golden Mile' represents a unique development opportunity in the south of Sri Lanka and is the only apartment residence so far, that provides private beach living, where residents can step out directly on to the beach and then ocean. Resort living is our primary proposition, creating a home where every detail is taken care of, with 24-hour services that include valet parking, housekeeping, room service, maintenance and security. We take care of all of the above, leaving you, to truly enjoy your stay."

Sri Lankans as well as foreigners may own their investment as a freehold title. The Sales and Purchase Agreement can be signed when deposits of 15 percent are paid and registration at the land registry immediately thereafter. All monies will be obtained on escrow basis and will be linked to construction. "Our banking partner Nations Trust Bank PLC, will offer approved clients a bank loan of up to 70 percent. Whether you are a first-time southern coast beachfront owner or an investor, you may rent back the apartment when not using it, which will provide you with a minimum 40 percent return of the daily revenue, unlike time share methods we do not have strict occupation time periods or black out periods, you are free to live here as long as you wish." Kodituwakku added.