---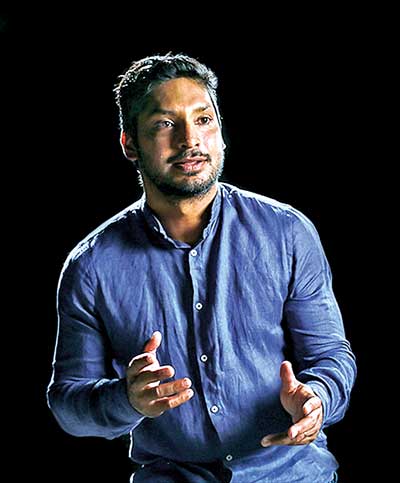 Kumar Sangakkara, legendary cricketer, professional and inspirational personality, will share his lessons on leadership with individuals and corporates in a unique online self-improvement course to be launched by Guru.lk, the country's leading edutainment website.

Using situations and anecdotes from a 15-year career that took him to the pinnacle of world cricket, Sangakkara – 'Sanga' to millions of fans around the world – will provide an insight into facing challenges and taking decisions in a 20-lesson course that can accessed via www.guru.lk from a PC, smartphone or tab.

Titled 'Being a Leader - Lessons from Cricket' the course explores leadership traits through Sanga's own examples which are applicable for one's personal, career or social life in a community. The course can be followed at the learner's own pace for up to one year for a daily fee of Rs,10 for locals or for a one-time fee payable by credit card or PayPal for overseas subscribers.

"We are honoured to have Kumar Sangakkara on the Guru.lk panel of resource persons," said Hasitha Dela, CEO of Headstart (Pvt.) Ltd, the owner of the website.
"He has earned the respect of millions of people of all age groups for his leadership on and off the cricket field and played and interacted with many other greats of the game. His experience and insights are therefore invaluable to anyone wishing to succeed in a career or personal life."

These lessons are unique due to the fact that they do not conform to typical trainings on leadership where theories abound and examples do not reflect a Sri Lankan context, he said. "Sanga shares situations where he faced challenges as a leader and cites examples from cricketing legends like Murali and current players such as Lasith Malinga to illustrate the lessons he has learnt, making this course insightful and deeply personal," Dela added.

In one lesson, Sangakkara explains how cricketing great Muttiah Muralitharan used to practice with a clear objective in mind for each session of practice. Sanga internalises this as a learning on how to set one's own goals and not follow others, as well as the importance of avoiding complacency. In another, he talks about how to encourage diversity in a team environment using the example of Lasith Malinga who was encouraged into the team as a valuable resource while managing concerns in some quarters about his hair styles, tattoos and piercings.
The course is in English and is also available to corporate entities that may wish to use it as part of their online learning programmes, the company said.

Sangakkara was chosen to play for Sri Lanka in the year 2000 at the age of 22. Now a national selector, he played 134 test matches aggregating 12,400 runs at an average of 57.4; scored a total of 14,234 runs in 404 One-Day Internationals averaging 41.98 and represented the country in 56 Twenty20 internationals. His career accolades include Wisden Cricketer of the Year 2012, Wisden Leading Cricketer, 2012, 2015, ICC ODI Player of the Year 2011, ICC Test Cricketer of the Year 2012, ICC Cricketer of the Year 2012 and ICC ODI Cricketer of the Year 2013.

Guru.lk has more than 100 e-learning courses ranging from courses linked to the school curriculum to professional education and edutainment content including IT courses, beauty culture and even cooking and singing. The owning company Headstart powers many e-learning initiatives of telecom companies, private sector and government initiatives including the guru schools programme, where content is provided free of charge to school
IT labs.