---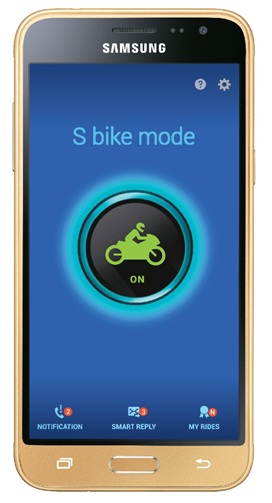 Samsung Sri Lanka today announced the launch of the Samsung Galaxy J3 featuring the S bike mode, an industry-first, dedicated feature for two-wheeler riders that is designed to enable responsible and stress free riding.
Once activated at the beginning of a ride, any caller trying to reach the Samsung Galaxy J3 user will be notified through an automated answering machine that the user is riding and cannot take calls so that the ride remains uninterrupted.
All the user needs to do is to switch on the S bike mode of Galaxy J3 before setting off on the ride, and the smart phone will automatically inform the caller that the user is currently riding a bike and is unable to take the call. The caller may choose to press 1 to express urgency to talk with the biker for which the biker will have to bring his bike to a halt in order to take the call.
"Samsung is constantly in the pursuit of meaningful innovations that make people's lives better. S bike mode is a result of that vision. While studying the consumers' phone usage behaviour, we realised that incoming calls are a major distraction to bikers. We are very happy that we have come up with something that will benefit two-wheeler users and promote responsible riding in our country,"said Youngmin Shin - Managing Director, Samsung Sri Lanka.
Galaxy J3 is an extension of Samsung's vision to offer innovative and differentiated products across price segments. The J Series was launched with the Ultra Data Saving (UDS) mode in September 2015, a feature that has helped consumers save up to 50% of mobile data usage. Samsung has further enhanced this feature to include data savings on popular music streaming apps and over Wi-Fi after witnessing an adoption rate of over 50% among consumers. In order to carry the innovation forward, Samsung is keen to establish the S bike mode as a responsible riding ritual where Samsung Galaxy J3 users will activate the mode before commencing their ride.
Samsung Galaxy J3 provides an immersive experience with a large 5 inch HD super AMOLED screen and comes with a camera that captures high quality, crisp and detailed photographs with its 8 megapixel rear camera with an f2.2 aperture. The Samsung Galaxy J3 is equipped with a 1.5 GHz Quad Core processor and 1.5 GB RAM for easy multi-tasking and fast speed and is priced at the Rs. 26,430.00and will be available in three colour options of gold, black and white atSamsung's national distributorSoftlogic and authorized distributors Singer, Sinhagiri, SoftlogicRetail and authorized dealers island wide.
About Samsung Electronics Co., Ltd.
Samsung Electronics Co., Ltd. inspires the world and shapes the future with transformative ideas and technologies that redefine the worlds of TVs, smartphones, wearable devices, tablets, cameras, digital appliances, printers, medical equipment, network systems, and semiconductor and LED solutions. We are also leading in the Internet of Things space with the open platform SmartThings, our broad range of smart devices, and through proactive cross-industry collaboration. We employ 319,000 people across 84 countries with annual sales of US $196 billion. To discover more, and for the latest news, feature articles and press material, please visit the Samsung Newsroom at news.samsung.com.