---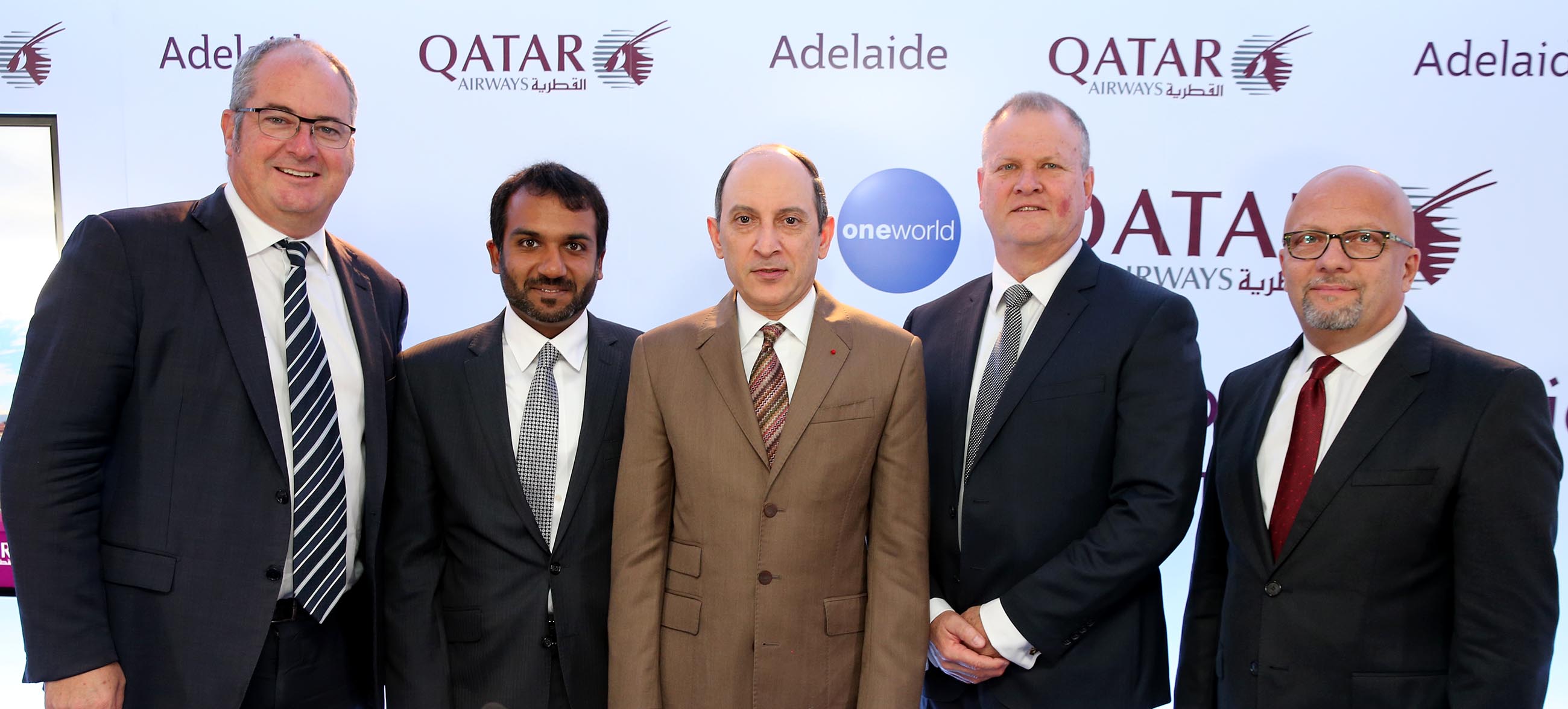 Qatar Airways Group Chief Executive, His Excellency Mr. Akbar Al Baker (centre) joined by (from left) South Australia's Minister for Tourism, Hon. Leon Bignell; Chargé d'Affaires for Qatar in Australia, Counsellor Mohammed Abdullah Al Jabir; Managing Director of Adelaide Airport, Mr. Mark Young; and Qatar Airways SVP East Asia South West Pacific, Mr. Marwan Koleilat.
Qatar Airways Group Chief Executive, His Excellency Mr. Akbar Al Baker today hosted a press conference to officially inaugurate the airline's new route from Doha to Adelaide and to celebrate the arrival of the first commercial Airbus A350 to land on Australian soil. Adelaide Airport Managing Director, Mr. Mark Young, and South Australia Minister of Tourism, Hon. Leon Bignell, joined His Excellency Mr. Al Baker at the press conference, showing their support for the new route, which will add an estimated AU$41 million to the local economy.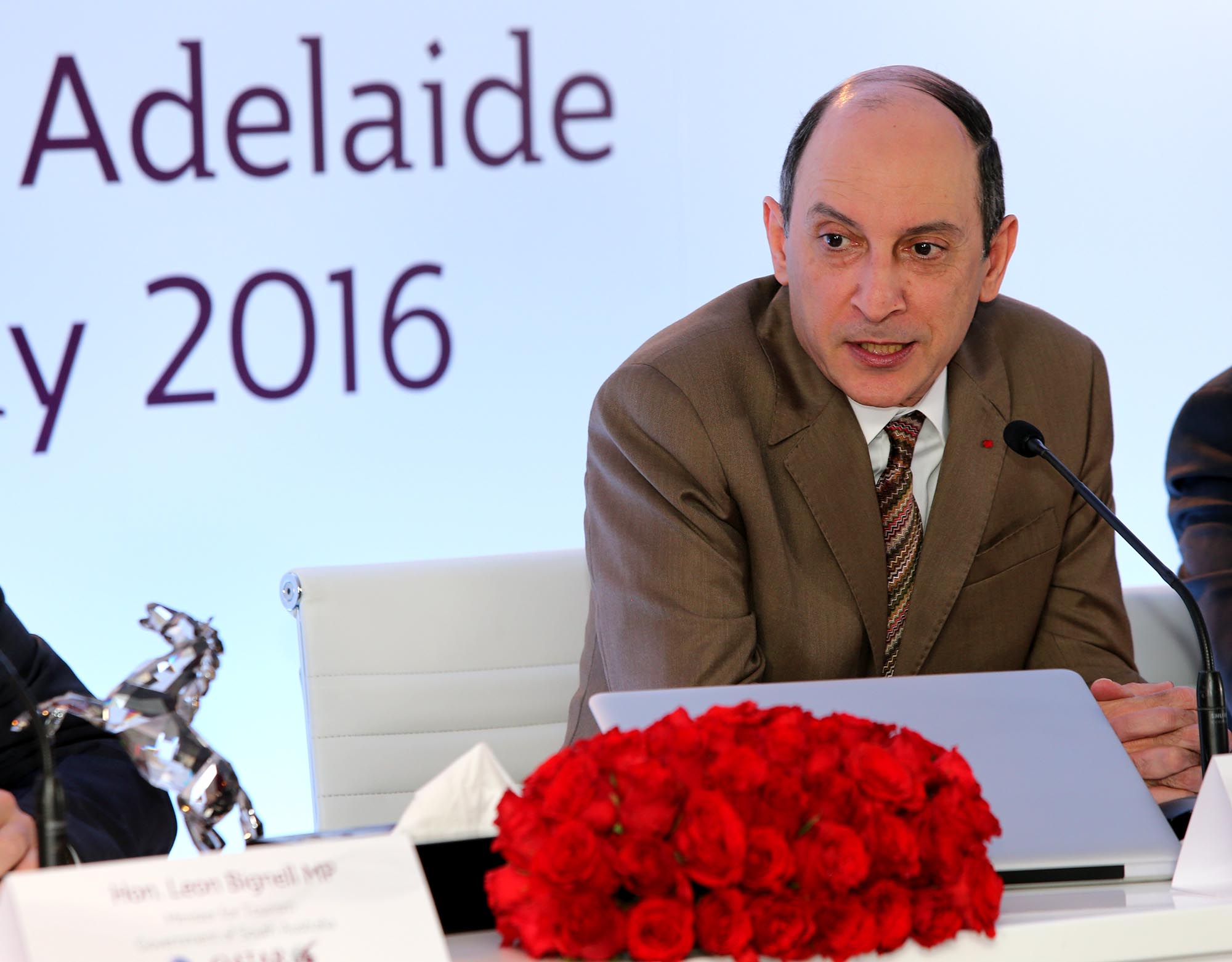 Qatar Airways Group Chief Executive, His Excellency Mr. Akbar Al Baker speaking at the press conference for the inaugural Qatar Airways flight to Adelaide.
The launch of the new Adelaide route is part of Qatar Airways' expansion plans in Australia where it launched its new daily flight to Sydney in March this year and where it has been flying daily to and from Melbourne since 2009 and Perth since 2012. Demand in Australia is so great that at a recent press conference in Sydney, H.E. Mr. Al Baker announced that the aircraft type flying to Sydney would be upgraded from a Boeing 777 with a capacity of 335 passengers to an Airbus A380, with a capacity of 517 passengers, by September this year.
As the global launch customer of the Airbus A350, Qatar Airways has the largest fleet of this aircraft type of any airline in the world and already flies its eight aircraft to Munich, Singapore, the United States and Frankfurt. The Airbus A350 is the ideal aircraft for long-haul travel as its modern design and technology provide the ultimate passenger comfort while reducing fatigue after a long-distance flight.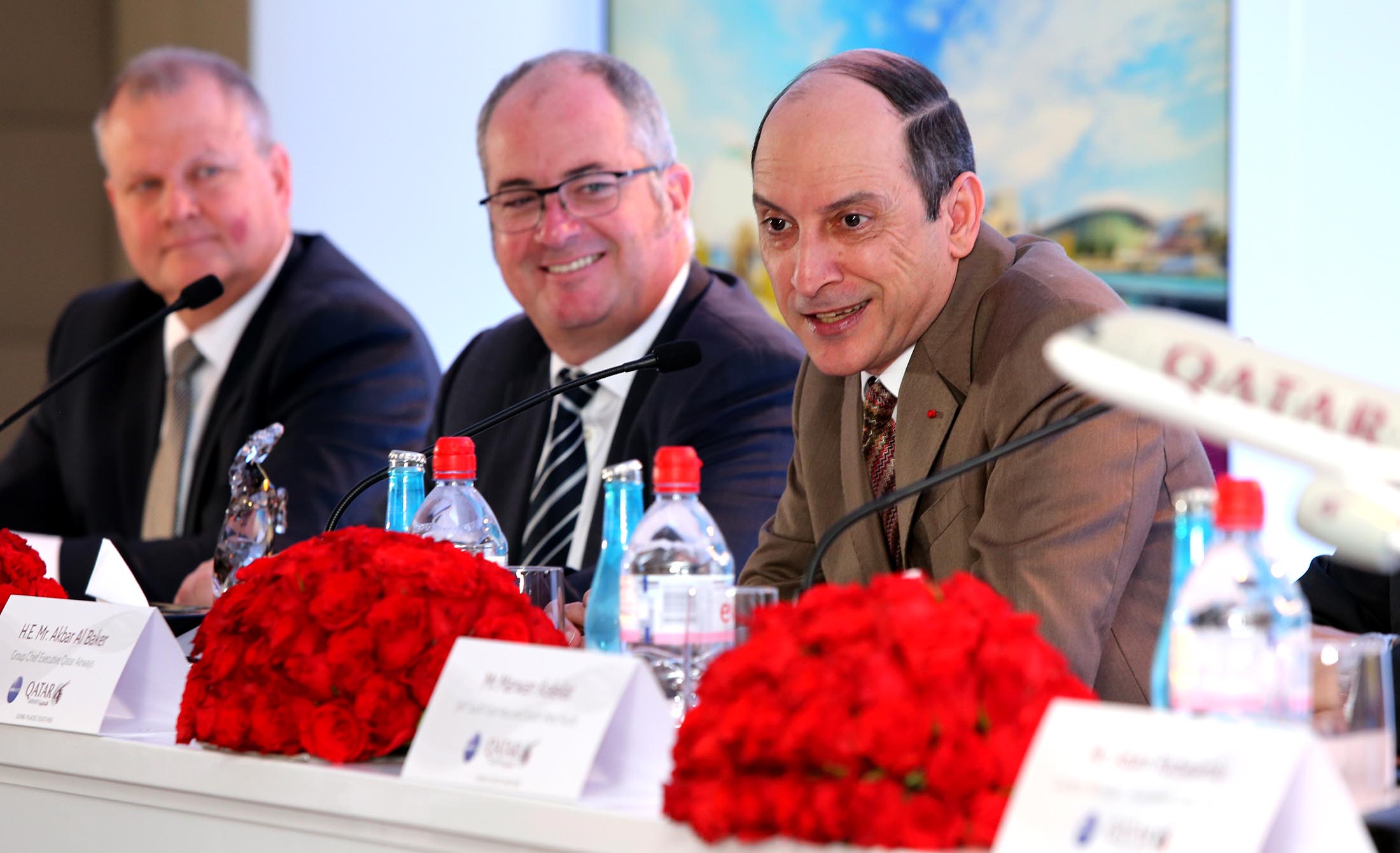 Qatar Airways Group Chief Executive, His Excellency Mr. Akbar Al Baker, speaking at the Qatar Airways' press conference with South Australia's Minister for Tourism, Hon. Mr. Leon Bignell (centre) and Managing Director of Adelaide Airport, Mr. Mark Young (left).
H.E. Mr. Al Baker said: "We believe that the people of South Australia deserve the best possible passenger experience when connecting to friends and family across the globe. This is why we are proud to offer them the most modern aircraft in the aviation industry, the Airbus A350, to take them to their destinations of choice where they will arrive feeling more relaxed, and less fatigued from a long-haul flight than ever before thanks to the modern technology on board this state-of-the-art aircraft."
South Australia's Tourism Minister, Mr. Leon Bignell added: "Qatar Airways' direct daily flights will bring in more than AU$41 million into our visitor economy and create 228 jobs across the state.
"It is great timing for South Australia. We have just come off our highest ever number of international visitors to the state with almost 10 per cent more visitors than this time last year and well above the national growth rate.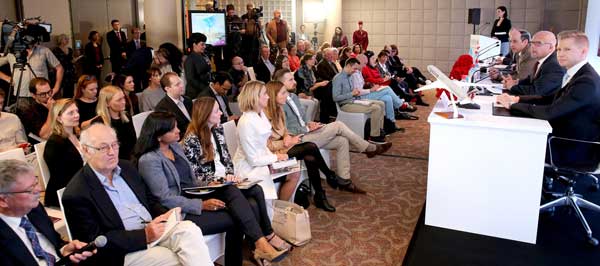 Media gathered at Qatar Airways' press conference held to celebrate the airline's inaugural flight to Adelaide.
"South Australia will be opened up to an even larger international audience with Qatar Airways flying from more than 150 destinations around the world and providing additional links between South Australia and the Middle East, Europe, India and the United States.
"As Minister for Agriculture and Fisheries, I am also keen to ensure we fill the freight section of the daily flights with premium South Australian seafood and high-quality fruit and vegetables."
Adelaide Airport Managing Director, Mr. Mark Young, commented: "We're excited to be the first airport in Australia to welcome the new-generation Airbus A350-900 aircraft – one of the most technologically advanced twin-engine aircraft in the world.
"The Qatar Airways Doha-Adelaide service opens up a brand new link with the Middle East, and provides excellent connections further afield such as with Europe and the UK."
Passengers travelling to or from Adelaide on board the Qatar Airways Airbus A350 in one of its 36 Business Class seats will enjoy one of the most comfortable fully-flat beds in the sky with 80 inches of seat pitch. The 1-2-1 configuration gives every passenger direct access to an aisle and the on-demand à la carte menu service allows Business Class passengers to order anything from the menu at any time during the flight. The aircraft also features the state-of the-art Oryx One entertainment system, with more than 3,000 entertainment options on individual screens in all classes.
The new service to Adelaide will also provide 80 tonnes of cargo capacity per week in and out of the South Australia hub in the belly hold of the A350, connecting Australia's leading exporters to Qatar Airways Cargo's global network of more than 150 stations around the world. Qatar Airways Cargo, the third largest international cargo carrier, already carries more than 450 tonnes of freight in the belly hold of its Boeing 777 passenger aircraft into and out of Sydney, Perth and Melbourne per week.
With an average connection time of just 90 minutes via the airline's hub at Hamad International Airport, passengers travelling from Adelaide can expect a smooth and seamless journey to their final destination via Doha. The contemporary and luxurious airport, which opened in 2014, has more than 40,000 square metres of retail space and restaurants including more than 70 retail and 30 food and beverage outlets, as well as a 25-metre swimming pool, gym, hotel and spa.
Daily Flight Schedule:
DOH-ADL QR914 Departs: 2130 Arrives: 1700+1
ADL-DOH QR915 Departs: 2125 Arrives: 0450+1
Notes to Editors:
For images please visit: https://www.flickr.com/photos/qatarairways/albums/72157667941077865
About Qatar Airways:
Qatar Airways, the national carrier of the State of Qatar, is one of the fastest growing airlines operating one of the youngest fleets in the world. Now in its 19th year of operations, Qatar Airways has a modern fleet of 184 aircraft flying to more than 150 key business and leisure destinations across six continents.
Qatar Airways won Airline of the Year, Best Business Class Airline Seat and Best Airline in the Middle East at the 2015 Skytrax Awards. This is the third time the airline won the accolade of Airline of the Year.
Qatar Airways is a member of the oneworld global alliance. The award-winning alliance was named the World's Best Airline Alliance 2015 by Skytrax for the third year running. Qatar Airways was the first Gulf carrier to join global airline alliance, oneworld, enabling its passengers to benefit from more than 1,000 airports in more than 150 countries, with 14,250 daily departures.
Qatar Airways launched Oryx One in 2015, an enhanced interface for its inflight entertainment system, increasing the number of movies and TV shows on board from 950 to up to 3,000. Passengers flying on Qatar Airways flights served by its B787, A350, A380, A319 as well as select A320 and A330 aircraft can also stay in touch with their friends and family around the world by using the five-star airline's on-board Wifi and GSM service.
Qatar Airways Cargo, the world's third largest cargo carrier, serves more than 50 exclusive freighter destinations worldwide via its Doha hub and also delivers freight to more than 150 key business and leisure destinations globally on 184 aircraft. The Qatar Airways Cargo fleet now includes eight Airbus A330Fs, nine Boeing 777 freighters and two Boeing 747 freighters.
For further information contact:
For more information, visit our homepage www.qatarairways.com or our sites on Facebook, Twitter, Google+, Instagram, and YouTube.
For Qatar Airways corporate images, please click here: http://www.qatarairways.com/corporateimages
Qatar Airways Group, Corporate Communications Department
Tel: +974 40222072, Fax: +974 40225350
E-mail: qrmedia@qatarairways.com.qa
Website: www.qatarairways.com