---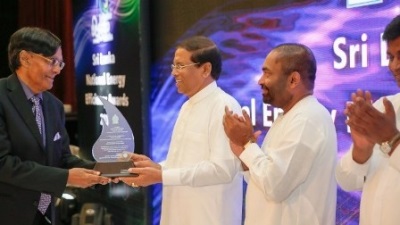 The 2007 Nobel co-laureate received his award fromHE Maithripala Sirisena recently at a ceremony held for the Sri Lanka National Energy Efficiency Awards
2007 Nobel Peace Prize co-laureate Professor Mohan Munasinghe was presented with the prestigious apex award for Outstanding Lifetime Contributions to Energy Policy by HE President Maithripala Sirisena, at the climax of the Sri Lanka National Energy Efficiency Awards ceremony held on 24th November 2016 at BMICH. He is internationally recognised globally for his achievements in energy, sustainable development and climate change, most notably integrating global climate change policies into sustainable development strategy.
The National Energy Efficiency Awards is organised jointly by the Sri Lanka Sustainable Energy Authority (SLSEA) and the Ministry of Power and Renewable Energy. Held for the 7th consecutive year under the patronage of President Maithripala Sirisena, the event recognised the achievements of public and private sector institutions and individuals in the area of energy efficiency and conservation in the following categories: National Energy Efficiency Award, Best Energy Services Companies Award, Outstanding Energy Manager Award, and Outstanding Lifetime Achievement Award.
Minister of Power and Renewable Energy, Ranjith Siyambalapitiya stated that the Authority has audited close to 30 public and private sector organisations that have made commendable efforts towards efficient resource utilisation and conservation and management of energy, achieving notable results and benefits during the period under review. Also present at the awards ceremony were Hon. Ajith P. Perera - Deputy Minister of Power and Renewable Energy, Dr. B.M.S. Batagoda - Secretary to the Minister of Power and Renewable Energy, Eng. J.D. Keerthi Wickramaratne - Chairman, SEA, and Mr. Ranjith Pathmasiri - Director General, SEA, among others.
"The national energy efficiency awards give impetus for us to follow the inclusive green growth path towards sustainable development in Sri Lanka" notes Professor Munasinghe. "They empower corporates, individuals, and communities to adopt ethical values and responsible behaviours that promote sustainable consumption and production, which in turn enhances economic prosperity, while reducing energy use as well as harmful environmental and social impacts".
Professor Munasinghe, Director of the Carbon Consulting Company (CCC) and Founding Chairman of the Munasinghe Institute for Development (MIND), was also recently honoured with a top world energy award from the Energy Globe Foundation in Vienna. One of the most distinguished and respected climatologists in the world, Professor Munasinghe shared the 2007 Nobel Peace Prize with former U.S Vice President, Al Gore. He was also Vice-Chair of the Intergovernmental Panel on Climate Change (IPCC), has post-graduate degrees in engineering, physics and economics, and several honorary doctorates, and is the author of over 100 books and 300 scholarly publications in scientific journals on climate change, energy, environment, and sustainable development.