---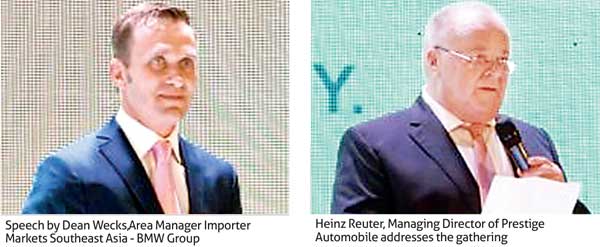 Prestige Automobile, sole representative of BMW in Sri Lanka, has introduced BMW i3 – a purpose-built electric vehicle with maximum safety and BMW i8 – the most progressive plug-in hybrid sports car to the local market.
Along with the launch of BMW i, Prestige Automobiles has also introduced the all-inclusive 360oELECTRIC program that has been designed to make electric mobility ownership a breeze. The BMW i3 is BMW i's first electric vehicle capable of achieving zero tailpipe emissions.
It is designed from the ground up to be sustainable and yet capable of delivering BMW's hallmark driving pleasure in an undiluted form. As such, the familiar sense of driving pleasure embodied by the BMW i3 is the result of a completely fresh concept, part of which has involved creating the optimum balance of weight, performance and range for urban mobility.
The key elements here are the LifeDrive architecture and BMW eDrive technology. The use of lightweight Carbon-fibre reinforced plastic (CFRP), which is five times stronger than steel but is 50 percent lighter, for the passenger cell cancels out the extra weight contributed by the high-voltage lithium-ion battery.
Further, the outer skin of the BMW i3, except the CFRP roof, is made almost entirely of thermoplastic, which is corrosion-free and resistant to minor damage. The BMW i3 in Sri Lanka comes standard with the Range Extender (REx) and has a maximum output of 170hp and peak torque of 250 Nm, which is on tap from 0rpm.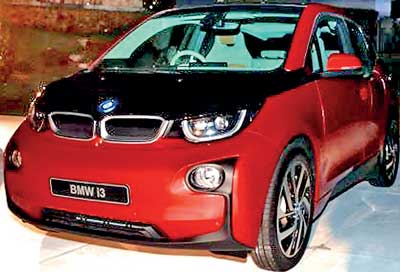 The BMW i3 (REx) sprints from 0 - 60 km/h in about 3.9 seconds and 0-100 km/h in approximately 7.9 seconds. The BMW i8 is the first BMW plug-in hybrid sports car built with the revolutionary LifeDrive architecture and advanced lightweight material like CFRP. It features the latest BMW EfficientDynamics technology, including a rear-mounted 1.5- litre three-cylinder petrol engine with BMW TwinPower Turbo technology that can generate up to 231hp and a maximum torque of 320 Nm. Heinz Reuter, Managing Director of Prestige Automobile said, "In terms of the electric vehicle itself, owners are primarily concerned about the safety,
driving pleasure and its operating range, not forgetting the perceived barriers that hinder them from embracing electric vehicle wholeheartedly. BMW is pleased to have addressed all these points, not only through the revolutionary design of the BMW i3 and BMW i8, but also via 360º ELECTRIC, which is an all-rounded portfolio of services designed to make electric vehicle or plug-in hybrid ownership a breeze.
"Prestige Automobile (Pvt.) Ltd is the authorized importer for the premium German brand - Bavarian Motor Works AG, in Sri Lanka, better known as BMW. With a history of almost two decades in Sri Lanka, Prestige Automobile has its awardwinning (International Architectural Award Winner for Design Innovation), ultramodern showroom in Battaramulla.