---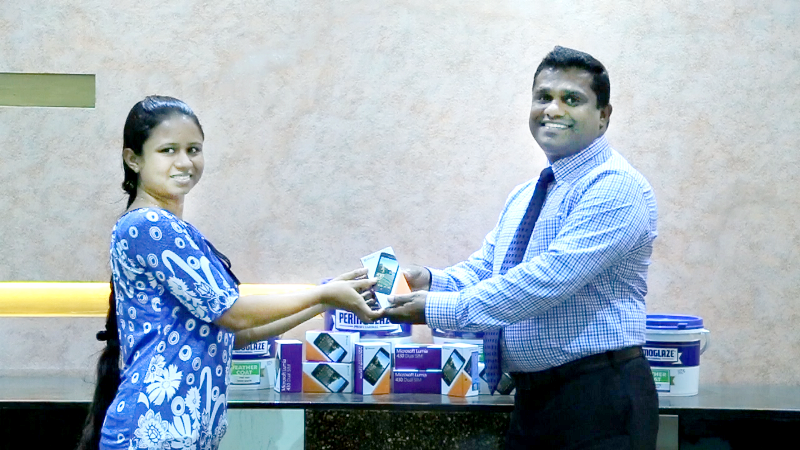 MaithriVithanage, National Sales Manager of JAT Holdings (right) awarding the first round winners of the recent Permoglaze scratch and win competition
JAT Holdings, Sri Lanka's undisputed leader in the furnishing and finishing industry, launched its Scratch and Win Permoglaze promotion on 13th December 2015 to herald the holiday season In continuing its own inimitable pioneering fashion, JAT established yet another first by ensuring every Permoglaze customer an equal chance of winning.
The promotion mechanism provides a scratch and win card to every customer purchasing any product from the range of Permoglaze Paints which include Emulsion, Weathercoat or Enamel. Each card is guaranteed an instant cash prize ranging from Rs.50 – Rs.1000, redeemable instantly from the retailer.
This amazing everyone's a winner reward scheme does not end here. The same customers then are given an opportunity to enter a grand draw by texting the 8 digit number on the scratch panel to 077-7777-527 via sms. The chance of winning 25 smart phones each month and a grand prize of 2 motor bikes and an alto car at the end of the promotion is in offer. This unique multi- tiered campaign guarantees to be as exciting and enthralling as only JAT can deliver.
The first monthly draw completed recently at the JAT head office saw 25 very happy and lucky winners walking away with their brand new smart phones.
The promotion which runs until 30th April is open to all Permoglaze customers who will be doubly rewarded by having their households painted by the best paint in the island with the added bonus of receiving valuable prizes.
JAT Holdings recently became the only Sri Lankan company to be awarded an unprecedented three Green Labels by the prestigious CIOB [Chartered Institute of Buildings] Green Mark Scheme in recognition of its new age innovative building and construction materials. Permoglaze is the only brand in Sri Lanka that manufactures a 'Low VOC' paint which ensures it is the safest and easiest to work with in comparison to any other paint in the market.
Acknowledging JAT's efforts at advocating this concept, under the product category of Paint & Coatings, the CIOB awarded two Gold Awards for JAT's paint products, namely Permoglaze Exterior Emulsion and Permoglaze Interior Emulsion and a Silver Award for its Permoglaze Water based enamel range making JAT the sole company to have three green accreditations for its products in the country.
Growing from strength to strength over the years, JAT Holdings boasts an impressive portfolio of products across a wide range of leading international brands including SAYERLACK wood coatings of Italy, Herman Miller office solutions of US, Crown and Permoglaze decorative interior and exterior wall paints of UK, BormaWachs maintenance range of Italy, Norton Abrasives (Saint Gobain) of France and Brush Master Paint brushes. JAT has successfully expanded its presence internationally across a host of countries such as India, Bangladesh, Maldives and the Seychelles & it comes as no surprise that JAT Holdings is placed among the Top 10 conglomerates within Sri Lanka.