---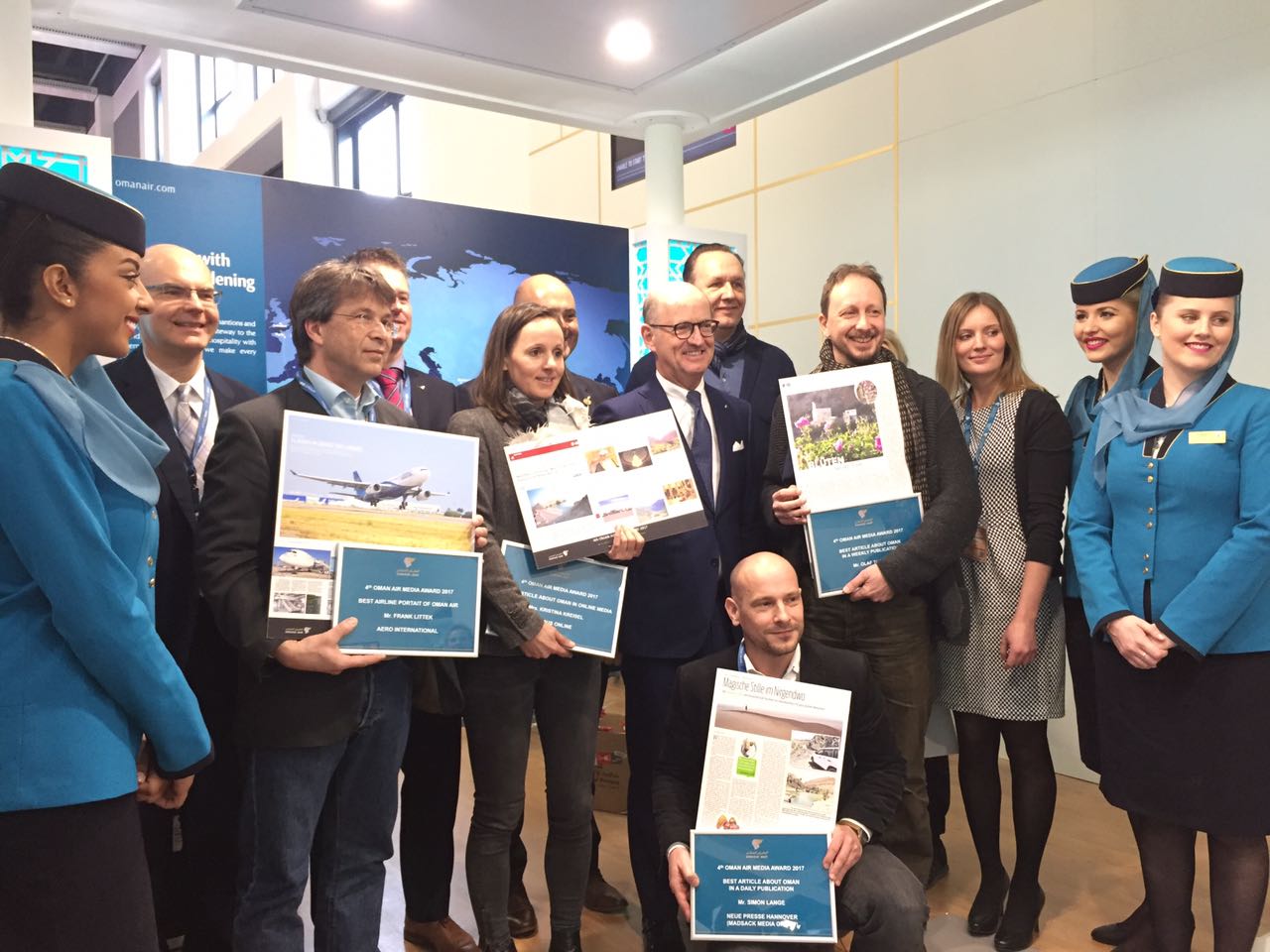 Oman Air, the national carrier of the Sultanate of Oman, successfully participated at ITB Berlin from 8 – 12 March 2017. In addition to celebrating its dynamic programme of fleet and route expansion, the airline also celebrated its fourth consecutive Media Awards for German media.
The airline has exhibited at ITB Berlin, the world's leading trade event, for the past ten years. The event has been an important venue for Oman Air to showcase the airline's growing network and award-winning products and services as well as making and renewing relationships. With a growing presence in Europe and increased frequencies on European routes announced in 2016, there was significant interest from both trade and consumer visitors at the show.
Whilst at ITB Berlin, Oman Air promoted its recent developments and future expansion plans. At the end of 2016 Oman Air introduced its first destination in China, Guangzhou and the commencement of a four times weekly flight to Najaf, Iraq in November last year. Network developments are continuing apace in 2017 with the revised flight agreement with the Government of India resulting in increased frequencies to five of Oman Air's 11 Indian destinations and news of a new four times weekly flight from Muscat to Nairobi, Kenya to be launched at the end of March this year. Also a new daily flight to Manchester, UK starting from 1 May 2017 and the increase of services to Pakistan with the launch of a new Muscat to Peshwar flight later in the year.
Paul Gregorowitsch, Oman Air's Chief Executive Officer, commented: "ITB Berlin is the ideal stage for us to promote Oman Air to a huge trade and consumer audience and to highlight our award-winning service, growing network and world class fleet. We are continuing with our ambitious expansion plans in 2017 with three new additions to the fleet already. The latest aircraft is the Boeing 787 Dreamliner which joined the fleet on 23 February 2017, beside two new 737-800 were added to the fleet in January and February this year. In addition, a new Dreamliner B787-9 which will be joining Oman Air's fleet in the coming April"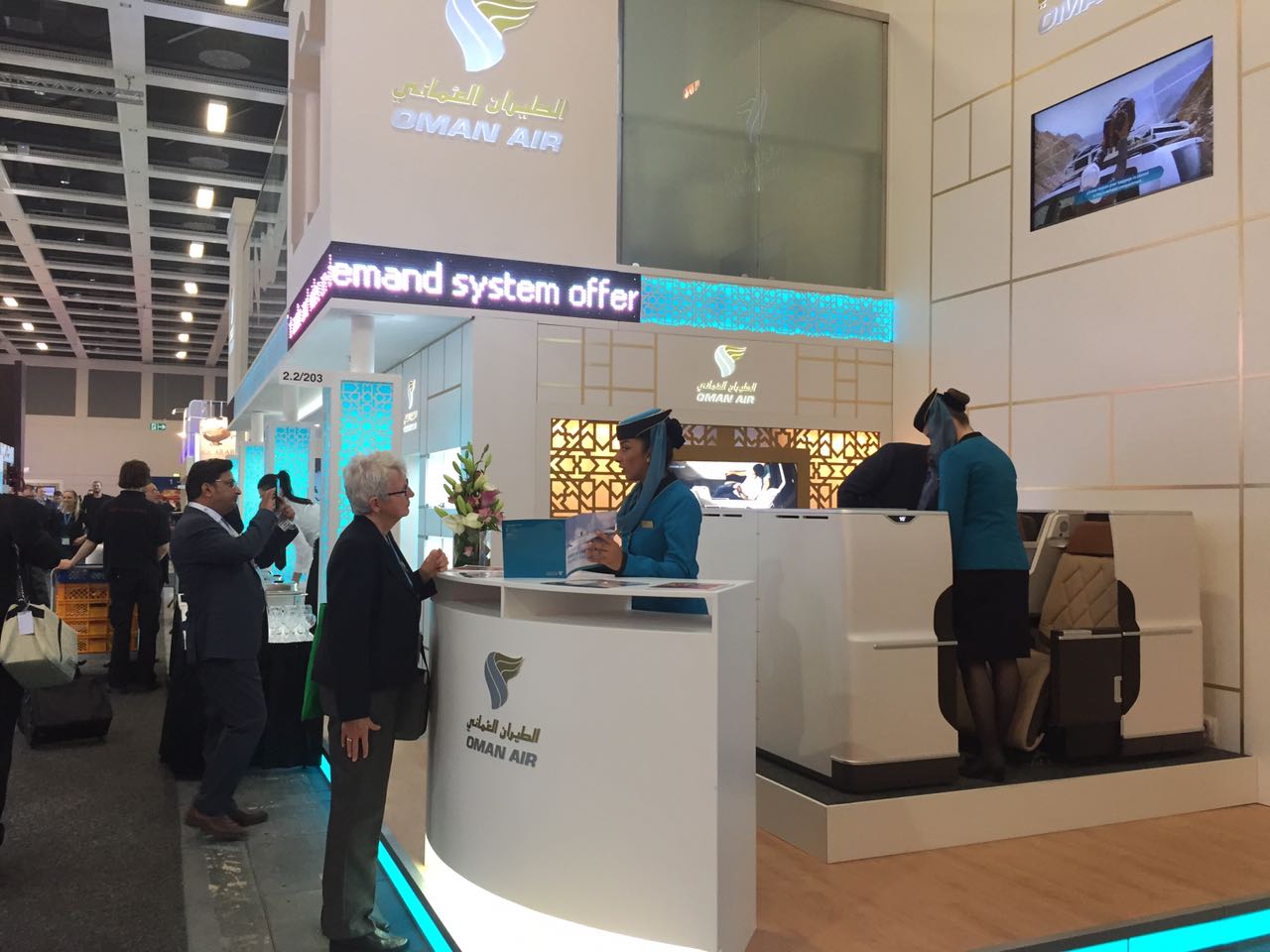 Oman Air's Media Awards winners were announced at an official reception, held at Oman Air's stand at ITB Berlin on 8th March. Building on the success of previous Media Awards, a panel of experts recognized the best articles on Oman from an impressive number of entries of the highest standard from journalists and bloggers in Germany, Austria and Switzerland.
The winners were:
• Lange Simon - Neue Presse Hanover (Madsack Media Group) - Best article about Oman in a daily publication
• Olaf Tarmas - Welt am Sonntag - Best article about Oman in a weekly publication
• Frauke Hunfeld - Stern - Best article about Oman in a magazine
• Kristina Kreisel - Focus Online - Best article about Oman travel in online media
• Frank Littek - Aero International - Best airline portrait of Oman Air
• Ute Werner- TV station Saarländischer Rundfunk (ARD) - Special Award for destination coverage

The overall winner was Olaf Tarmas who received a long-weekend break for two in Muscat, including Business Class return flights from Frankfurt, Munich or Zurich, airport transfers and three nights' half-board accommodation in one of Muscat's most luxurious hotels.
Paul Gregorowitsch, Oman Air's Chief Executive Officer, said: "We were delighted with the response to our Media Awards this year and received a high number of outstanding entries. This is a great opportunity for us to recognise and thank the media for the role they have played in building our reputation as a world class airline. There is no doubt that the media has played a crucial part in helping us raise our profile in the European market."
For further information on Oman Air, visit www.omanair.com