---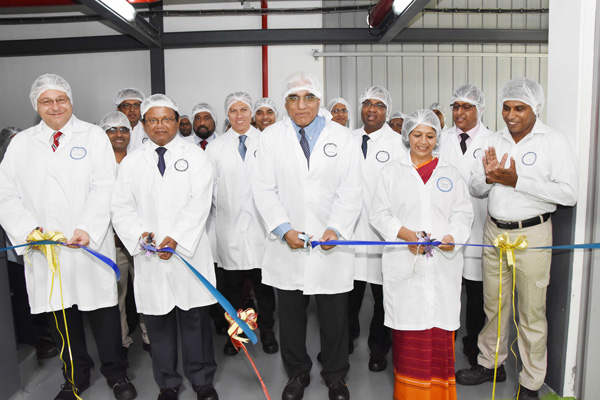 Aris Protonotarios, Head of Technical - Nestlé South Asia Region; Mr. Upul Jayasuriya, Chairman - Board of Investment of Sri Lanka; Dr. Indrajit Coomaraswamy, Governor - Central Bank of Sri Lanka and Shivani Hegde, Nestlé Lanka Managing Director, opening the new UHT milk plant
NestléLanka opens new UHT milk plant as a commitment to developSri Lanka's dairy industry; Invests LKR 500 million
Nestlé Lanka achieved another big milestone in the history of the company with the opening of a new UHT milk plant in its factory in Kurunegala. Continuing the investments the company has made in the country, it invested another LKR 500 million this year on this new production facility, as a commitment to develop the local dairy industry.
The UHT milk plant was inaugurated by Chief Guest, Dr. Indrajit Coomaraswamy, Governor of the Central Bank of Sri Lanka and Guest of Honour, Mr. Upul Jayasuriya, Chairman of the Board of Investment of Sri Lanka.
Said Dr. Indrajit Coomaraswamy "External debt is a real challenge the country faces today. Nestlé however,has greatly benefited the country by helping Sri Lanka earn and save its foreign-exchange reserves through the local manufacture of Nestlé's strong brands. Nestlé is also a fine example of a company that has fully integrated itself into the domestic economy through its many initiatives to empower the lives of 20,000 local dairy farmers. I want to congratulatethe company on this expansion; it is a great testament to the jobs they have created and their long term commitment to Corporate Social Responsibility."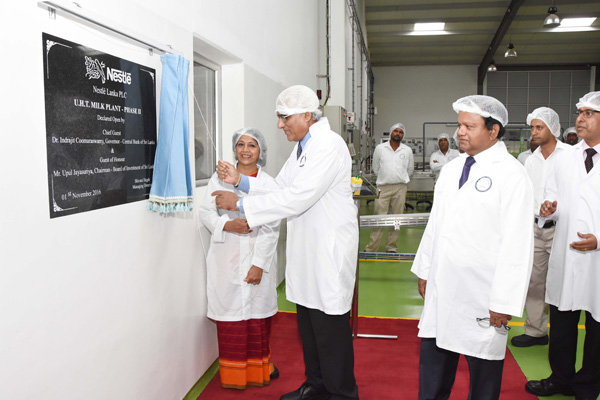 Dr. Indrajit Coomaraswamy, Governor - Central Bank of Sri Lanka unveiling the plaque. Looking on are Shivani Hegde, Nestlé Lanka Managing Director; Mr. Upul Jayasuriya, Chairman - Board of Investment of Sri Lanka and Rohit Mittal, Nestlé Vice President - Technical
"We are currently preparing for an investment drive in Sri Lanka. I am happy to note that through their dairy development initiatives, Nestlé began their journey in investing in Sri Lanka's future over thirty years ago, contributing significantly to the development of the country."Said Mr. Upul Jayasuriya. "Their new investment will further increase import substitution and exports in the country. I want to offer my thanks to Nestlé for giving me this opportunity to witness this reality and wish them all the success in their future investment plans."
Said Shivani Hegde, Managing Director for Nestlé, "The new UHT milk plant we opened will positively impact the farmers we work with daily, strengthening our efforts to develop the local dairy industry, contribute to its prosperity, and ultimately, enhance the quality of life of the people of Sri Lanka."
Nestlé's factory in Kurunegala is home to its production facilities that manufacture, amongst others, its dairy based products. Through this new investment on a UHT milk plant, Nestlé plans to expand the company's production capacity for its popular dairy based beverages,providing local consumers with more milk based products that cater to local tastes and nutritional needs. The new plant will manufacture RTD (Ready-To-Drink) products like Milo, Nespray Nutri-Up, Nescafé Ice and Nestomalt.
Nestlé has been operating in Sri Lanka for 110 years and prides itself on being a local multinational. The company focuses on manufacturing products locally, largely using local ingredients.Nestlé, which is Sri Lanka's largest private sector collector of fresh milk, contributed LKR 3.6 billion in 2015 to its dairy farmers as payment for fresh milk, to manufacture its products like Nespray, Milo and Milkmaid.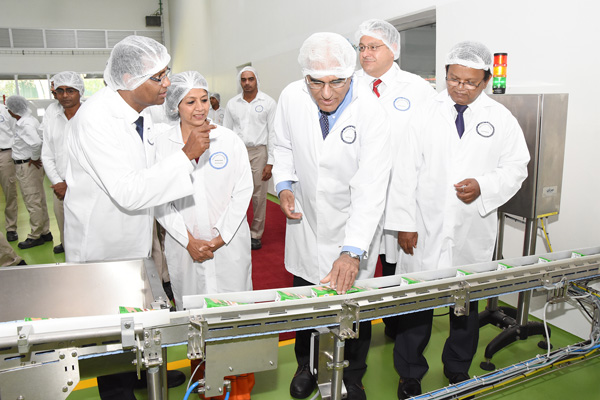 Dr. Indrajit Coomaraswamy, Governor - Central Bank of Sri Lanka and Mr. Upul Jayasuriya, Chairman - Board of Investment of Sri Lanka observing the RTD (Ready-to-Drink) production line of the new UHT milk plant. Looking on are Bandula Egodage, Nestlé Assistant Vice President – Corporate Affairs and Communications; Shivani Hegde, Nestlé Lanka Managing Director and Aris Protonotarios, Head of Technical - Nestlé South Asia Region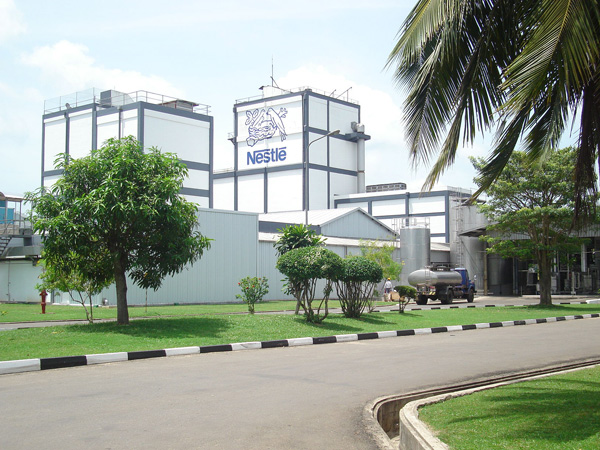 The Nestlé Lanka Kurunegala Factory