---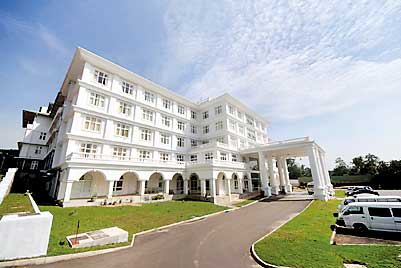 Sri Lanka's largest private hospital Dr. Neville Fernando Teaching Hospital (NFTH) organized a free Diabetic Clinic for Diabetic patients and a program on 'Beat Diabetes' celebrating the World Health Day this year.

This year's World Health Day 2016 was celebrated on 7th April, and focused on ways to halt the rise of diabetes worldwide.
As part of its Corporate Social Responsibility initiatives; Dr. Neville Fernando Teaching Hospital (NFTH) gave the opportunity for Diabetic patients upon registration to take part in a Diabetic Clinic and an 'Awareness' program on Prevention of Diabetes titled 'Beat Diabetes'. Nearly 200 visiting patients to NFTH were also entitled for a free Fasting Blood Sugar or Random Blood Sugar test for 200 checkup on 7th of April.

The hospital also organized a quiz program that patients and visitors could take part after the Health Talk on 'Beat Diabetes' and three winners were selected from a Raffle Draw which entitled them for a free 'AyuSri' Health Screening Package from NFTH. 'AyuSri' Health Screening Package is offered at the 'AyuSri' Health Screening Centre of NFTH, where a range of health screening packages are on offer to suit every individual's needs. Whether it is individual or corporate screening, the AyuSri is a one-stop centre for healthcare.
According to World Health Organization, themed 'Beat diabetes: Scale up prevention, strengthen care, and enhance surveillance' this year's the main goals of the World Health Day 2016 campaign are to increase awareness about the rise in diabetes, and its staggering burden and consequences, in particular in low- and middle-income countries; and to trigger a set of specific, effective and affordable actions to tackle diabetes.
These will include steps to prevent diabetes and diagnose, treat and care for people with diabetes. About 350 million people worldwide have diabetes, a number likely to more than double in the next 20 years and in 2012, diabetes was the direct cause of 1.5 million deaths. More than 80 percent of diabetes deaths occur in low- and middle-income countries. Type 2 Diabetes accounts for around 90 percent of all diabetes worldwide. Reports of type 2 diabetes in children have increased worldwide in an alarming rate.
Type 2 Diabetes is a long term metabolic disorder that is characterized by high blood sugar, insulin resistance, and relative lack of insulin. Common symptoms include increased thirst, frequent urination, and unexplained weight loss. Symptoms may also include increased hunger, feeling tired, and sores that do not heal.

As it is in most countries around the world, Diabetes is on the rise in Sri Lanka whilst Sri Lanka is also a country that is having thousands of patients with Chronic Kidney Diseases. Efforts from both private and public healthcare initiatives are being rolled out nationwide to help Sri Lankans with diabetes manage often debilitating health consequences and lead
productive lives.

There are over 50 well qualified resident consultants serving at NFTH that has over 1000 beds capacity being Sri Lanka's largest private sector Hospital. Dr Neville Fernando Teaching Hospital (NFTH) is providing services in such a way that it is very much affordable to the greater majority of the local population who are average or lower middle
income earners.