---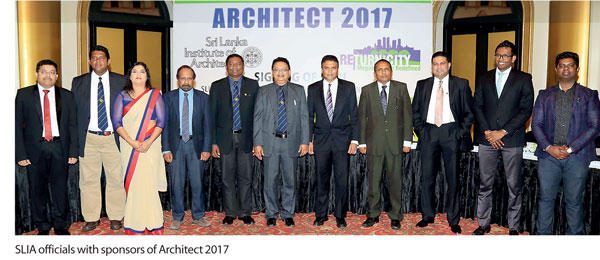 Annual Sessions of Sri Lanka Institute of Architects (SLIA) will be held for the 35th consecutive time from 14th to 19th February 2017 at the BMICH Colombo consisting of a series of events and activities including the most highlighted event, "Architect 2017 – Members' Work and Trade Exhibition"under 2017 theme of "Return of the City – Mega structure Redefined".

The series of events and activates would kick off with the Inauguration on 14th February 2017 followed by the National Conference on 15th February 2017. Exhibition will be held during the period of 14th to 19th February 2017 while the Fellowship Night to be scheduled on 18th February 2017.
Signing of the MoU's with sponsors by SLIA for the sessions 2017-18 was held at Taj Samudra Hotel recently.This significant event is part of the Annual Sessions of Sri Lanka Institute of Architects & it has been customary to recognize the strategic partners of Annual Sessions. Prestigious organizations joined hands this year signifying the support carried out for 35 years with SLIA to facilitate this highlighter of the year. To make these significant events, a roaring success, Alumex Group has partnered as the strategic sponsor, holding to the top spot for the past seven years while Lankem Robbialac has joined hands with SLIA as the principal sponsor.

Naveen Ceramic (Pvt) Ltd. would be the sponsor of SLIA Member's event while Ranjanas Ceramics (Pvt)Ltd., True Value Products (Pvt) Ltd. and Nippon Paint Lanka (Pvt) Ltd. joined as the associate sponsors. Continental Insurance joining hands with SLIA for the second consecutive year as the official insurance partner for "Architect 2017" as well.