---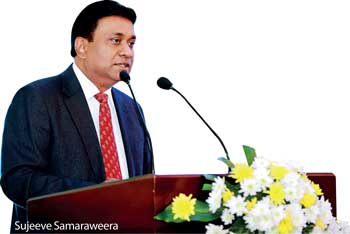 Following is the speech made by National Chamber of Commerce Sri Lanka President Sujeeve Samaraweera, at the 59th Annual General Meeting (AGM) in Colombo recently.

I am taking over the Presidency of this Chamber at a very critical period for the world economy as well as the Sri Lanka economy.

As per the World Bank assessments, Sri Lanka's economic performance remained broadly satisfactory in 2016 and early 2017 although recent floods and drought adversely affected macroeconomic performance.

The government is more focused on bringing fiscal reforms, improving public financial management, increasing public and private investments, addressing infrastructure constraints, and improving competitiveness which is admirable. New directions taken on green growth opportunities, environmental management, and women inclusion will lead the country to internationally accepted norms.

Sri Lanka being a lower middle-income country with 21.2 million population with per capita GDP in 2016 of US$3,835. The economy is transitioning from being predominantly rural-based to urbanized economy oriented around manufacturing and services.

The economy has been growing at a moderate phase of around 4 percent during the last three years, where the expectations of the business community are at higher levels.

It is worth mentioning that in 2016 Sri Lanka was hit with the worst drought in four decades that continued into 2017. In May 2017, Sri Lanka experienced one of the worst floods in 14 years, where agri and industry sectors facing more difficulties. As Sri Lanka aspires to become a higher middle-income country, it will need to adjust its development model and economic growth which will likely require continued structural changes towards greater diversification and productivity increases. Although Sri Lanka has excelled in overcoming human development challenges, typical to a low-income country, its service delivery systems in education, health and other areas must now adjust to face new and changing demands of a middle income country. To accommodate these increasing demands, the government needs to increase fiscal revenues in the medium term.

For the country to transits to a more robust, competitive, and globally integrated economy and create better-paying private-sector jobs, we need to distribute the benefits of the country's growth to all citizens and increase female labor force participation through education. Boosting green growth, improving environmental management, and mitigating natural disasters and the effect of climate change are also priorities.

SME development

Just like in other economies, in Sri Lanka the main driving force of the economy is considered to be SMEs. Approximately 75 percent of the enterprises in the country can be classified as SMEs and they provide approximately 40 percent of the employment in the country in diversified sectors ensuring inclusive growth.
It is noted that many SMEs do not use latest technology and having limited access to finance due to collaterals not being available. Further, SMEs are not directly connected to markets especially in the case of exports.

Our chamber is very much involved in SME activities and carries out many programmes to assist the small and medium entrepreneurs to develop their business and skills and knowledge.

Small and Medium Enterprises play a significant part and contribution to most of the economies of the world. There are ample opportunities and exposure for large corporates in Sri Lanka and outside. They have the capital, technology and markets to survive and sustain.

It is a prime requirement today to support small and medium enterprises, and we must not forget startups and micro businesses, they will eventually grow bigger. Chambers together, with government development agencies and financial institutions should have a common development strategy for micro, small and medium entrepreneurs. We should continue to encourage entrepreneurship in this country.

SMEs are facing many difficulties and challenges in accessing international markets. It is an internationally-accepted norm that policy level corrections are needed to ensure SMEs enter and continue to be in international trade. SMEs find it difficult to deal with regulatory processes associated with trading goods across borders. Recent studies have confirmed that reduction of complex border procedures will encourage SMEs to partake in more and more export/import activities. Through the national budget proposals of the government is proposing to setup a Development Bank to support the financial needs of the SME Sector and a SME guarantee fund also to be established which is expected to expand borrowing capacity of SMEs.

The development projects proposed by the government for Kandy, Galle, Anuradhapura and Jaffna would bring in economic benefits for regions. It would provide much needed equal development opportunities for the regions and would help establish National Reconciliation in the country as well.Faster implementation of such proposals will bring benefits to the SMEs and economy at large, faster.

The National Chamber of Commerce is working hand in hand with provincial and District Chambers to address this situation. We conducted the Western Province Entrepreneurship Awards for the second time in 2017, on an invitation by the National Enterprise Development Authority under the Ministry of Industry and Commerce.

We will pave the way for MSMEs to come to National Level and compete with larger business ventures, through our flagship event of the Chamber - National Business Excellence Awards to conquer the Business world.

It is a known fact that private sector is the growth engine of the development of any economy. It is through Public Private Partnership that we could accomplish far reaching economic goals. In this context we would like to urge the government, international development agencies and private sector to come together.

Export development

The export sector performance is very critical for an economy to progress.

Initial steps have been taken by the authorities to prepare the National Export Strategy (NES) for Sri Lanka as a joint effort of public and private sector consultative process under the patronage of Prime Minister of Sri Lanka.

Main theme of the NES is decided as "Sri Lanka – An Export Hub driven by Innovation and Investment " with key focus sectors that have been identified as, ICT, wellness and tourism, spice, boat building, processed food & beverages, electronic electrical and machinery. It is of utmost importance that national export strategy should be implemented as early as possible. We also feel that it should be revived at regular intervals enabling to bring in timely changes.

Trade support functions were also identified in the said process such as, national quality infrastructure, innovation and R&D, logistics and trade promotion. Potential and mature export products will be benefitted under these trade support functions.

Under the Blue Economy programme of the government, the encouragement extended for deep sea fishing and infrastructure facilities development proposals for the fisheries sector is also appreciated.

Sri Lanka being an island and having one of the biggest sea areas of 517,000 square kilometers, and having fish export ban lifted by EU, we should be able to do much better on fish exports.Supporting the export industries by way of encouraging investments, offer them attractive terms to acquire latest technology, encourage them to invest in patents and branding in overseas markets, ensuring internationally accepted quality infrastructure and quality certification systems with in the country are vital for the developments of the sector. In an environment that we have regained GSP Plus, on behalf of the business community we request authorities, early implementation of the national export strategy, so the entire economy will be benefitted with a positive impact on employment generation and GDP and narrow the current account deficit.

We have seen the government is getting involved at very high levels on economic diplomacy in sorting out business issues, the recent tea export ban in Russia can be taken as an example, business community appreciate the same expect continuation of such efforts.

It is vital to keep the cost of production as low as possible so that our products would be competitive in the international market specially competing with Asian countries such as Bangladesh, Vietnam and Myanmar etc. It is a known fact that our utilities such as water electricity are higher in price in the region. India through their Foreign Trade Policy is supporting the export oriented manufacturing and services in an excessive magnitude and Malaysia is also doing the same to boost and encourage exports. We should look at these examples, analyze and should take constructive steps to improve our economy.

Shortages of skilled labour and unemployment

The report on labour demand survey done by Census and Statistics department reveals that 497,000 jobs are available but 380,000 are unemployed. 177,000 employees are needed by service sector, trading sector needs about 110,000, construction sector needs 20,000, for tourism 10,000, and plantation sector needs about 3,000.

Shortages of skilled labour continue to be a hindrance across many businesses in manufacturing and services in Sri Lanka. The National Chamber statistics also demonstrate that there is a shortfall in all the industries.

In the recent past the government paid considerable attention to the matter and it is essential that Sri Lankan government continues to focus on policies forming the much required skilled workforce for the industries, therefore it is vital for Sri Lanka to have policies aligned to increase skilled labor availability and to get these skilled labor employed on export related industries is also of paramount importance.

It is significant to understand that there should be a change of attitudes of young community to get in to skilled jobs, social acceptance for these jobs is at a minimum level. The government, private sector and media in this country at large have a great national responsibility to make this transformation happening.

Importance of trade facilitation

In simple terms, Trade facilitation can be recognized as, making it simpler and efficient for traders to move their goods across borders. Doing Business Index of World Bank is also taking 'Trading Across Borders' as a significant evaluation criterion in ranking countries. Under this category, documentation and border compliance, cost of exports in compliance with documentation and border procedures, importation time and cost related to border procedures and documentation are taken for detailed evaluation. This confirms the importance of cross border trading at every level.

On 31 May 2016 Sri Lankan government ratified the WTO Trade Facilitation Agreement where it came to effect in February 2017. In April 2016, Cabinet nod was given to establish the National Trade Facilitation Committee which is chaired by Director General of Sri Lanka Customs and Director General of Department of Commerce as the co-chair, the government sector and the private sector is well represented in this committee ensuring well bonded Public Private Partnership, in achieving the ultimate goal of implementing TFA in Sri Lanka

Additionally, Sri Lankan government requested, the support of World Bank Group for the development and implementation of web-based trade information portal, to develop the blueprint of the national single window operation.

It is with a positive note that we mention the movement has taken every possible step trade facilitating the business community greatly.

The National Chamber is working very closely with the Ministry of National Policies and Economic Affairs functioning under the Prime Minister, in sorting out business issues faced by the business community, under the direction of Paskaralingam, Senior Advisor in the ministry. It is a very practical way of facilitating trade, hence we would like to encourage such great efforts.

Need for national trade policy

Since Sri Lanka is negotiating many preferential Free Trade Agreements at the moment with larger and stronger economies, such as India, China and Singapore, the Cabinet has granted approval to go ahead with the Singapore FTA.

The National Chamber is stressing the fact that it is an absolute necessity to have a National Trade Policy for Sri Lanka which will govern and provide directions to any trade agreements to be signed by Sri Lanka with any other country.

It is worth mentioning that India has well defined Foreign Trade Policy which is updated every five years where the current policy statement is applicable to the period of 2015 to 2020. This document provides framework agenda for exports and imports of India for the specified time period, keeping aligned with the vision of 'Made in India' of the Indian government to support both manufacturing and services sectors.

Anti-dumping and countervailing measures

We have stressed in the recent years, with the background of Sri Lanka entering in to three Free Trade Agreements with very strong economies, in the near future, it is vital to implement anti-dumping regulations in Sri Lanka.

In other words, a common mechanism to protect our domestic industries from unfair trade practices is a absolute necessity. Most of the emerging economies like India, Brazil and China are already practicing anti-dumping measures with the view of protecting their local industries. Over the past decade, China and India have rapidly increased their use of antidumping laws, the world's most dominant form of trade protectionism, against their trading partners.

Women and youth development

Gender equality and women empowerment plays a key role in 2030 agenda for sustainable development.

Positive signs are visible in number of women in decent employment and taking further steps to narrow these gaps are considered vital. Many women continue to work as family workers and informal workers with limited access to social protection mechanisms. We also appreciate the Government initiative of bringing 25 percent allocation for women participation in local government elections.

The National Chamber of Commerce firmly believes and committed to support women engagement in business and entrepreneurship. In fact the National Chamber had the First Lady President of a Chamber in Sri Lanka. Chamber is engaged in supporting women entrepreneurship development at national level as well as provincial and district level. It is our belief that women can seriously contribute to the economic development of this country much more than they contribute at present. We need to see more and more ladies in board rooms in this country contributing to the business development.

Youth entrepreneurship and leadership development is also much needed by our country at this juncture, we should train our younger generation to lead the businesses effectively. Creating next level business leaders and allowing them to take practical hands on experience in manufacturing, marketing, sales, financial aspects and entrepreneurship, will ensure the continuation of businesses in the long run.