---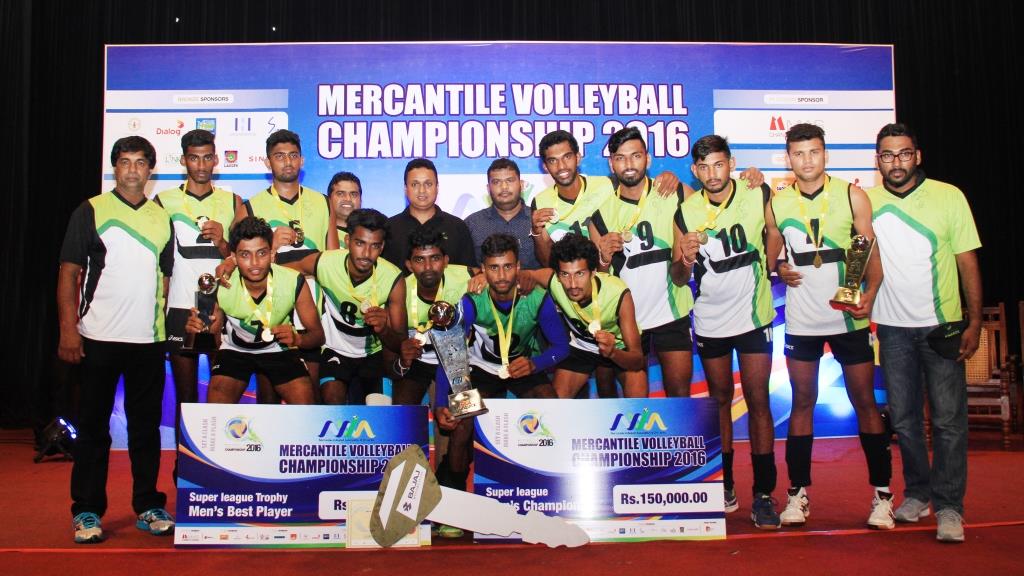 Kanrich Finance Limited (KFL) created sporting history by becoming the first finance company to emerge as Champions in the history of Mercantile Volleyball, effectively bring to a close the dominance of the apparel industry over the sport. The match got off to a spectacular start with Brandix winning the first set 25 – 23; while KFL got into action in the second set and won 29 - 27, 25 - 15, 25 - 17 respectively in this fiercely fought sets of the match to triumphantly lift the Mercantile Volleyball Super League 2016 trophy aloft, marking a new chapter in the history of the sport.
The award for the Best Player of the Match and the Most Valuable Player of the Tournament went to KFL's Ishan Wimarshana, while Randima Weerarathne from KFL bagged the Best Setter award for the exciting championship. The triumphant KFL team comprised of Ishan Vimarshana (Capt.),Isuru Senevirathna, Pasindu Weerarathne, Samidu Priyankara, Pawan Jayarathne, Dilusha Rajakaruna, Chanaka Suranga,Sameera Nisahanga, Dhanushka Fernando, Prabath Fernando, Yasith Amand.
KFL has a very rich culture of sports and sporting activities and encourages its employees to participate in various sports with a view to building team spirit. During the year, various KFL teams won multiple accolades in their sporting endeavors in diverse sports such as cricket, athletics, badminton, netball, rugby, basketball and swimming. One of the preferred employers in the finance sector, KFL offers its employees an ideal work-life balance.
Kanrich Finance Limited, with an over 45 - year history, is a fully fledged finance company offering deposit, savings, leasing, hire purchase, loan, pawning and real estate products. The company follows a triple bottom-line sustainability philosophy of protecting people, planet and profits. The company is guided by its core principles and values and is forging ahead on a strategic path to achieve market leadership.