---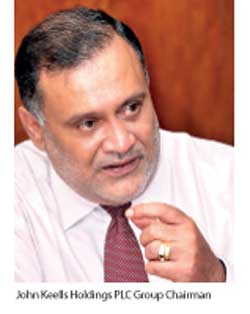 John Keells Holdings PLC (JKH) appears to be getting aggressive on the real estate and the properties sector in Colombo as the group has made a few larger deals during the recent past and are actively on the lookout for suitable lands with development potential.

JKH, the owner of the blockbuster integrated resort project, Cinnamon Life has invested as much as Rs.4.4 billion during the six months to September end on investment properties.

As recently as September JKH acquired 50 percent in Baybrook Residential Properties (Pvt.) Ltd (formally known as Indra Holdings (Pvt.) Ltd) for an investment of Rs.1.8 billion. This is besides its other investments in properties.

Further, JKH Group Chairman Susantha Ratnayake said it would launch a large residential development project in a prime location in Colombo as early as fourth quarter of 2017/18 but stopped short of disclosing where the property is.

"In keeping with the group's strategy of creating a robust pipeline of new projects, work has commenced in identifying suitable lands with development potential. The first of these new projects, being a large residential development in a prime location in central Colombo, will be launched in the fourth quarter of 2017/18," said Ratnayake in an earnings release.

Sri Lanka's real estate and property market is getting hotter as the land prices in Colombo have been increasing at 20 percent compound annual growth rate during the last five years. In fact, some analysts say the exponentially high land prices in Colombo and suburbs is crowding out the potential investment.

Some commentators argue that the suspected bubble lies in the lands and not in the luxury apartments.

The upcoming Colombo International Financial City could further ratchet up the price escalation in Colombo and its suburbs.

Meanwhile, for the six months ended on September 30, the property segment of JKH posted a net profit of Rs.94 million against Rs.88.5 million recorded in the same period last year.