---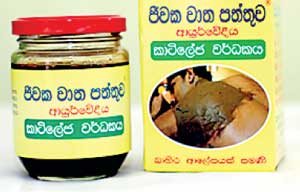 The demand for Jeewaka Watha Paththuwa which was introduced to the Sri Lankan market for the first time has increase three fold in three months says Jeewaka Herbal Products (Pvt)Ltd.

The company has taken measures to extend its sales network to cater to the increased demand. Accordingly, the Jeewaka Watha Paththuwa can now be purchased from isladwide Ayurveda outlets, pharmacies , super markets and retails shops and boutiques.

We have introduced Jeewaka Watha Paththuwa as a unyielding cure to body joint ailments. This is a paththuwa used by the Koskadawela Weda Paramparawa for generations to give complete cure to patients suffering from joint ailments. Such an inclusive paththuwak was so far not available in the Sri Lankan market. The demand for Jeewaka Watha Paththuwa to increase three fold in such a short period is ample evidence and proof of its effectiveness to cure all body joint ailments. Considering the numerous response and number of inquiries from customers, we have taken measures to further expand our sales network. For all inquiries with regard to Jeewaka Watha Paththuwa the hotline number 0714882979 is available anytime of the day," said Jeewaka Herbal Products (Pvt)Ltd Chairman , Chief Executive Officer, Ayurveda Physician Samantha Chandrapriya. By applying Jeewaka Watha Paththuwa on the backbone, neck , wrists, Knees, forearm, shoulder, hip and all other joints, it serves as a cure of pains that incur as a result of cartilage getting solid, less or withered in the joints says Jeewaka Herbal Products (Pvt)Ltd.

In addition to this the company has introduced Jeewaka Watha Thilaya and Jeewaka Wathalepaya medical products to the market for the use for joint ailments. The Jeewaka Ayurveda Aushada Nishpadanagaraya is situated at No 117/3 'Wedagedara' Koskadawela Yakkala.