---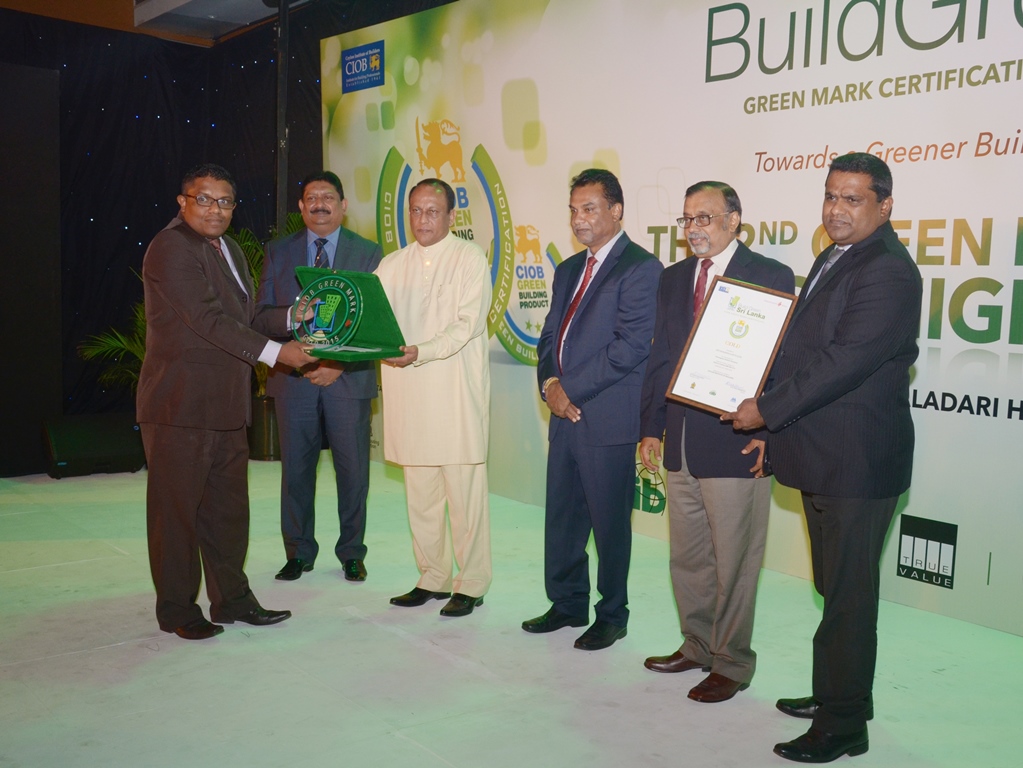 Officials from JAT receiving the awards from State Minister of FinanceLakshmanYapa Abeywardena
Becomes the only Sri Lankan company to receive three green accreditationsfor its products in the country
JAT Holdingsrecently became the only Sri Lankan company to be awarded three unprecedented Green Labels by the prestigious Chartered Institute of Buildings (CIOB) Green Mark Scheme in recognition of its new age innovative building and construction materials. This further reinforces its positioning as a company which has strived for ethical practices by constantly pursuing an 'Earth First' policy while awarding its loyal customers the opportunity to participate in this sustainable initiative.
The CIOB Green Mark Award is accredited by and affiliated to the Building and Construction Authority of Singapore, Council of Research and Innovation in Building and Construction (Netherlands), Green Building Council (Singapore) and the Central Environment Authority (Sri Lanka). Its' aim is to drive Sri Lanka's construction industry towards constructing more environment-friendly buildings.
Acknowledging JAT's efforts at advocating this concept, under the product category of Paint & Coatings, the CIOB awarded two Gold Awards for JAT's paint products, namely Permoglaze Exterior Emulsion and Permoglaze Interior Emulsion and a Silver Award for its Permoglaze Water based enamel range making JAT the sole company to have three green accreditations for its products in the country.
Whilst promoting internationally recognized brands in the island, JAT is synonymous with innovation and progress, by housing a sophisticated research & development laboratory to manufacture its state of the art products. Through its continuous monitoring and commitment towards creating innovative cutting technology, JAT has ensured its unflinching support for the nation's initiatives in becoming environmental friendly by working tirelessly to meet global green expectations.
JAT Holdings' current product portfolio includes an enviable range of Decorative Domestic and Industrial Emulsion, Exterior Wall and Enamel Paints, Maintainers, Putties and Plasters, Mineral Fiber or Steel Ceilings, Timber Flooring and Decking, Office Seating and Desking, Carpeting, Abrasives and Paint Brushes. Since its inception in 1993, JAT has continued to provide futuristic, avant-garde and cutting edge solutions to spearhead the finishing industry to the prestigious position it holds today.
Representing world renowned brands such as, Sayerlack wood finishes from Italy, Permoglaze decorative emulsion and weather-coat paints from the UK and Herman Miller Office Seating from the USA, it comes as no surprise that JAT Holdings is placed among the Top 10 conglomerates within Sri Lanka.