---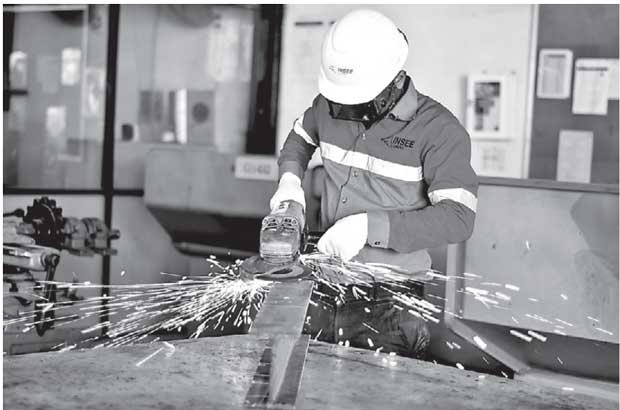 Insee Cement strongly believes in encouraging and inspiring youth to achieve career success through focus on training and education that would help them to progress professionally.

Insee Cement spearheaded a Memorandum of Understanding (MOU) between Enterprise Based Vocational Education (EVE) training centre and the National Apprentice and Industrial Training Authority (NAITA) in an endeavour to improve the quality of life of youth in Puttalam, the location of the company's main manufacturing plant.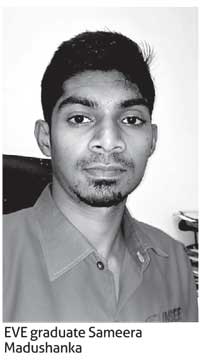 The project started in 2007 and has completed eight batches, benefitting over 175 students who have successfully passed out as technicians in electrical and metal fabrication. Many who graduated are currently employed at Insee Cement as full time employees. Whilst others are productively self-employed or working for others in the industry.

Sameera Madusanka who joined the Insee Cement Colombo Cement Terminal as Shift Foreman recently is an excellent example of this endeavour. He is a graduate of the Enterprise Based Vocational Education (EVE) training centre.

Sameera was positive about the experience he gained and looked forward to career progression at Insee Cement and was happy with the career boost he has received. Looking back at his career, he recalled that there were over a hundred applicants when he came for an interview four years ago. He was able to follow a month's induction course at which senior Insee Cement officials lectured the participants on subjects such as team working, time management, personality development and public speaking that dramatically improved his skills as well as his outlook and attitude to his life and career.
The EVE graduates' three and a half year training period at Insee kicked off with physical fitness training, meditation, drama sessions and even exposure to the hospitality industry. "In 2015 Insee Cement offered me a scholarship which was a great help to focus on my education rather than having to worry about my finances. I got a comprehensive hands-on experience in Electrical and Electronic fields by working at the cement plant in Puttalam," he explained.

"Now I am planning to follow a management course next year and hope to develop my educational background as well as my career based on the invaluable opportunity I have got from INSEE Cement," Sameera commented.

Insee Cement Organisation and Human Resources Director Prasad Piyadigama said: "Insee Cement takes pride in providing opportunities for young people in the Puttalam area to benefit via obtaining outstanding technical skills as a part of our initiative to promote sustainable development. This will enhance the educational level of youth in the area and increase their employability giving them a stable career path. The initiative will further help to develop future technicians for the nation. At Insee Cement we are striving to enrich the community where we do business and our efforts will help many youths in the area to achieve
career progress."