---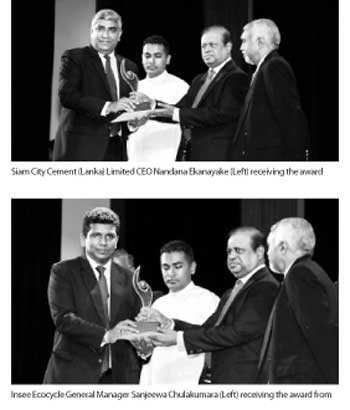 Sri Lanka's premier cement manufacturer Siam City Cement (Lanka) Limited, also known as, Insee Cement secured dual awards in recognition of the company's continued commitment and contribution towards fostering green production processes and a culture of environmental sustainability, at the Presidential Environmental Awards 2017 held recently.

Insee Cement's Ecocycle received a Bronze award in the Solid Waste Management Category and Puttalam Cement Plant also clinched a Bronze award in the Chemical Industry Sector.

Presidential Environmental Awards is a prestigious annual event organised by the Central Environmental Authority (CEA) to recognize and reward industries, service sector organizations and individuals who have made a significant contribution to the field of environmental conservation and protection.

Acknowledging the awards, Siam City Cement (Lanka) Limited Chief Executive Officer Nandana Ekanayake stated: "We are delighted that Insee has been recognised by the CEA to receive these prestigious awards as it represents a strong endorsement of our environmental credentials. As an industry leader we have a huge responsibility to foster a culture of environmental sustainability throughout the manufacturing process and have been successful owing to our innovative strategies and green technology across all our operations."

Over the years, the company has received many accolades for adherence to eco-friendly waste management practices especially those maintained by Insee Ecocycle, the sustainable waste management arm of the Insee Group.

Additionally, the company's Puttalam Cement Plant continues to showcase the company's sustainable development process contributing significantly to the water footprint and savings technology, energy consumption and alternatives, carbon footprint, legal compliance, waste management, occupational health, training, visible condition, corporate social responsibility and Global Reporting Initiatives (GRI) standards adhered to at the workplace.

The Government of Sri Lanka is progressing towards building a green era to develop the economy with the participation of institutions, organizations and the general public by streamlining the communication network and educating and empowering them on the importance of conserving and protecting the environment.