---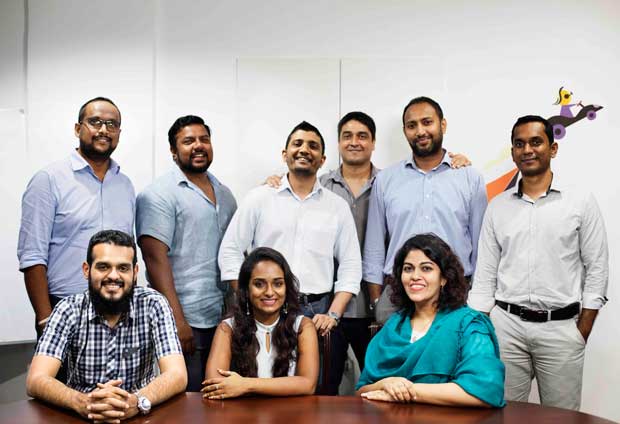 For the first time in Sri Lanka, Innovation Quotient -IQ- is bridging the gap between human insight, applied creativity and technical capability. And it's bringing these solutions to top corporates, businesses and start-ups around the country.

Sri Lanka's digital transformation is imminent-and IQ is leading the charge as the only tech-creative-consultancy hybrid to offer design thinking and innovation focused on digital transformation to tackle complex business issues.

IQs portfolio covers digital transformation, tech solutions, rapid prototyping, digital marketing, campaign management, and also includes a media lab. In 2013 Nadira Abdul Cader and Irfan Ahmed led a founding team consisting of tech and communications veterans such as Johan Latiff, Shafraz Faleel and Arshad Ahamed alongside marketers and innovators to venture into a space unchartered in Colombo. The IQ team has since grown to include a diverse set of 40+ creatives, tech specialists, strategists and managers, all coming under the umbrella of the Aberdeen Holdings Group in a short span of four years.

IQ has grown from a start-up making waves with its unusual business model to a budding organisation led by a unified vision, brave clients, growth hacking, lean methods and "some luck," says Director, Nadira Abdul Cader. "We haven't been talking about the work we do because we've been so focused on doing it right. Our team prefers to let the work speak for itself-and it does so loud and clear." Business has certainly kept them busy - currently, the IQ team is working on three apps, two disruptive platforms, managing over 10 different social media communities that engage an audience of over 300,000 followers for leading brands, and consulting multiple clients on digital innovation projects.

They are also focused on getting the metrics right. IQ has formulated a Digital Readiness Index that uses the globally coveted Deloitte Digital Maturity Test, Aark Digital Maturity Assessment and Third Sector Digital Maturity Index as a base, mapping against the team's expertise on disrupting digital space to assess a participant organization's digital readiness in the Sri Lankan context. Via a short 10 minute test available online (at www.IQ.lk), the participant company is assessed under five pillars-strategy and leadership, customer engagement, organization, talent and digital operations. A full report is generated at the end of the assessment.

"IQ exists for one thing-bridging the gap between creativity, technology and strategy," says CEO Irfan Ahmed. "We're moving into a world where you either disrupt, or you are disrupted. Just look at all the start-up unicorns making headlines. They've all disrupted their industries and the existing players have had to face rapidly changing market realities because of this. You can see the same happening in Sri Lanka, be it in taxi hailing or entertainment. We're leading Sri Lanka's imminent digital transformation by helping our clients be digitally ready."

IQ's team is diverse. An eclectic mix of engineers, animators, project managers, art directors, digital marketers, softwaredevelopers, analysts and data scientists make up an ecosystem that thrives on disruptive solutions to everyday business challenges, with the focus on a digital future. "It's exciting," says JohannLatiff, Chief Design Officer. "We work with brave brands that have accepted that digital transformationis inevitable. Because of that, they're ahead of the curve already. They're making strides into markets that were previously inaccessible, and meeting consumer needs in creative ways."Adding that "In a dynamic and constantly turbulent digital landscape, spearheading the digital transformation of Sri Lankan brands while doing what we love is what drives us and keeps us on our toes."