---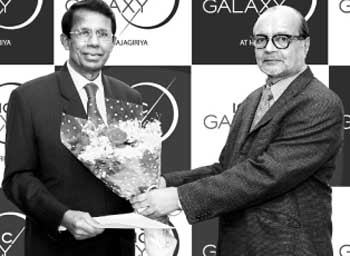 Sri Lanka's pioneer in innovative and affordable luxury living, Iconic Developments (Pvt.) Ltd announced an agreement with Maga Engineering (Pvt.) Ltd, the country's largest construction firm, to serve as its engineering partner for the upcoming Iconic Galaxy project.

According to Iconic Developments Chairman Apurva Parikh, Maga Engineering was selected based on the firm's reputation as one of Sri Lanka's most reliable and respected players in the construction sector, coupled with their proven financial stability and unparalleled technical capabilities.

"Maga Engineering was our first and most obvious choice because they are experienced, efficient and have been involved in scores of similar projects. This partnership is a win-win for Iconic Developments and all our customers because they can look forward to owning a home that is constructed to perfection," said Parikh.
He further expressed that Iconic Developments was confident that Maga Engineering had the expertise and sense of creativity to do justice to the modern design of the apartment dreamed up by award-winning architect Samira Rathod.

Maga Engineering is one of the most trusted construction companies in South Asia, delivering high-quality buildings and infrastructure for over three decades. From concept to conclusion, Maga continues to work with an array of stakeholders - from investors and developers to public agencies and regional communities. As the largest construction company in Sri Lanka, it's work has enriched all sectors of the economy, from healthcare and hospitality to transport and water supply.

Iconic Galaxy will offer unparalleled experiences to their customers featuring meticulously designed and thoughtfully planned modern, chic amenities including landscaped gardens, a large clubhouse facility and a gym, swimming pool, and children's play area. The building also comes with 24x7 security and a convenient shopping store, in order to provide maximum value for money to buyers and investors. The project is due for completion by November 2021.