---
Home Lands Skyline, the real estate arm of Home Lands, has embarked upon yet another Luxury Apartment complex that is to be developed in a convenient, competitive residential precinct.
Being the developer of 727 apartment units under their wing, Home Lands Skyline has already completed and delivered some of their projects to clients. As their 8th apartment development project, "Aurum Skyline Residencies" is to be launched successfully in a strategic location, Colombo 05, Jawatta, facing Thimbirigasyaya road.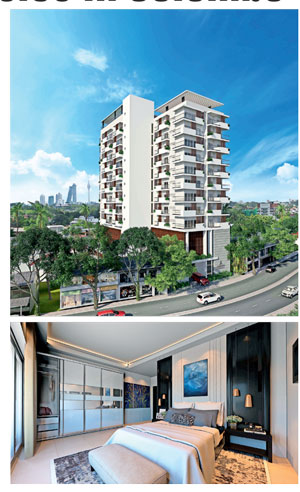 Connected to Bullers Road, Havelock Road, Elvitigala Road, Nawala, Kirulapone Road and Bambalapitiya, Aurum Skyline Residencies surrounded by leading schools – Visakha Vidyalaya, Royal College, Sirmavo Balika Vidyalaya, best shopping malls, hospitals, entertainment, fashion and culinary delights. Unlike any other place, the location of Aurum will give you the easy access to the best of everything Colombo has to offer. To the affluent, luxury is a lifestyle and you need to be surrounded by places that you go to and things that you do that define who you are. Game of Golf in the morning or a jog at the Independence Square, access to branded items that you desire must be within minutes' from your home.
Speaking of the new introduction, Home Lands Group Chairman Nalin Herath said, "At Aurum Skyline Residencies the residents will be able to experience luxury, affluence and extravagance. It is the strategic location of the Aurum, which makes this investment worthwhile. As it is conveniently located within close proximity of Best of many things that Colombo has to offer, Aurum will not only be a place of luxury, but also a great place of investment. Simply it's an address you can be proud of".
This master piece of architecture, with 9 levels, will have 45 units, one mezzanine floor, 3 floors dedicated for parking giving residents the chance to select either 2 parking facilities or 1 parking facility.
The architectural arrangements of each apartment will give you the opportunity to experience a world of decent luxurious facilities. The living room of Aurum with its large windows and spacious balconies, you will never feel cramped up as there is a good view of the outside world. The immaculate and neat design will give you the feeling of freedom, like a bird high up in the sky. You will be an unrestricted soul extending hospitality to those who
enter your abode.
Resembling the feeling and the class of the living room, bed rooms are designed with even more exceptional qualities. The bedroom cannot be ordinary for affluent. It's a place where one rests and goes through the ways in which the day has been spent and dreams of the life and person they want to become. Thus, unlike any other place, the bed room has been designed for you to experience the opulence and bliss of spaciousness. With its large windows you will be able to drape beautiful curtains that express your taste of elegance and style that will give your home a touch of class.
The bathrooms are equipped with finest bathroom fittings and sanitary facilities from well-known brands. At a glance, you will be able to experience the refreshing feeling of an unmistakable sense of luxury which soak away your weariness.
The fully fitted pantry unit which is equipped with a cooker, hood and oven will give you the space not only to enjoy the art of cooking but also a space to perfect the art of cuisine art.
Apart from the main facilities arranged for an apartment, you also can enjoy the energizing workout at the fully equipped modern gym or refresh your mind in the roof top garden enjoying the view of the city. If you are fond of refreshing both your mind and body at the same time, an infinity swimming pool is also available at the roof top. The space is available for a Friday night BBQ or a weekend gathering. The BBQ pavilion of Aurum will be at the roof top giving a beautiful view of the city.