---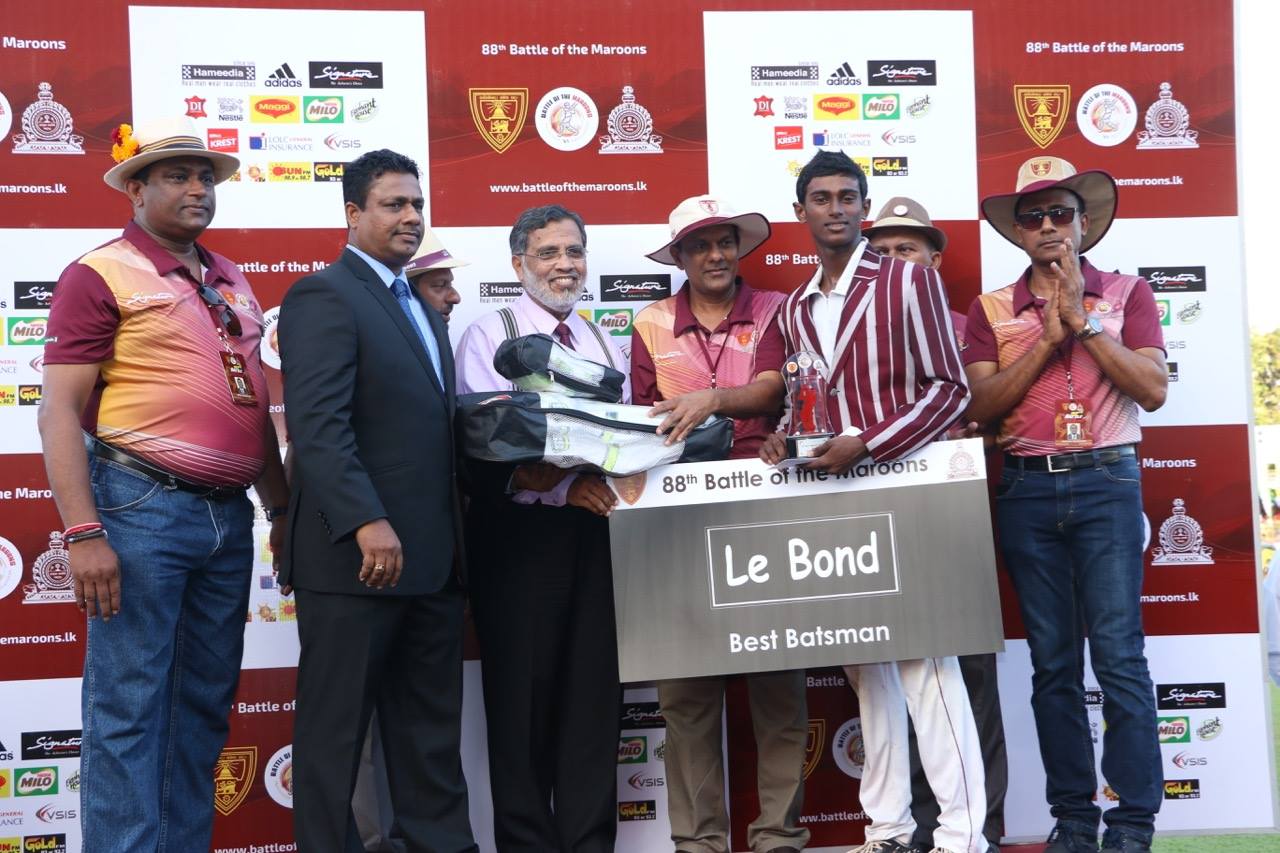 Hameedia, Sri Lanka's leading menswear specialist continues its sponsorship as the Official Clothing Partner for the legendary Battle of the Maroons clash for the second consecutive year. Hameedia recently sponsored the two-day match of the legendary 88th Battle of the Maroons, which ended in a draw. Ameer Hamza, the Head of Business Development at Hameedia, presented awards for Man of the match, Best Bowler and Best Batsman to the deserving young cricketers amidst a cheering crowd. The Battle of the Maroons is the big match between Ananda College and Nalanda College which is played with much pride and fanfare.
Hameedia will also be proudly sponsoring the One-day match between the two rival teams on 19th March 2017. Commenting on the decision to sponsor the Battle of the Maroons, Chinthaka Wanigesekara – ( Group General Manager, Hameedia, said, "We are proud to be one of the sponsors for the 'Battle of the Maroons', as the event plays an important role in building courage, teamwork and ambition amongst youth. The 'Big Match' is also a ritual of pride - initiated between the two brotherly schools with the aim of building relations between the two institutions and developing their cricket in the sporting arena. The last two-day match that Hameedia sponsored witnessed some exciting cricketing moments, and participants, students and fans are eagerly awaiting the action that will unfold in the upcoming One-day match that Hameedia is sponsoring on 19th March. As a brand we have liaised closely with cricketers and the game of cricket in various initiatives and this is yet another demonstration of Hameedia's commitment to the youth of the country."
From its inception, in 1949, Hameedia has cemented its place as the preferred menswear specialist in Sri Lanka with its world-class quality, custom tailoring and ready-made clothing. The company continues to make its presence felt locally and internationally with 25 outlets across Sri Lanka and stores in the Seychelles, Maldives and Australia respectively. Along with its own branded clothing and accessories which includes FH, Envoy, Le Bond and Signature, Hameedia also showcases international brands such as Raymond, Lee and adidas.