---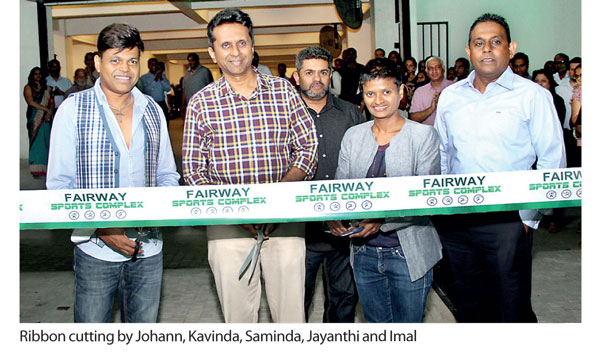 October 25, 2016 saw Fairway Holdings become the first property developer in Sri Lanka to open a standalone sports complex for its homeowners.

The complex stands behind the Fairway Sky Gardens apartment building, making it easily accessible to the residents of the surrounding apartment buildings owned by Fairway Holdings. None other than, Jayanthi Kuru-Uthumpala and Johann Peiris, the historical 'Everest Duo', declared the Fairway sports complex open.

New Fairway Holdings GCEO Imal Foseka was also present at the event along with the company's Deputy Chairman Kavinda Dias Abeysinghe.
The complex features a number of fully-equipped facilities including four courts for basketball, tennis, badminton and squash as well as an outdoor gym, a rooftop lounge and a clubhouse. This setting doesn't just promote health but it also serves to encourage a sense of community among the residents.

For while the courts and gym are available for exercise, the rooftop lounge and clubhouse may be used for socializing and relaxation. Given its location and setting, one witnesses a harmony between the complex and its surrounding environment.
"Fairway is not just about providing living space but about offering the customer a chance at sustainable living. The objective of this sports complex is to add an extra element of value to the homeowner's investment," stated Fonseka at the opening ceremony.