---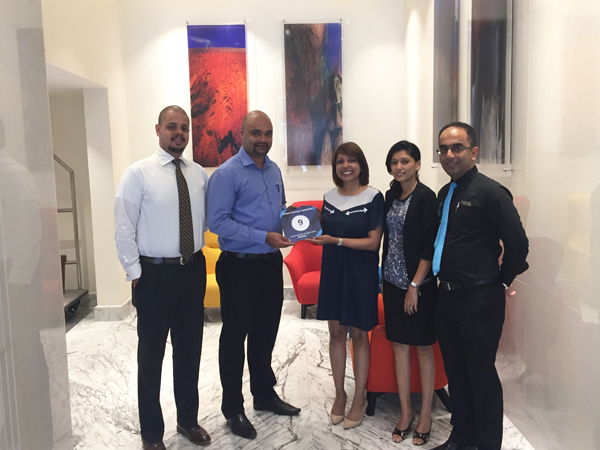 Present in the photograph from Left to Right
Rajith Gooneratne - Sales Manager Fairway Colombo, Saman Perera - General Manager Fairway Colombo, Priyanthi Panabobokke - Account Manager Booking.com
The latest entrant in Colombo's hospitality sector, the Fairway Colombo recently received the '2016 Guest Review Award' by Booking.com.
With an overall score of 9/10, Sri Lanka's most technologically advanced city hotel is acclaimed to be the property with the best value in Colombo providing guests with more than their money's worth in comparison to other locations in the city.
Standing at the end of Hospital Street in Fort, the Fairway Colombo fits in perfectly with the colonial façade. However, upon entrance one is greeted by an entirely modern setting along with the most technologically advanced features. Another prominent feature of the Fairway Colombo is that every process of the hotel is designed not just for the ultimate comfort of guests but also in order to ensure the preservation of the environment and the conservation of energy.
"We have gone to great lengths to ensure that all of the hotel's activities and various processes are environment friendly. Unlike most hotels, we're not trying to attract everyone; our goal is to attract a particular group of customers to whom these aspects are important", explained Mr. Imal Fonseka, the Group CEO of Fairway Holdings.
Indeed, the very process of checking in is a paper-free process, while every room in the hotel is equipped with motion sensors as a means of preserving energy. Just as in the lobby there is no paper to be found in the room, not in the form of a menu or telephone directory.
However, the key feature of each room is the IP-TV that offers not just a number of varying channels to suit the interests of the guests, but also a selection of restaurants from which a guest may select their choice of dish and have it delivered to the hotel without ever having to leave the room. But should one wish to dine out, the hotel's location is within walking distance of some of the most renowned restaurants and pubs in Colombo.
Located in the heart of Colombo Fort, the Fairway Colombo offers guests not merely comfort, luxury and hospitality but privacy as well. Unlike other hotels in Colombo the Fairway Colombo has no ballroom or grand hall or any form of gathering hall, thus maintaining a quiet and peaceful environment for guests.
A popular travel fare aggregator website and travel metasearch engine for lodging reservations, Booking.com lists approximately 1,200,000 properties in 225 countries and books 1,200,000 room nights per day. The site is also available in 40 languages.