---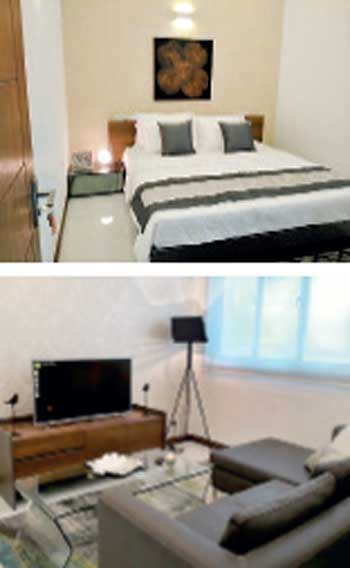 A BOI-approved real estate and development company, Ekroma Realtors, hopes to encourage a lifestyle that exudes style, elegance and comfort with their inaugural boutique-style residential apartment project, Elegant 16.

The show apartment was declared open for public viewing on the 18th of November, providing potential buyers with a glimpse of the end result.

As of late, the real estate industry in the country has been booming and the quiet skyline that used to hover over Colombo city is no more. Even though luxury apartment complexes and properties are plenty, you are not likely to receive your money's worth with each and every one of these properties.

Elegant 16 will redefine the range of luxury apartments in Colombo as the key project which will be designed according to a boutique apartment concept that will house apartment units that will offer maximum luxury within a limited amount of space. The property will be comprised of sixteen apartment units that will either be two bedroom or three bedroom units and the building will comprise of facilities such as swimming pool, gym, function room, rooftop with recreational and BBQ area, jogging path, kids' play area and many others.

Elegant 16 which is situated in Elvitigala Mawatha, Colombo 5 will be completed by next year and each unit will range between 900 to 2,000 square feet.
Residents will be given a special opportunity to work with interior designers at Ekroma and personalize the space according to their needs. And now Ekroma is proud to showcase a mock apartment designed by the LifeStyles Home Store, by Softlogic which will definitely leave you spellbound.

At its inception, Ekroma partnered with Design Advocacy (Pvt) Ltd, spearheaded by the highly celebrated architect Piyal Silva to conceptualize this luxury boutique apartment project. The other key stakeholders in the project were D. P. Jayasinghe Piling who efficiently completed the piling project and N&A Engineering Services who is the main contractor.

The show apartment that will be opened to the viewing of the public on the 18th of November will pave way for the ultimate completion of the luxury project.
The mock apartment conceptualized and created by the team at LifeStyles Home Store which is a part of the Softlogic Group, will share a glimpse of the luxury amenities, quality fittings and high-end finishes that will be offered to the buyers through these apartment units.