---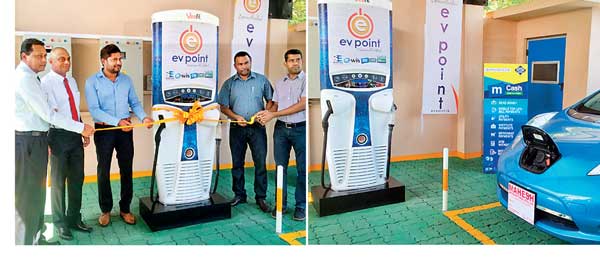 The launch of EV Point in Negombo
Powering the future of electric vehicle charging in Sri Lanka, Sunrise Engineering officially launched one of the world's most innovative and standardised electric vehicle charging stations in Negombo recently.

The EV Point uses intelligent, cutting-edge 'Rapid Charging' technology enabling users to recharge their electric vehicles in less than 20 minutes. These EV Point stations are seamlessly integrated with instant near field communication (NFC) payment capabilities enabling EV drivers unrestricted zero emission driving throughout this country.

EWIS, one of Sri Lanka's leading and innovative technology providers, was the strategic partner to invest in the hardware required for the deployment enabling the EV charging stations to provide safer, quicker and cleaner recharge with no impact to the efficiency or the performance of the vehicle.
Speaking at the launch in Negombo, EWIS Peripherals (Pvt.) Ltd COO Harsha Samarajiwa said, "Over the past 30 years, EWIS has been in the forefront of providing Innovative Technology Solutions to our customers in Sri Lanka, while not forgetting our role and responsibility towards our environment, our surroundings and as part of our corporate social responsibility by introducing products and solutions that evolve around sustainable and renewable energy such as solar power. We are proud to be part of this strategic alliance and to introduce an internationally certified, accepted and innovative device that with no doubt benefit the electric vehicle users and electric vehicle importers and agents in Sri Lanka."
EV Point (Pvt.) Ltd hopes to go live with three more stations in the next six months. Meanwhile, electric vehicle users in Pilimathalawa Kandy and Pinnaduwa in the Galle District will be able to experience the world accredited recharging technology at these EV Points, scheduled to go live next week.

Sunrise Engineering CEO Damith Maiarachchi said, "As a company, we are committed to ensure our products meet the highest level of international standards and certifications. Since our product is a multi-standard device, it is capable of charging Japanese CHAdeMO type EVs as well as CCS 1Type EVs in every location."

These unmanned EV Point stations are fully integrated with the latest NFC payment mechanism. This is the first of its kind in the world where NFC payment mechanism is used for online, instant payments for EV recharging. The payment platform is also supported by instant transaction confirmations via SMS sent to EV user's mobile number. Representing SLT Mobitel, the communications network-integrating partner was its CIO Saman Perera.

Also present at the launch event were EWIS Chairman Sanjeewa Wickramanayake, EWIS CEO Suren Goonewardene, EWIS Director Roseanne Wijayanayaka and other dignitaries and well wishers.