---
R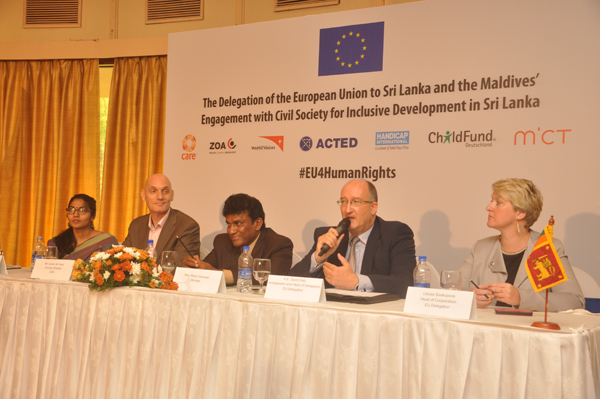 espect for human rights and democracyare the core values of the European Union (EU). All around the world, the EU promotes these values. Respect for human rights is a powerful tool for meaningful and positive change that contributes to genuine societal development.
The EU Delegation to Sri Lanka and the Maldives is proud to unveil a number of important new projects aimed at promoting human rights, the role of civil society and the value of civic engagement. This is part of the #EU4HumanRights initiativewhich highlights all the work being carried out by the EU and Member States in these areas.
The EU is channeling approximately LKR770 million (EUR 4.7 million) towards the building of stronger communities and a vibrant civil society. With this funding, organisations ACTED, Care Deutschland, World Vision, Handicap International, ChildFund Deutschland, Media in Cooperation and Transition and ZOA will work to promote economic development in some of Sri Lanka's poorest areas and build capacities of community stakeholders, including the media, lawyers and judges.
Speaking during the event,co-chaired by Hon. Minister of National Co-existence Dialogue and Official Languages, Mr. Mano Ganeshan, the Ambassador of the Delegation of the European Union to Sri Lanka and the Maldives, H.E. David Daly said, "For the European Union, the universality of human rights is one of our fundamental values. Human rights are 'the silver thread' of EU foreign policy. As a long standing partner of Sri Lanka's civil society, the EU has supported work to address the challenges to upholding these rights. I also welcome the growing collaboration between the Government of Sri Lanka and civil society organisations;such cooperation is vital in building a more inclusive Sri Lankaand to re-establish the country as a leader in Asia and the South Asian region".
Facts and Figures
The EU has providedapproximately LKR 4 Billion (EUR 24 million)over the past 10 years in support of democratic participation and civil society, human rights, civilian peace building, conflict prevention and gender equality.
For the years 2016-2017,the EU will provide approximately LKR 1 billion (EUR 6 million)as grants to civil society organisations, Local Authorities and other related actors.