---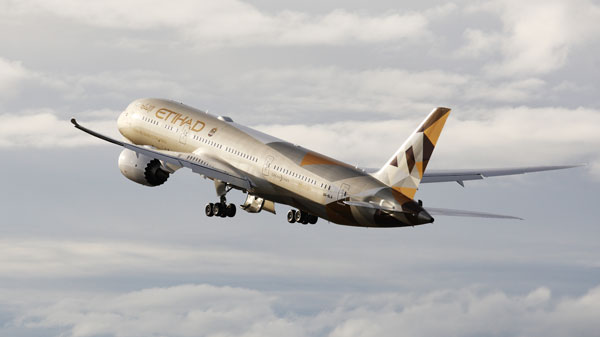 New Seasonal Service Provides Travellers With More Choice And Greater Connectivity To The GCC, Middle East And Europe
Colombo, SRI LANKA – Etihad Airways is offering travellers from Sri Lanka greater choice and more travel options to the GCC, Middle East and Europe with the launch of a third daily flight from Colombo, effective today. (June 1)

Timed to coincide with the peak summer travel months as many travellers head west, the new seasonal service will help cater for the surge in demand. The new flight EY263 departs Colombo at 19:50 hrs, arriving into Abu Dhabi at 23:00 hrs. The new return flight EY262 departs Abu Dhabi at 09:00 hrs, arriving into Colombo at 15:10 hrs. The extra schedule is effective until September 30.

With the additional daily service, guests travelling through Etihad Airways' Abu Dhabi hub are able to take advantage of more flight options to connect to an array of destinations across Europe, including London, Manchester, Paris, Dublin, Belgrade, Rome, Munich, Milan, Geneva, Madrid, Athens, Moscow, Frankfurt, Amsterdam, Brussels and Istanbul.

The airline's GCC and Middle East network is made even closer with a greater choice of flights connecting many cities, including Kuwait, Doha, Riyadh, Jeddah, Muscat, Cairo and Amman.

Travelling from Colombo, guests can fly one-stop to seven North American cities – Toronto, New York, Chicago, San Francisco, Los Angeles, Washington and Dallas, with travellers having the additional benefit of clearing US Immigration and Customs at the special US Pre-Clearance facilities at Abu Dhabi International Airport during their transit. This ensures they arrive in the United States as domestic passengers, avoiding the need to complete lengthy immigration formalities upon arrival.
Neerja Bhatia, Etihad Airways Vice President Indian Subcontinent, said: "With our improved network from Colombo during the peak travel months, we are delighted to provide our guests with greater choice, improved connectivity and, most of all, increased access to even more destinations we fly to via our Abu Dhabi hub.
"Sri Lanka is an integral part of our network in the Indian Subcontinent, so all the more important for us to build on our already strong operations to and from the capital Colombo."

Kumar De Silva, Etihad Airways General Manager Sri Lanka, added: "This is an exciting opportunity for travellers from Sri Lanka looking to travel to diverse destinations around the world on Etihad Airways' extensive network enjoying a world-class travel experience on board our modern fleet of aircraft. Furthermore, with Sri Lanka's national cricket team currently on international tour in England, the new daily flight will provide fans with additional access to London, one of the most popular destinations for travellers from our country."

Daily flight schedule between Colombo and Abu Dhabi:

Flight no. Origin Destination Departs Arrives Aircraft Frequency
EY263 Colombo Abu Dhabi 19.50 23.00 A320 Daily
EY262 Abu Dhabi Colombo 09.00 15.10 A320 Daily
EY265 Colombo Abu Dhabi 21.25 00.35 A320 Daily
EY264 Abu Dhabi Colombo 13.45 19.55 A320 Daily
EY267 Colombo Abu Dhabi 04.35 07.45 A320 Daily
EY266 Abu Dhabi Colombo 21.25 03.35 A320 Daily

Note: All departures and arrivals are listed in local time. New daily flight highlighted

Tickets are bookable online atetihad.com, through Etihad Airways' reservation office by calling 4766500, or through a local travel agent.