---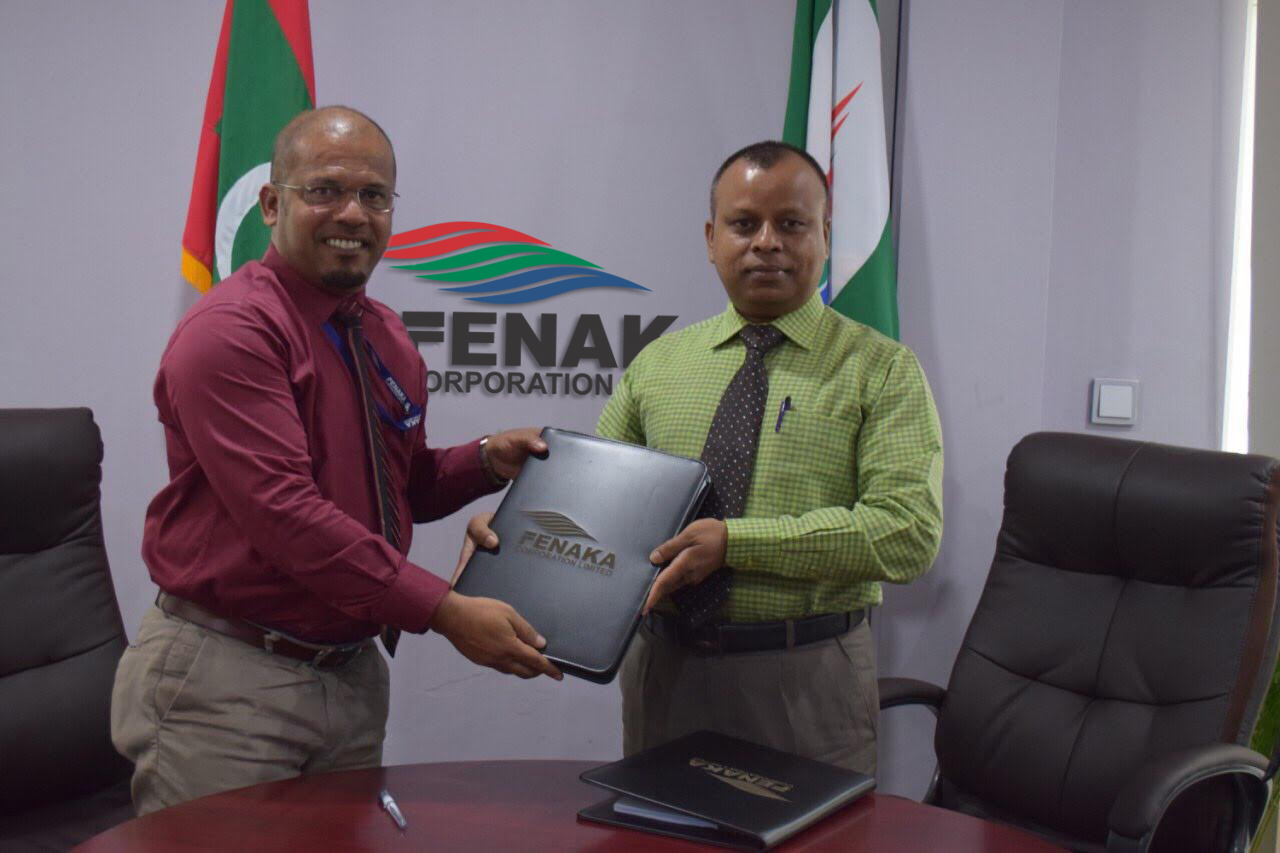 EMP Co-Founder and Chairman Chandranandana Diyunuge (right) exchanging agreement with Fenaka Corporation Limited- Managing Director Mr. Ahmed Shareef
Rapidly gaining recognition as a leading electro mechanical engineering solutions provider in the South Asian region, Electro Metal Pressings (Pvt) Ltd secured a hugely beneficial export agreement with Fenaka Corporation, the Government owned utility service provider of Maldives. Electro Metal Pressings (EMP) will supply Fenaka with the best in quality Synchronizing Panels and Medium Voltage (MV) feeding panels, conforming to accepted international standards.
With a growing portfolio of mega projects and customers, EMP is strengthening its stand in the industry through heavy investment in the most advanced technologies and the highest quality products. This dedication has seen the company partnering with leading global brands and suppliers such as Schneider, Rockwell Automation, Allen Bradley, LSIS, and Legrand. Today, with a fully equipped ultramodern factory premises located at Templeburg Industrial Estate Panagoda, EMP is aggressively moving outside Sri Lanka to mark a bigger regional footprint, with two country offices already in operation in Maldives and Bangladesh.
"With the regional market being highly competitive, we are very thrilled that EMP's reputation has resulted in us being chosen as the preferred solutions provider by our Maldivian client," Shiral De Silva, Market Development Manager at EMP commented. "The key differentiator is our service oriented approach in all projects, no matter where our client is located. In a country like the Maldives where geography and logistics are the biggest challenges, our integrated solutions and proven timely, expert services ensured the client that we are the best choice for this project. We look forward to meeting and exceeding their expectations."
Fenaka Corporation is a Government owned company in the Maldives, responsible for providing the island nation with utilities that cover electricity, water and sewage services. The company provides integrated, sustainable and eco-friendly utility services by implementing the finest standards in infrastructure and technologies.
"Our focus has always been to offer our customers the very latest and best in products and technology, which also gave us the status of trailblazers in the local industry," Founder and Chairman Mr. ChandranandanaDiyunugestated "As we expand our product and service offerings, our brand value as a company has rapidly increased not only in Sri Lanka but across the region enabling us to service a growing portfolio of foreign clients such as Fenaka Corporation."
Having specialized the design and fabrication of Low Voltage (LV) and Medium Voltage (MV) panel boards for all types of projects ranging from homes to mega constructions, EMP guarantees superior quality and best value engineering solutions, adhering to IEC international standards. The company's LV&MV Panels & Switchboards, including Synchronizing and Load Sharing Panels, have been awarded with the Ceylon Institute of Builders (CIOB) Green Mark – Gold Award for sustainable manufacturing. EMP is also the first Sri Lankan company to manufacture MV Panel Boards locally.
The Synchronizing Panels designed according to custom specifications by Fenaka, will be positioned across 24 islands in the Maldives. This new system will ensure a durable and stable energy supply to around 20pct of the country's population, steadily building a future-proof national electricity grid. Each powerhouse consists of three generators that will be synchronized, with the power then being distributed to various islands. EMP manufactures a superior range of synchronizing panels, fabricated using premium quality international components.
"The panel will be the heart of the power supply system to these islands, and that is why EMP has been trusted with producing the best and most reliable product with zero downtime," AmilaKaravita, Assistant GM of the Low and Medium Voltage Division at EMP elaborated. "Therefore, all products will be supplied according to stringent technical specifications provided by the client, ensuring that maintenance too can be carried out on the panels while the power systems are in operation."
"In a constantly evolving industry, EMP as a company always differentiated itself through guaranteed quality in our products, services, expertise and unparalleled aftersales support," Managing Director Mr. Suresh Thenuwara. "We never compromised on quality, and today we are reaping huge benefits from this reputation, exploring the potential of foreign markets. We are proud to do our part to strengthen Sri Lanka's economy through increased export revenue, and look forward to taking on more challenging projects from global clients."