---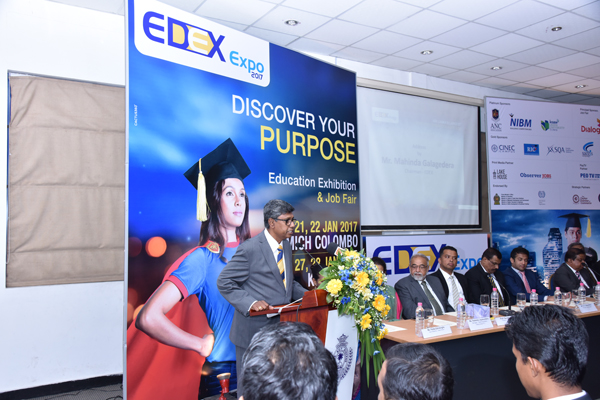 Sri Lanka's largest education exhibition and Job Fair – EDEX Expo will be held on 20-22 January 2017 at BMICH Colombo, and on 27-28 January 2017 at Kandy City Centre (KCC), Kandy. The twin expos will be the 29th and 30thin the continuing series.
EDEX Expo 2017 will encompass a platform of local and global convergence, offering choices, and options in realising opportunities in school-to-work transition, careers and sustainability.
The event's esteemed sponsors in the Platinum category are; ANC Education, NIBM and NSBM. It'svaluable Gold Sponsors are CINEC Campus,Royal Institute of Colombo (RIC), Scottish Qualifications Authority (SQA),Saegis Campus,Kaatsu Highly Advanced Medical Technological Training Centre (KIU) and American International Campus (AIC).
The Job-Fair Sponsor will be DialogAxiata PLC. The Entrepreneurship Zone Sponsor will be Bharti Airtel Lanka.The Print Media Partner with the widest outreach island-wide will beAssociated News Papers of Ceylon Ltd (ANCL). The Official Courier will be Citypak.
The Prime Minister's Office, Ministry of Education, Ministry of Higher Education and Highways Ministry of Skills Development and Vocational Training, Ministry of Labour and Trade Union Relations, Ministry of Mahaweli Development and Environment and the International Labour Organisation (ILO) have given key endorsements. The Strategic Partners are Ceylon Chamber of Commerce (CCC) and Employers' Federation of Ceylon. (EFC)
Envisioned to empower Sri Lankan youth to be globally competitive, the focus will be on career paths such as the global phenomenon, the 4th Industrial Revolution, enabling 'smart' devices such as Robots, Drones, self-driven cars to take the limelight.
EDEX Expo 2017 will witness the participation of key post-secondary educational stakeholders, comprising over 250education exhibition booths, representing local and foreign universities and institutes from over 20 countries.
International presence will be augmented with country pavilions from Japan, Malaysia, India, and France. Direct or local representatives from leading Universities in Australia, USA, UK, Russia, Turkey and Singapore, will enhance the value of Expo further.
The Job Fair will create a conduit between Job Providers and Seekers, will comprise over 40 stalls.Uploading CVs to edexcareers.lkis encouraged.The Psychometric Testing Centre,in collaboration of the Sri Lanka Career Guidance Academy will provide the youth yeoman service in guiding youth on the right career paths.
The novel and a significant feature at this year's Expo will be the EDEX Entrepreneur Zone, where aspiring youth will be provided expert advice on starting their own business and establish themselves in gainful employment.
EDEX Nenapahana, the outreach programme, invites donors to enrich the lives of rural school children by donating new books and other equipment for use of school-life.
A number of competitions at EDEX Expo 2017 will attract youth to register online through web site www.edex.lkand win an Airline Ticket.
For further details please contact the EDEX Secretariat. Tel: 0768 204978/ 55 21 497. Email:sales@edex.lk