---
Project construction to commence February 2017
A unique real estate cum hospitality investment introduced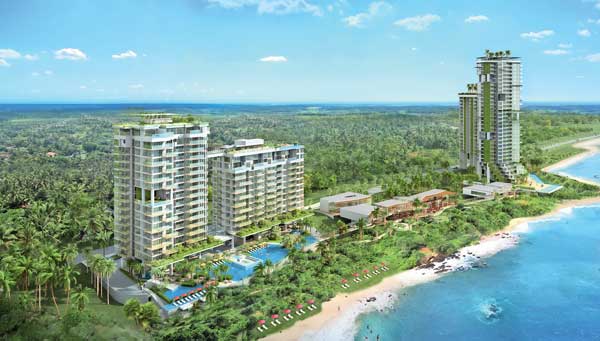 By Zahara Zuhair
The US $ 200 million The Beachfront, Balapitiya project by Dusit Thani Sri Lanka and Indola Group in the southern coast of the country was launched last week to local and overseas investors and prospective apartment owners.
Located in a 480-meter beach front, the project includes two apartment complexes with 136 and 194 apartments each and a promenade featuring 15 international restaurans, cafes and bars, a luxury spa, a rooftop tennis court, etc.

It will be developed in three phases, which is to be completed by 2020, and the first stage of the project is scheduled to start construction in February 2017.
The apartment complex features one to three bedroom apartments, starting from US $ 244,000. In addition to that, it also will have a convention centre focusing on weddings, conferences, etc.
The Thailand-based hospitality group said that the construction of a golf course in the same area is on the cards, which is still in planning stages as well as a hospitality school.
"This is a new product for Sri Lanka. It is popular in Thailand and Australia. This is a holiday house. People can buy apartments and lease it back to the hotel where they get 6 percent in return per annum for five years in US dollars and a three-week holiday," Dusit Thani Director Ajit Wijesinghe said while hosting the prospective customers, investors and media at the display suit, which was opened for the customers to view.
He stressed that there are quite a few reasons why Dusit Thani The Beachfront, Balapitiya would be a good and excellent investment. As he pointed out, they are the strong cash flow, capital gain, 21-day free stay in a five-star resort and prestigious Dusit Thani brand.

Paul Dwyer, Director, Indola Group, the developer of Beachfront Balapitiya, said that due to a number of inquiries they have already received, they are soon to open two new sales offices in Colombo and Galle.

Further, it stressed that The Beachfront, Balapitiya, is the only five-start luxury development of its kind in Sri Lanka available for foreigners. They noted that foreign buyers can only purchase apartments above the fourth floor, owing to the local regulations.

The five-star property is designed by renowned Singaporean architectural firm Design Team 3 and managed by Thai hotel and apartment operator Dusit International, a leader in authentic Thai hospitality.

In January 2016, Indola Group and Dusit International signed an agreement to develop this site.
Dusit International's portfolio comprises a range of distinctive destination hotel and apartments including 25 in Asia Pacific, the Middle East and Africa with 22 new hotels and apartments planned for completion within the next five years. The Beachfront, Balapitiya will bring the total to 48.