---
A few months ago, in a move to ensure the availability of genuine spare parts around the clock for the owners of Bajaj vehicles, David Pieris Motor Company Limited (DPMC) introduced the first-ever Bajaj spare parts vending machine at its spare parts outlet in Maligawatta, Colombo 10.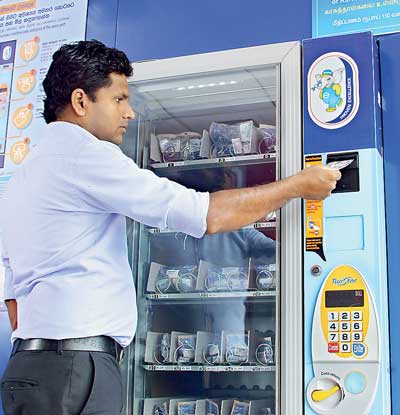 Taking this innovative initiative a step further, additional spare parts vending machines have now been placed at selected DPMC showrooms and dealers islandwide.
As the first stage of this rollout, the company has installed vending machines at DPMC showrooms in Battaramulla, Yakkala, Kurunegala, Kandy, Galle, Badulla, Jaffna, Ambalangoda and at two of its dealerships - Sarath Motors in Anuradhapura and Shani International in Nugegoda.
Speaking about their latest venture, Parts and Accessories Division Deputy General Manager Manjula De Alwis said, "As the authorised distributor of Bajaj motorcycles and three-wheelers in Sri Lanka, we are always striving to introduce innovative and cutting-edge products and services as we believe that we have an obligation to provide our customers with genuine spare parts for their vehicles. These machines will give our customers 24/7 accessibility to spare parts".
De Alwis further explained, "Genuine spare parts are sourced from the vehicle manufacturer. They are produced to the highest standards using high-quality raw materials and advanced technology, conforming to the exact specifications of the vehicle and under manufacturer's supervision. They ensure both better performance and longevity of the vehicle."
According to De Alwis, in future, DPMC also intends to enable payments at the machines using credit cards and mobile phones, making it even more convenient for their customers.
The company is planning on further refining the functionality and features of the vending machine and will be installing more machines to ensure islandwide access and coverage.
As a long-time proponent of superior after sales service, DPMC ensures the availability of genuine spare parts for all Bajaj three-wheelers and motorcycles through its islandwide network of dealers and outlets. With the introduction of its revolutionary vending machine, DPMC has brought together speed and convenience for its loyal customers.