---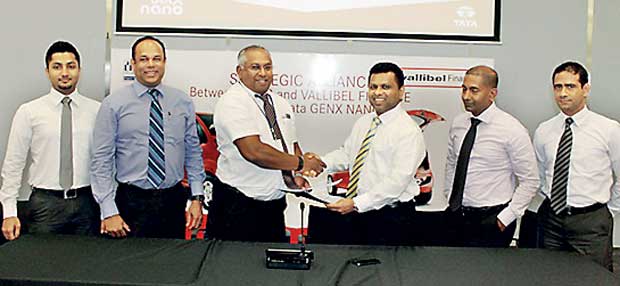 Vallibel Finance partnered with Diesel & Motor Engineering PLC (DIMO) to offer attractive leasing options for Tata passenger vehicles.

Through this partnership, Vallibel Finance customers will be able to purchase Tata passenger vehicle at low interest rates with a less down payment making Tata passenger vehicles more affordable for the customers. The significance of this promotion is, there will be special offers for Tata GenX Nano cars.

Tata GenX Nano comes with factory-fitted AC, electric power-assisted steering, openable boot with a better luggage space, high ground clearance and with many more features.

As a special offer, people who purchase Tata GenX Nano will be given free registration, free insurance and a special saving of Rs.50,000.00.

With the fast-pace lifestyle in the modern world, people are seeking more convenient, comfortable and cost-effective transportation solutions and DIMO believes attractive leasing packages such as these would benefit the commuters to purchase a car for their personal use. With the lowest operating costs, best-in-class comfort and islandwide availability of genuine Tata Genuine spare parts and service locations, Tata GenX Nano has been proven as a highly demanding product.

Vallibel Finance established itself as the premier financial services provider within a short span of time and has ascended sharply in the industry, earning public confidence by demonstrating financial stability and commitment to customers. Backed by the strong credentials of the diverse Vallibel conglomerate, its financial services arm is forging ahead on a strong growth trajectory.

The company's strong board of directors' profiles, the backing of leading investor and Founder Chairman Dhammika Perera, deep senior management experience and strong group parentage hold the company in good stead.

Vallibel Finance was ranked amongst the top 50 most respected entities in the country by LMD in its 2014 survey while LMD's top 100 Most Valuable Brand Survey 2015 reflected an improvement in its brand equity. Further, the company's brand equity has risen further on the back of substantial asset growth and aggressive customer centres expansion, bringing the total number of customer service centres to 30.

Tata Motors India and DIMO have a strong relationship spanning more than 55 years, where Tata vehicles have been playing a vital role in the daily lives of many people. DIMO currently operates with more than 40 branches across the island and provides 24 hours roadside assistance to all Tata customers anywhere in Sri Lanka. DIMO has been recognized as a 'Great Place to Work' by Great Place to Work Institute. DIMO is an ISO 9001:2000 QMS & ISP 14001:2004 EMS certified company.