---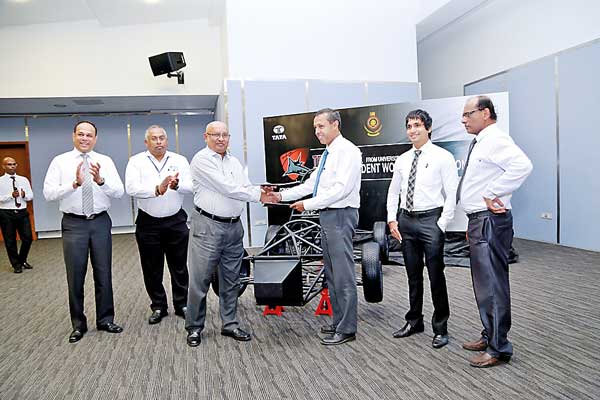 Diesel and Motor Engineering (DIMO) PLC will be supporting the engineering students from the Mechanical Engineering Department of University of Moratuwa to participate in the world's biggest student motorsport competition "Formula Student 2016" to be held at Silverstone Circuit in the United Kingdom later this year.

Organized by the Institution of Mechanical Engineers, Formula Student is Europe's most established educational motorsport competition and is backed by the industry and high profile engineers. The competition challenges university student engineers from around the world to design, build and race a single-seat racing car in one year in order to compete in static and dynamic events, demonstrating their understanding and testing the performance of the race car.

Dozens of Formula Student alumni have progressed to Formula 1, and hundreds more are now working at the world's largest automotive firms helping to design and engineer the cars of tomorrow. Applications were received from teams around the world, and 156 teams have successfully claimed a place for the competition at the iconic Silverstone Circuit, known to be the home of British motorsport.
The team from the University of Moratuwa– TeamSHARK - will be the first-ever Sri Lankan team entering the Formula Student competition and will be fully-sponsored by DIMO. The company will provide financial support to build the car and also send the team to the race in July. Additionally, TeamSHARK will be assisted will have complete access to the facilities at DIMO's Siyambalape premises in order to build the car.

"Sri Lanka has always produced world-class individuals across different fields of expertise and it is no different when it comes to the competitive world of automotive engineering," claimed Ranjith Pandithage Chairman & Managing Director DIMO.

"The talent is there in abundance and as a responsible corporate citizen we decided to step forward to help these dynamic individuals compete with the best in the world, showcase their talents and bring glory to our motherland." He added that being one of the leading automobile companies in Sri Lanka, DIMO's resources are perfectly-suited for these young mechanics to develop a racing car. "They will be using our workshop premises, classrooms as well as our state-of-the-art equipment and machinery for this project. Additionally, we have enlisted the expertise of Sri Lankan racing icon Dilantha Malagamuwa to train these individuals on how to drive such a powerful racing car," he added.

Ross Brawn, former Team Principal of the MERCEDES AMG PETRONAS Formula One Team, returns as competition patron for Formula Student 2016 and will meet students at the opening ceremony. Ambassadors this year include Paddy Lowe, Executive Director of Mercedes AMG Petronas F1, Willem Toet, Former Head of Aerodynamics at Sauber F1, former Formula 1 driver David Brabham and BBC science presenter Dallas Campbell.

Richard Folkson, President of the Institution of Mechanical Engineers, stated, "Students who compete in Formula Student are highly-valued in all sectors of industry, not just in automotive engineering, but across all disciplines such as aerospace, power industries, manufacturing and process industries. The benefits of the competition are in teaching them teamwork, delivering challenging technical targets on time and within a tight budget and pushing the boundaries of what is technically possible while showing the judges they understand the science behind their ideas. As always, I'm extremely excited to see what engineering innovations will be on show this year and I wish all teams taking part the best of luck."