---
DHL Sri Lanka, part of Deutsche Post DHL Group, the world's leading postal and logistics group, commemorated International Women's Day 2016 by conducting an open forum discussion based on the theme 'be proud and powerful'.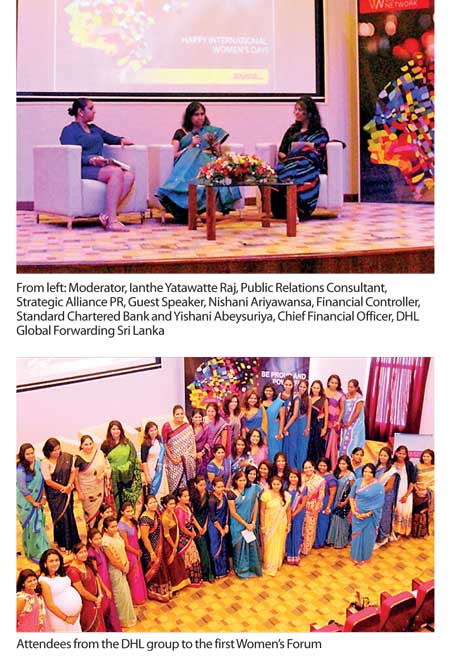 This was initiated by the DHL Women's Network, which aims to inspire, inform and engage employees towards leadership roles.

DHL Women's Network is aligned with the Deutsche Post DHL Group Corporate Diversity and Inclusion statement on the topic of gender. This year, DHL Sri Lanka was selected as a key country in Asia Pacific to launch the DHL Women's Network. The DHL Women's Network is focused on running sustainable, on-ground activities that will help raise the topics of diversity and women in leadership within each country.

The forum saw over 80 participants from DHL Express and DHL Global Forwarding in Sri Lanka coming together to attend a special discussion led by guest speaker Standard Chartered Bank Financial Controller Nishani Ariyawansa and DHL Global Forwarding Sri Lanka Chief Financial Officer Yishani Abeysuriya.

The session began with breakfast, followed by introductory speeches by the guest speaker and the organising committee of DHL Women's Network. Representatives from DHL Global Forwarding and DHL Express Sri Lanka went on to facilitate an open-forum discussion exclusively for women in attendance. What ensued was a riveting debate about women in the workplace, the changing mindset of women in Sri Lanka and a discussion about the future of women in the industry through leadership and career development.

DHL Global Forwarding Sri Lanka Country Manager Najeeb Ur-Rahman commented, "As a global organisation, DHL values the diversity of our employees. Our company brings together people from a wide range of cultural backgrounds – all with different skills, experiences and viewpoints. We believe this diversity is a competitive advantage and in terms of gender diversity, we understand the pivotal role women play to take this organisation forward. We are pleased to launch DHL Women's Network in Sri Lanka – a communications platform for women and male peers to enhance their leadership potential."

DHL Express Sri Lanka Country Manager Dimithri Perera commented on the success of the event stating, "DHL Sri Lanka has always had the good fortune of having customer-centric, hardworking employees who believe in going the extra mile. It is our belief that men and women alike, have the same capabilities and capacity to do great things and we aim to ensure that all our female employees understand their value and rights."

Standard Chartered Bank Financial Controller Nishani Ariyawansa commented on the event, "It was an honour to lead today's discussion on empowering great women for an aspirational future. More initiatives such as this that focuses on the needs of women in the workplace are a cornerstone for the advancement of any true multinational. It is refreshing to see a company of such stature take keen interest in their employees and hope that this will become a benchmark for more corporations."

DHL Sri Lanka, as part of the DHL Women's Network initiative, will also conduct two volunteer-based activities for Methsevana (state House of Detention) and Lankadhara within the coming months, aimed at uplifting the morale of young girls, providing support for their education and supporting women in mitigating gender abuse.

Through the DHL Women's Network, DHL Sri Lanka hopes to encourage an entrepreneurship spirit among women, increase the sense of belonging of employees through employee engagement activities and provide motivation for women to be able to progress in their career and excel in leadership roles.