---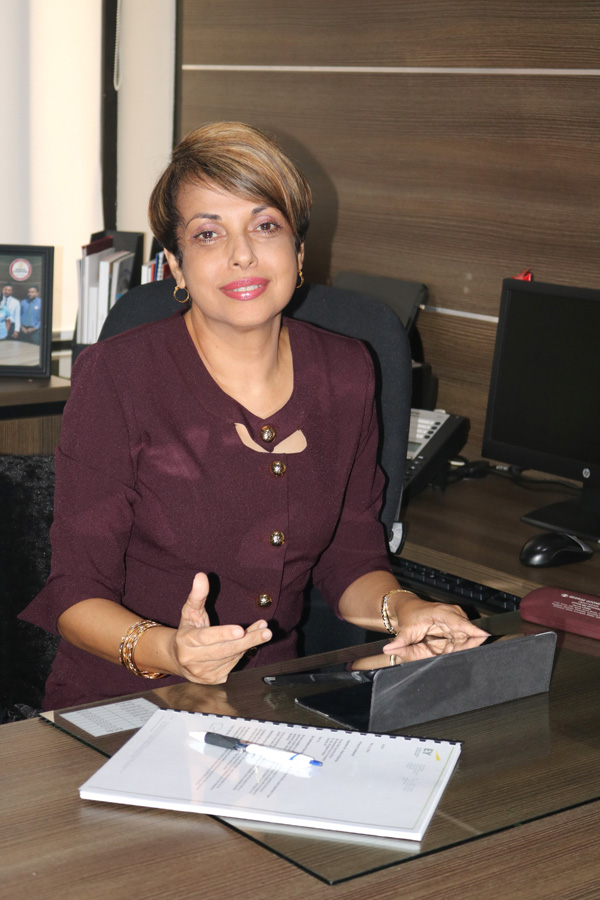 Sri Lanka's pioneering development bank, DFCC Bank, is steadily increasing its market share by providing innovative products and services backed by technology. Gillian Edwards, Senior Vice-President, Retail Assets & Leasing, DFCC Bank, believes that DFCC occupies a unique niche in both development and commercial banking which not only sets it apart in the banking industry, but also enables it to go beyond traditional boundaries.
DFCC Bank's latest innovation, the Vardhana Salary Booster, targets the younger generation and new entrants into the workforce. The product offers a permanent overdraft facility catering to that urgent, unexpected financial requirement that one could have. It's an innovative product with a permanent line of credit. Under normal circumstances if one has an urgent need for cash, an application will have to be made for a temporary overdraft. However, in this instance the overdraft is ongoing, thus giving the account holder the convenience of drawing the funds as and when required.
This product also supports the young executive just entering the work force as credit records are not sought. Obtaining a salary booster is a simple process as it only involves an assignment over salary from an employer accepted by the Bank. The minimum salary requirement is LKR 30,000/- with the overdraft extending to as much as 90% of two months' salary, based on the applicants repayment capacity.
The Vardhana Salary Booster also offers a bundle of value additions such as a free debit card, eBanking facility, joining fee waiver for credit cards and the Vardhana Virtual Wallet, along with a complementary Vardhana Junior Savings account, which can be opened for a minor of the applicant's choice. In addition, the applicant enjoys interest concessions on Personal Financial products, such as a 0.25% per annum reduction on Vardhana Sandella Housing Loans and 0.5% per annum reduction on Vardhana Nenasa Education Loans. Therefore, this product gives customers the financial freedom to further enhance their lifestyle.
Under the Personal Plus umbrella DFCC extends a host of products and services catering to the varying needs of an individual customer. For instance the Vardhana Personal loan offers as much as 20 times the applicants salary to finance one's needs. Vardhana Sandella Housing loans are extended for purchase, construct or renovation. The Bank is also into apartment financing, partnering with a number of development projects.
Apart from the above, DFCC Bank offers vehicle and educational loans, pawning facilities, debit and credit cards as well as a range of deposit products at an attractive rate of interest. Personal Plus products are flexible and can be tailor made to suit each individual requirement.
Gillian Edwards comments, "We believe technology will be a key tool in product differentiation in the future. In our bid to target the younger generation who prefer to move away from brick and mortar models and adopt technology-based products, we devised the Virtual Wallet, which enables users to transact while on the move. The Virtual Wallet allows them to conduct banking transactions through internet, mobile or electronic devices, and is a perfect example of the agility of DFCC Bank to adapt to evolving technology by adopting advanced technology platforms. We believe technology will be a key tool in the area of product differentiation in the future."
DFCC Bank is also breaking barriers by reaching out to the most remote areas in the country and we are proud of the fact that the majority of our retail business comes from areas out of Colombo, where a lot of the development is taking place," she adds.
Commenting on the industry, Gillian Edwards says, "The banking industry is highly competitive and as a result, profit margins from core banking are under pressure. The challenge is for banks to grow business in more rural areas where there is untapped potential. Technology will no doubt be the driving force, as customers demand more innovation and convenience. We expect to see a lot of development in the industry with alternate channels playing a major role, and focus on customer service and product innovation will determine success. DFCC Bank has over six decades experience in forging long-lasting relationships with customers, which will hold us in good stead. Our belief in partnering customers in times of success as well as hardships has earned us a loyal customer base. DFCC Bank is geared to offer a breadth of seamless banking solutions that give customers unmatched value and unique benefits for their every need."
Gillian Edwards is a professional banker with 30 years of broad and diversified experience in Branch Management, Personal Financial Services, Leasing and Retail Banking. She was instrumental in setting up Personal Financial Services at DFCC Bank. Personal Banking is her forte as she enjoys interacting with people.