---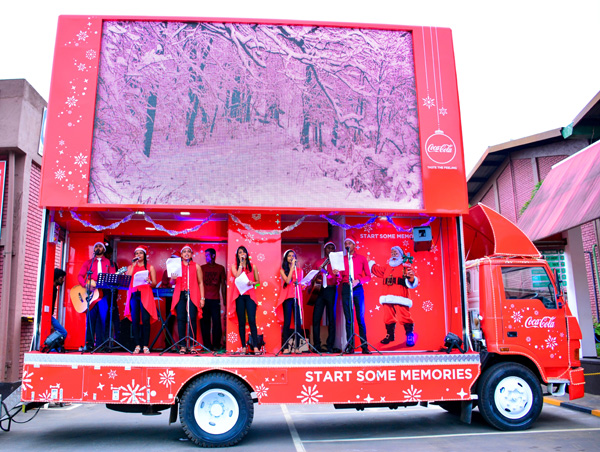 "Start Some Memories" with Coca-Cola this holiday season"
Coca-Cola's beloved Christmas Caravan is set to refresh the holiday season once again in over 20 locations throughout Sri Lanka. Launched by Coca-Cola for the fourth consecutive year, the Caravan will take the joyful spirit of the season and countless moment of happiness to communities and families across the island.
This year, the Caravan started from the Coca-Cola plant in Biyagama on the 19th of December and it will thereafter travel to locations such as Malabe, Negombo Beach, Homagama, Rajagiriya, Battaramulla, Majestic City, Kirulapona, Wattala, Batticalao and Trincomalee. A bright red Coca-Cola truck with exuberant carollers and musicians will fill Sri Lanka's streets with festive songs and carols and Santa will be gifting passers-by an array of special surprises from his magical red sack with a snowy white trimming. Keeping true to Coca-Cola's holiday campaign theme of "Start Some Memories", the caravan will bring family members and friends together to create unique, lasting memories during one of the most cherished times of the year.
Commenting on the Caravan, Sonu Grover, Managing Director of Coca-Cola Sri Lanka Private Limited said "This year, Coca-Cola wants to rekindle the magic of Christmas through the journey of this iconic Caravan that will bring people from all walks of life together to celebrate the joy of the season. We hope that our lively and warm carollers alongside this festive holiday activation will unite teenagers, adults and elders with a shared sense of joy and happiness, which are essential characteristics of this season at large and quintessential aspects of the Coca-Cola brand. The illuminated Coca-Cola Christmas truck has become a global advertising icon and symbol of holiday happiness since first gracing the TV airwaves nearly two decades ago. We are delighted to bring happiness to communities across the country by giving people the chance to see the truck in person and to spread the holiday cheer along with their friends and families"
synonymous with the holiday season. Coca-Cola has always been a source of fun and refreshment throughout Christmas and the New Year, bringing families and friends together to share many joyous memories and moments of happiness during the festivities.
Coca-Cola has also always created heart-warming and memorable adverts, campaigns and activations that have brightened up the season across the world. The very existence of the present-day image of Santa Claus can be attributed to Coca-Cola, as it was the brand that commissioned illustrator Haddon Sundblom to first develop advertising depictions and imagery of Santa as a friendly and jovial bearded man in a red suit – this image of Santa Claus has now become an integral part of popular culture and is a symbol that is synonymous with the season in hundreds of countries around the world.
Coca-Cola warmly invites you to come along and visit the Christmas Caravan tour stops for your chance to have a photo taken with the famous truck to share with friends and family.
To find out more about the Coca-Cola Christmas Caravan, kindly contact: (Indika – 072-7862821).