---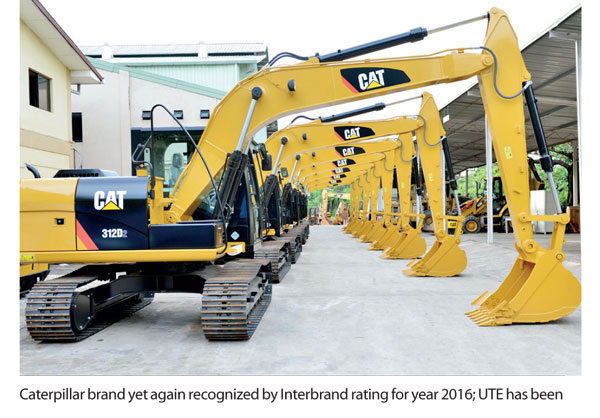 With an overall brand value of US $ 5.425 billion, Caterpillar Inc., the world's leading manufacturer of construction and mining equipment, diesel and natural gas engines, industrial gas turbines and diesel-electric locomotives, was named among the Best Global Brands in the latest list released by Interbrand.

Operating through three product segments – construction, resource industries and energy and transportation – Caterpillar has been ranked as one of the world's top 100 brands for the 15th consecutive year.

To qualify for inclusion in the list, Caterpillar scored high in three segments: financial performance of the branded products and services, role the brand played in influencing customer choice and brand strength to command a premium price or secure earnings for the company.
This year's report focused on 'The Anatomy of Growth', allowing each brand an opportunity to share how they feel the brand will grow and evolve in the future. Caterpillar also received accolades about the brand promise – Champion for Your Enduring Success and its continued investment in research and development (R&D). The greatest success factor for this year's report was the strides taken to meet customers' needs in innovation and the introduction of The Age of Smart Iron campaign.
Key to Caterpillar's global success is also its strong global dealer network, which provides customers superior service support for Cat products. United Tractor & Equipment (Pvt.) Limited (UTE), the local dealer for Caterpillar products, is recognised as the undisputed industry pioneer in providing engineering solutions to all Sri Lankan industries.

Established over six decades ago, UTE has built up its own brand by providing world-class aftermarket sales and support drawing on its unparalleled experience to meet the needs of all its Cat customers.
Combined with its high-quality product portfolio and integrity, UTE's customers enjoy zero risk when purchasing a product or service. As a further commitment and show of confidence, UTE has invested in a large and reliable rental fleet, which further guarantees that the company is able to quickly respond to and support its customers at any time.

"Creating synergy to add more value, UTE together with its highly respected global brand Caterpillar, has worked side by side with our customers to give them an unmatched combination of superior products and services. The Interbrand rankings recognize yet again Caterpillar's reputation for product quality, brand value and dedication of our people to consistently remain in the forefront of innovation and service excellence to benefit our customers," said UTE General Manager Marketing and Administration Nalin Manorathne.