---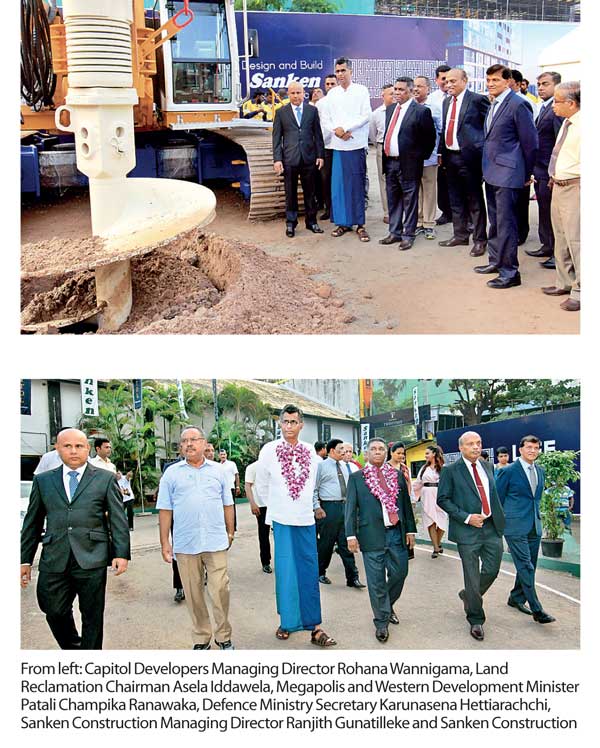 Capitol Developers Limited of the Sanken group held the groundbreaking ceremony of its latest 470-apartment twin tower project - Capitol Twin Peaks recently, at its strategic location at No: 24, Staple Street, Colombo 2.

Megapolis and Western Development Minister Patali Champika Ranawaka graced the event as the chief guest, amidst a gathering of distinguished guests, including customers, partners and government officials.
The ceremony, which was held at the auspicious time of 7.15 a.m., was preceded by a multi-religious ceremony.
Scheduled to be ready for occupation by end-2020, the project is expected to be the most centrally located, high-profile luxury real estate project in the city and is widely acknowledged as a key project in the government's vision for a vibrant Megapolis.
It is located in the heart of the city in an elite neighbourhood, with proximity to prestigious shopping malls and other conveniences, in addition to a beautiful entry point with the lake frontage of Beira Lake.

Capitol Developers and Sanken Construction of the renowned Sanken group have collaborated to create these iconic skyscrapers whilst the global design firm P&T Group of Singapore is the architect for Capitol Twin Peaks.
Built on 214 perches, the project will feature 470 apartments on 50 floors with two basements, six floors of parking and a roof terrace. Magnificent views and panoramas are set to entice home owners with a Sunset Bar, Sky Lounge and Sky Garden. Capitol Twin Peaks will be an oasis of tranquillity for high-powered executives and busy professionals.
The ground floor will feature a lobby, coffee shop, salon and spa, mini mart with pharmacy and a laundry collection point. Other unique features of the twin towers will be a podium with a lap pool, kids pool, jacuzzi, kids play room, function room, party lounge and deck, outdoor living area, business centre, games room, yoga pavilion and aerobic studio, steam room, reading corner, sensory garden and a well-equipped gym.

Design and build contractor Sanken Construction has successfully delivered Trillium Residencies, Empire City, Emperor, OnThree20, 7th Sense on Gregory's Road and many other high-rises in the city.

Capitol Developers has to its credit Capitol Residencies on Dharmapala Mawatha, HR Residencies on Havelock Road, Tulasi Mahal Apartments in Jaffna, Capitol 7 on Rosmead Place, Capitol Elite on Horton Place and the business city hotel, Cinnamon Red. This newest project, Capitol Twin Peaks, a luxury apartment project, will feature a unique Sky Lounge, offering a magnificent view of Colombo, the Beira Lake and even the coastal line and harbour.