---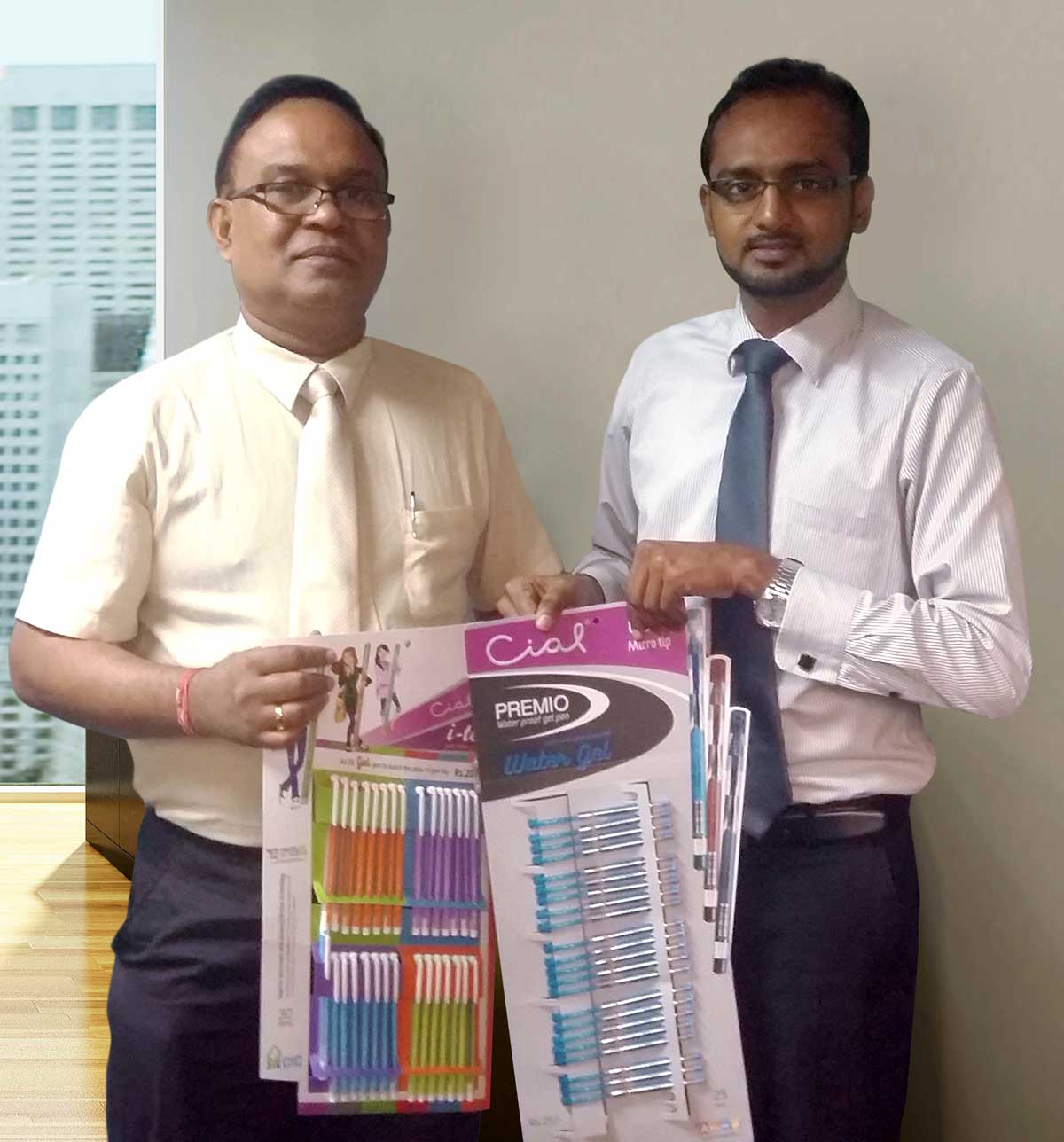 Left to right :Mr W.S. Premakumar – Divisional Director, Healthcare and Consumer Division and Mr Nisrin Ali- General Manager, Marketing
Cial,arenowned brand owned by CIC Holdings PLC recentlyunveiledtwo ranges of pens–the Ciali-teen and CialPremio. Cial i-teenisaimed at teenagers and school children, whilethe Cial premioistailored for academics and executives.
The i-teenpencomes in withnoveloil gel concept which assures soft and fastcontinous long-lasting writing. The Cial i-teendesignedfor teenagers who love colour, isavailable in a range of eye-catchingcolours to match your style and comeswith a soft finish and an easy to handle grip. The light weight pens feature a steadytipwhichisideal for smoothwriting. The Premio range was designed especially for busy a cademics and executiveswho value premium appearance and superiorwritingability.Premioproducedwitha breakthroughwatergelinktechnologydeveloped in Japanfeatures a water resistant and smudgefree inkspeciallyformulated to dry fast.The Premio's 0.5mm micro tip, water-based gel ink and anti-smudgetechnologymakesit the idealchoice for the users. The penssleekdesign, smoothwritingcapability and longer writing distance set the stage for supreme communication. The Premioisavailable in blue, black and redwith aprofessional, stylish design and integration of Japanesetechnologythatgives thecustomers total value for money.
"Writingismeantto be an effortlesstaskwhichwewantchildren to enjoy. Our pensare designed and made usingadvanced British technology,withthat in mind. Cial stationeryproductshave always been afirst choiceamongcustomers. We'vetakenall the aspects theylook for and developed the Premio to fit theirupwardly mobile lifestyles.Most importantlyeach Cial pensoldcontributesten cents to children'seducationin this country through the 'Cial Athwela' CSR project." Said Samantha Ranatunga – Managing Director/CEO, CIC Holdings PLC.
The two new additions to the Cial portfolio round out CIC Holdings' offering, equippingcustomerswith a broad range of tools to suit a plethora of writingneeds. Otherproducts in CIC Holdings PLC's portfolio include the Cial pencil and colourpencil ranges, Platignum, Chemifix, Copy and Laserpaper, thusfulfilling a wide range of stationeryneeds of customers.
About CIC Holdings PLC:
CIC has been a leadingblue chip conglomerate in Sri Lanka for decades and its business portfolio extendsinto the areas of agriculture, animal feed, nutrition, healthcare, industrialmaterials, stationery and consumer products.