---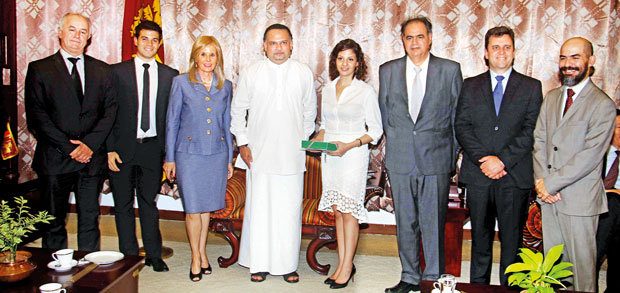 A high-powered trade delegation from the Federative Republic of Brazil, one of the BRICS nations, visited Sri Lanka recently to participate in the CRT Trade Fair organised by the Plantation Industries Ministry, which was held at the BMICH, Colombo.

The delegation was led by Brazilian Ambassador Elizabeth-Sophie Balsa and was supported by Counsellor Bruno Pereira and comprised of six rubber industry leaders engaged in rubber production.
As any student of history would know, Brazil is the original source of the Para rubber tree, Hevea brasiliensis, and the Sri Lankan rubber industry has benefitted largely from the rubber seeds originated in 1876 from the Amazons in Brazil. The irony however is, today, Sri Lankan rubber products manufacturers export high-quality products including latex gloves and tyres to Brazil, which are made out of rubber obtained from the third or fourth generation rubber trees developed from the original stock of Brazilian seeds.

This has prompted Brazil to explore and learn from Sri Lanka about the workings of the Sri Lankan rubber industry, which is considered world class in certain respects. Sri Lanka is known as the world capital of solid tyres.

On the advice of Plantation Industries Minister Navin Dissanayake, the officials of the ministry organised the three-day study programme with private sector support. Advisor to Minister Lakna Paranawithana guided the delegation during the visit.

On the first day, the delegation visited one of the best-managed Sri Lankan rubber plantations, including a state-of-the-art nursery and a model latex crepe factory in Sapumalkanda. They were very impressed with the visit to a large latex glove manufacturing facility in the Seethawaka Export Processing Zone. The senior officials of Lalan Rubbers Limited facilitated these visits. The entire delegation participated in the inauguration ceremony of the CRT Trade Fair and also paid a courtesy call on Dissanayake to conduct discussions on possibilities of bilateral cooperation on trade matters. The discussions were very fruitful and cordial.

They also visited the Rubber Research Institute of Sri Lanka in Agalawatte to study diverse research and development programmes implemented by the RRISL, which is the oldest rubber research institute in the world. The whole of third day was utilized to conduct business meetings with Sri Lankan industrialists and business persons to lay a foundation for joint partnerships.

At the end of third day, a cocktail reception was held at the residence of the ambassador prior to the departure of the delegation, where they expressed their delight on the learnings and general outcome of the tour.

Balsa thanked the government officials and private sector members who were present profusely for excellent arrangements made for the benefit of the delegation. She summed up predicting that both countries would benefit immensely from the future outcomes of this initial step.