---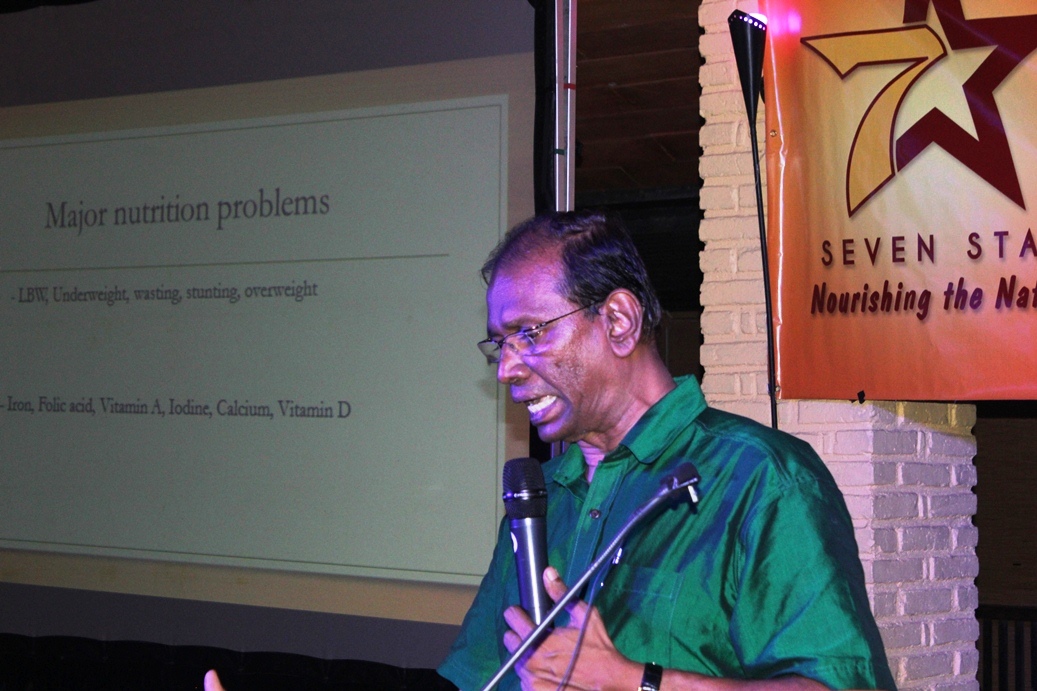 Dr. Senarath Mahamithawa at a workshop about the importance of folic acid
Folic acid is considered to be one of the most important nutrients, especially for pregnant womenwho are required to ensure that it is included in their mealsin addition to many other minerals that are required for optimum health and wellbeing.In this article, renowned nutrition expert Dr.Senarath Mahamithawa shares his insights on the importance of including folic acid in one's dietary plan and he also highlights how folic acid is a key nutrient that is included in fortified foods to counter mineral deficiencies.
Dr.Mahamithawa who has wide experience in the field of nutrition and also currently serves as the Ministry of Health's Director of Estate and Urban Health. He served as the Director –Nutrition andcurrently functions as the convenor of the National Food Fortification Sub-committee.
Commenting on the role that folic acid plays in supporting the overall health of pregnant women, Dr.Mahamithawa said: "Folic acid is important for a host of metabolic functions and it is of particular importance in the development of neural tissues. Having the correct amount of folic acid in the body can prevent significant defects such as Spina bifida and brain development impairments. That is why it is essential that expecting mothers in particular, have an adequate intake of folic acid as it is an important prenatal vitamin that helps to significantly prevent foetal defects and neural issues arising."
Elaborating on the recommended dose and potential sources of folic acid, Dr.Mahamithawa said: "The recommended daily intake of folic acid is 400 micrograms, It is very important that folic acid rich food items are included in your daily diet. The nutrient can also be taken in tablet form or can be supplemented into one's diet through the consumption of fortified foods. Fortified wheat flour, rice and other staples for instance are known to enhancefolic acid quantities in the diet and can easily be included in the everyday meal plans of pregnant women."
He added; "The fortification of foods is a common and reliable strategy that is implemented to counter iron, folic acid several other micronutrient deficiencies on a community level. Pregnant women and young children are the most vulnerable members of society and enhancing the nutritional content and minerals in their food is one of the best ways of ensuring their overall health. Fortified foods help to provide children and pregnant mothers with the essential vitamins and nutrients that they need to thrive. Consuming foods that are high in fortified nutrients is one of the best ways to compensate for deficiencies and give expecting mothers in particular the nutrition that they need to aid the neural development and overall well-being of their babies."
In Sri Lanka, many companies are making a concentrated effort to fortify different products, to enhance the overall nutritional content of key staple foods. The fortification of foods is an extremely comprehensive yet cost-effective process, despite the complex nature of the processes involved, many organizations are embracing this innovative technology for the benefit of the consumers.
Generally rice and wheat flour are the most effective foods to fortify and companies like Serendib Flour Mills have taken substantial measures to provide fortified wheat flour products to the local market. The fortification of foods in the private sector is done in alignment with national nutrition policies which aim to provide people with high quality foods that are enhanced with essential minerals and vitamins, and thereby support the general public's overall health and well-being