---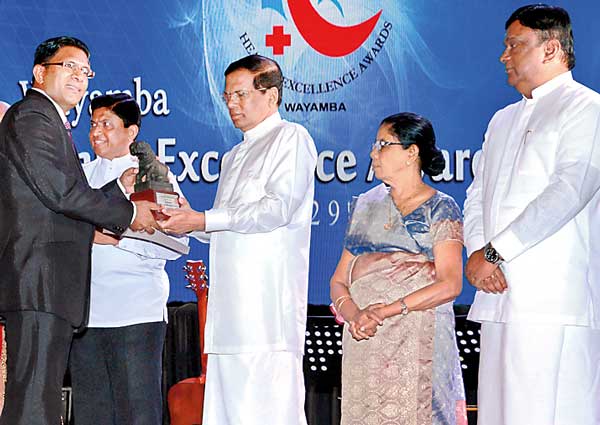 Chairman of Balasooriya Private Hospital, Priyanthalal Balasooriya receivIing the award from President Maithripala Sirisena
Balasooriya Private Hospital situated in Puttalam received the 'Best Private Hospital in North Western Province' Award at the Wayamba Suwa Wishishtatha Award Ceremony organized by the North Western Provincial Council's Health Department. Chairman of the Balasooriya Hospital Priyanthalal Balasooriya received this prestigious award from President Maithripala Sirisena. Balasooriya Private Hospital has received this award for three consecutive years 2012, 2013 & 2014.

Balasooriya Private Hospital registered as a private company in 2010 coming under the purview of the Board of Investment of Sri Lanka, is the leading hospital that is equipped with all the facilities of a private hospital in the North Western Province. The hospital has received many accolades and has the distinction of being ISO 9001-2008 and ISO 14001-2004 certified. Balasooriya Private Hospital has received the Wayamba Wijayaabhimani Enterprise Excellence Award at the award ceremony organized by the North Western Provincial Council's Industrial and Service Bureau.

A 24 hour out-patient medicare service is available together with specialist channeling service, patient consultation and laboratory services, air-conditioned and non air-conditioned rooms, physiotherapy facilities, optical, scanning, ultra sound scanning, digital x-ray, echo testing, ECG, EEG, exercise ECG, mobile medical services, ambulance services, emergency medical care unit, spirometry test for lungs, audiometry, endoscopy and colonoscopy, LED lighting equipped operation theatres and delivery room. The laboratory of Balasooriya Private Hospital is registered with and is a member of United Kindom's RIQAS quality assessment scheme and it is a franchise osusala of State Pharmaceuticals Corporation.

"We are dedicated to serve the people of our country with high quality medical services and constantly strive to maintain high standards in doing so. In order to deliver this service, we have a dedicated and committed team of experts in the field," stated the Chairman of Balasooriya Private Hospital Priyanthalal Balasooriya.